Think you know the impact that invasive pests can have on our ecosystems and pocketbooks? You might want to think again. Every year, pesky insects and pathogens cost our nation billions of dollars in damaged crops and forestlands.
Earlier this month, the U.S. Department of Agriculture (USDA) released a list of the top 15 pests that pose the greatest threats to our agricultural system and trees. Some of the insects on the list are familiar beasts: the emerald ash borer (EAB), which has been devastating ash trees across the Midwest, and the Asian longhorned beetle (ALB), a pest that destroys maple trees and other hardwood species in the Northeast.
Other notorious pests on the list eat their way through agricultural production, ruining food grown in orchards and farms across the country. For example, the Asian citrus psyllid, an insect that carries Citrus Greening Disease, has single handedly cost orange and grapefruit growers in Florida nearly $4.5 billion. Two species found in Hawaii, Oriental and Mediterranean fruit flies, feast on hundreds of different fruits, vegetables and nuts. The effect of these flies is similar to that of the Asian citrus psyllid: Produce and crops are destroyed and rendered unfit for consumption.
With the spread of these insects, the U.S. may start cracking down on travelers and campers who can unknowingly spread these pests. Many campgrounds already prohibit campers from bringing in firewood from other places since insects and wood borers could be brought to the area as larvae inside of the wood. Other parks don't allow visitors to take firewood outside of their borders, especially in regions that have already been infested with insects like EAB and ALB.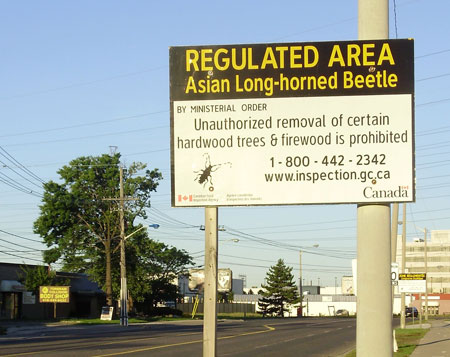 "We need to get Americans to start thinking about how these pests are moving around the country," says Scott Pfister, the director of the pest management department at the USDA's plant protection and quarantine division, to USA Today. "April's the time of year when people start to go camping and hiking and work in their gardens, so it's a very appropriate time to address this national problem."
Although some people may resist firewood restrictions, the USDA hopes to spread awareness and understanding about the need to control these pests and where they spread. The USDA has also declared April to be Invasive Plant Pest and Disease Awareness Month, drawing attention to the negative consequences of invasive species and pests.