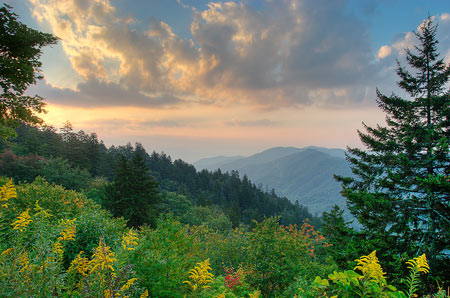 The Great Smoky Mountains, which run along the Tennessee-North Carolina border, comprise one of the oldest mountain ranges in the world; they were formed 200 to 300 million years ago. A mere 79 years ago tomorrow, these mountains became protected as Great Smoky Mountains National Park after years of fundraising and effort by local residents to get the area officially designated as a national park.
The most visited national park in the country is an ecological wonderland that is home to more than 17,000 documented species — scientists believe the park may actually be home to up to 80,000 undocumented species. These species include more than 100 species of native trees, which is no surprise given that the park is 95 percent forested and 25 percent of that is old growth. And where there is old-growth forest, there are big trees … including national champions.
In past years, Great Smoky Mountains National Park has been home to more than 10 national champion trees listed on the National Register of Big Trees. As of the Spring 2013 update, the North Carolina side of the park claims three champion trees:
The red spruce (Picea rubens), which is the biggest of the park's current champions. Nominated in 2007 by Jess Riddle and Josh Kelly, the tree measures 147 feet tall and 152 inches around with a 24-foot average crown spread for a whopping 305 total points.
The cinnamon clethra (Clethra acuminata). A species native to the area, this national champion is 33 feet tall and 10 inches around with a 12-foot average crown spread for 46 total points.
The Catawba rhododendron (Rhododendron catawbiense). Also nominated by Jess Riddle, this champion is just a touch smaller than the cinnamon clethra with 44 total points.
Great Smoky Mountains National Park isn't the only home for North Carolina national champions, though. The state boasts 26 national champions. Its biggest is a mammoth eastern hemlock (Tsuga canadensis) located in Macon County, which is 159 feet tall with 362 total points. Beyond national champions, the North Carolina Champion Big Tree Program, which has been operating since the 1970s, has almost 400 state champions in its database.
So, this weekend, in honor of Great Smoky Mountains National Park's anniversary, here's a toast to the mountains, forests and big trees that make Appalachia so special.