On June 18, the Doce Fire broke out in Prescott National Forest, Ariz., consuming more than 6,700 acres of forest. The national co-champion alligator juniper was saved thanks to the Granite Mountain Hotshots, who headed up the mountain, cleared away thick brush at the base of the tree and cut a fire line around it, a week before 19 of them lost their lives bravely fighting the Yarnell Hill Fire.
Prescott resident Cathleen Cherry shares what the alligator juniper and its survival has meant to the local community during its time of grief and loss.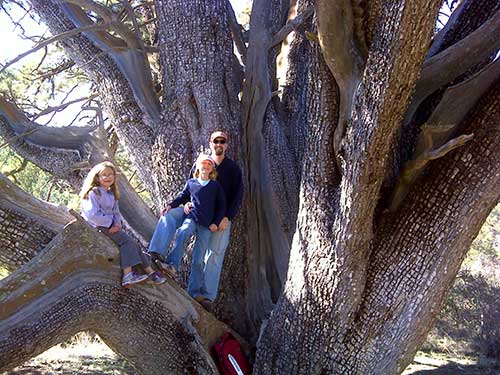 Like many, I find myself drawn to trees. I long for summer picnics beneath the elms that shade my town's heart — the courthouse square in the center of downtown Prescott, Ariz. I gauge the changing of seasons by the color of the cottonwoods that line Willow Creek south of my home, and my family once took a 600-mile drive in order to walk among the largest trees on Earth in Sequoia National Park. In January 2011, this fascination with trees took us on a much shorter trek to see a majestic tree right in Prescott's backyard.
This tree, a Juniperus deppeana, or alligator juniper, is the largest of its species in the nation and was nominated for inclusion in American Forests' National Register of Big Trees in 1998 by the Contreras brothers, a long-time ranching family in Yavapai County. But its significance to our community would increase when, two years after my family's visit, it was saved from the Doce Fire by the Granite Mountain Hotshots just a week before their deaths in the Yarnell Hill Fire on June 30, 2013.
As my family hiked to the alligator juniper that January 2011 morning, I wondered how big it could really be. Alligator junipers are large trees to begin with, often reaching up to 55 feet in height. I'd seen plenty of this species before and couldn't quite picture what might make this tree special enough to be a destination in and of itself. I can even recall wondering if we'd really know that we'd arrived if we didn't have the guidance of a GPS and my expert-at-maps husband.
It seems silly to me now that I had these doubts about the tree's magnitude. It was unmistakable. This tree is massive: Alligator junipers typically reach three to seven feet in circumference. This one was nearly 26 feet around.
As we took photographs, cradled and dwarfed amid the multiple trunks, I thought about how, like many others, I go outside when I need renewal inside. In nature, we can find the healing salves we seek: the unparalleled vista of Yosemite Valley, the light changing the colors of the Grand Canyon walls, the violence of a summer monsoon in the desert. It is humbling to think that all this exists without our presence and in spite of our interference. And trees are a part of that, too. Standing inside the base of a sequoia that has weathered centuries of fires, storms and drought, you will feel the strength of its silence, in an era of ubiquitous technology in which it seems increasingly difficult to wow our senses.
As I look at the photographs from that day, following the tragedy that touched so many of us, I feel an overwhelming sense of gratitude to the men and women who devote their lives to protecting us when we need it most — and also for defending and ultimately leaving behind legacies like this tree.
As the reports of containment of the Doce Fire and the neighborhoods spared came in, many in Prescott wondered aloud if the juniper had burned. We already knew how lucky we were to have emerged from the smoke without serious casualty or property loss, and then word came that our tree had also survived. And not only had it survived, but it had been specifically saved by a firebreak created by the Granite Mountain Hotshot crew.
Later, as word reached us of the tragedies of June 30th — both the Yarnell Hill Fire that consumed much of the mountain hamlet of Yarnell and the deaths of 19 of the men who tried to save that community — the reality of the close call that northwest Prescott had had with the Doce Fire sunk in.
Our loss — our community's loss — of these brave and courageous young men will reverberate for many years. Nothing can mitigate that. Perhaps, though, those who seek comfort can find it in the massive arms of this alligator juniper that was proudly honored by these brave men. If Mother Nature teaches us anything, it is that we are small, temporary beings. At the same time, though, we are learning already from the Doce Fire, and will, in time, from the Yarnell Hill Fire, that hardiness is one of nature's gifts. Already, the greening has begun, sprouting from the ashes and blackened soil.
The alligator juniper in Prescott National Forest will stand as a memorial for not only the 19 who gave their lives, but also as a symbol of strength and resilience to our community as we come to terms with this loss and our grief. This tree has so much to teach us. We only need to take the time to listen.
American Forests thanks the Granite Mountain Hotshots for protecting our forests and is planting 1,900 trees in memory of the 19 Hotshots who lost their lives doing a job they loved a week after saving this champion tree.