By Dylan Stuntz, American Forests
American Forests Wildlands for Wildlife initiative is engaged in restoration of threatened flora and fauna in key ecosystems across the country. One of those areas is the Southeastern U.S. where you can find one of our favorite animals: the gopher tortoise.
On Sept. 26, 2017, 30 gopher tortoises were released into Aiken Gopher Tortoise Heritage Preservation, after they were hatched at the University of Georgia Savannah River Ecology Laboratory, and then raised at Riverbanks Zoo and Garden. The long-term plan for recovery is to establish a viable population at the preserve, and then relocate and release in suitable habitats within areas identified for longleaf recovery. These new habitats will be permanently managed to protect the species.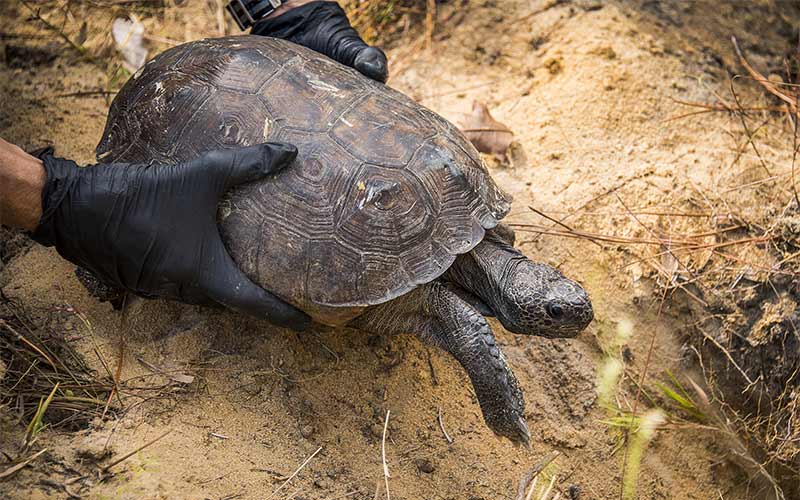 The gopher tortoise is a candidate for the Endangered Species Act in the eastern part of its range, and endangered west of Mobile Bay. The tortoise is called a "keystone species" because of its integral role in the ecosystem. The gopher tortoise digs burrows, hence the name "gopher," and those burrows, once abandoned, provide key habitats to roughly 350 other species. Along with restoration of the gopher tortoise, American Forests' work is also focusing on reforestation of longleaf pine, which provide an ideal habitat for the tortoises.
To restore longleaf pine in the Southeastern U.S., American Forests is collaborating with The Longleaf Alliance, an organization dedicated to ensuring a sustainable future for the species. In addition to relocated the baby gopher tortoises in 2017, the partnership resulted in the planting of 285,000 longleaf pines and the creation and maintenance of 150 nest cavities for another endangered species, the red-cockaded woodpecker, in South Carolina, Mississippi and Alabama.
"American Forests' funding was crucial to the expansion of this project," said Robert Abernethy, president of The Longleaf Alliance. "We have about 75 young tortoises that will be released next year and more collected in 2018. American Forests' contribution is making a positive impact on the restoration of this state-listed endangered species."
The care and release of these 30 tortoises was a consequence of partnerships with the South Carolina Department of Natural Resources, the University of Georgia Savannah River Ecology Laboratory, the Longleaf Alliance, the National Fish and Wildlife Foundation, the U.S. Fish and Wildlife Service and Riverbanks Zoo & Garden, engaging in a collaborative effort to restore the gopher tortoise.
"This is a partnership where, sometimes it's not enough to just protect the number of populations that we have left on threatened species," said Kurt Buhlman, from the University of Georgia Savannah River Ecology Laboratory, at the release of the tortoises. "This is an opportunity to build a new population and actually be proactive in our conservation efforts."