By Melanie Friedel, American Forests
Bird-watching can be an exciting way to explore the outdoors, or simply a relaxing activity while escaping into nature. Unfortunately, it's not always easy to find exciting birds in your backyard, but fear not — this list of the top forest spots to go birding will help you score some amazing finds!
Chiricahua Mountains, Coronado National Forest, Arizona
Don't be deceived by the miles of seemingly barren lands. These mountains rise up from the Arizona desert, providing a cool and wet climate perfect for a rare tropical bird: the elegant trogon. This metallic green and bright-red bird is the only trogon found regularly in North American forests. Thankfully, Coronado National Forest offers 13 trails, so pick one, grab your binoculars and get searching!
Sequoia & Kings Canyon National Parks, California
This pair of parks is special because it attracts species that thrive in riparian habitats. You're likely to see the beautiful and unique California spotted owl. It lives in elevation ranges between 1,000 and 8,000 feet, but it can only be found in the Sierra Nevada and southern mountains along the coast of California. If you're lucky, you'll catch it spreading its wings. Its wingspan can be as wide as 5 feet! The park recommends visiting in the spring through the fall to see this treasure of a bird.
While you're there, you might also run into the mountain quail, band-tailed pigeon, white-headed woodpecker, hermit warbler, yellow-billed Cuckoo, great gray owl, flammulated owl and the willow flycatcher, just a few more of the park's wide range of resident birds.
Acadia National Park, Maine
Accompanied by the scenic views from Maine's cliff-lined coast, this is the perfect site for spotting a ruby-throated hummingbird along a forested trail. The park offers guided bird-watching and walking tours, but even if you venture on your own, you have a great chance of seeing not only the ruby-throated hummingbird, but also a peregrine falcon.
Paradise area & Sunrise area, Mount Rainier National Park, Washington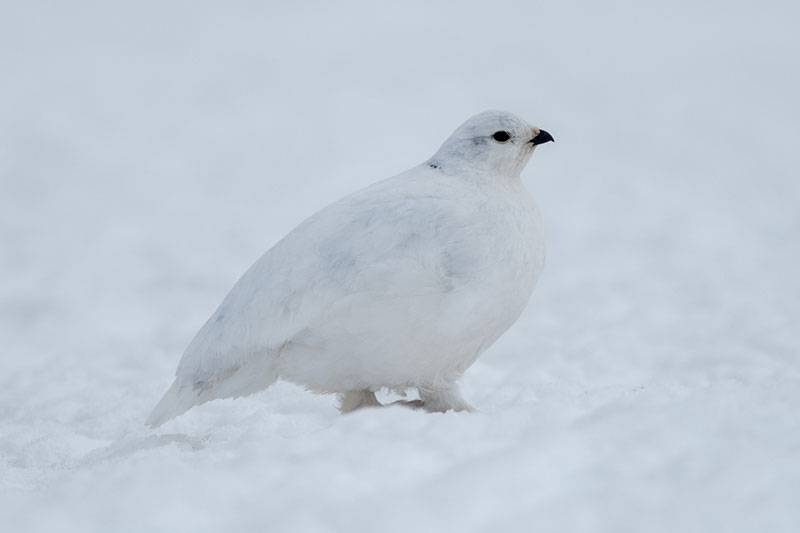 This 14,410-foot, active volcano is home to plenty of birds that are sure to keep you amazed with every step. In the Paradise area, you'll find the sooty grouse, band-tailed pigeon, red-breasted sapsucker, mountain bluebird and more. Along streams, look out for the American dipper, and in more open areas, check out the American pipit.
The Sunrise area can be found at an altitude of 6,400 feet — the highest point accessible by paved roads. Here you'll find the boreal owl, gray-crowned rosy-finch, and a small, round-bodied bird called the white-tailed ptarmigan. The neat thing about this bird is that it changes color between seasons, going from completely white in the winter to white with gray and brown spots in the summer.
Mountain Bluebird Trails, Montana
The birdhouses set up along these trails provide inviting homes for bluebirds and are bound to have you seeing lots along your way. The birdhouse entrances are just small enough to let in bluebirds, but too small for predators like magpies and raccoons to get in. Prepare to be amazed by the streaks of blue in the sky as the bluebirds fly past, or appreciate them up close as they take breaks along these trails constructed purely to preserve their habitat.
Sandia Mountain Wilderness, Cibola National Forest, New Mexico
Magee Marsh Wildlife Area, Ohio
More than 300 migratory bird species pass through this 2,000-acre stopover. It's one of the only beach ridges left on the southern shore of Lake Erie and one of the few remnants of the Great Black Swamp. But what makes this area even more unique and valuable are the several components that make it a vital marsh system. Here, you'll see orioles, vireos, flycatchers and raptors, but what the area is most known for is its warblers. Look out for the Kirtland's warbler, a Wildlands for Wildlife focal species and a rare bird found almost only in jack pine forests and identified by its bright yellow belly and blue-feathered head.
Shenandoah National Park, Virginia
This is the perfect place to enjoy nature's changing autumn colors or perch yourself atop one of the many hills, but as you make your way through the 500 miles of scenic trails, take your time and look out for the wide variety of local birds.
The black-and-white warbler's thin, squeaky song represents the beginning of spring. You can spot it by looking for a small bird striped with black and white feathers, nimbly creeping along tree trunks and branches, searching for insects or building a nest in a pile of leaf litter.
The white-breasted nuthatch might also be searching for insects and meaty seeds. It gets its name from its technique of jamming large nuts and acorns into tree bark and then poking at them with its sharp beak until they "hatch" open to release a seed. Check out its strokes of black, gray and white feathers. It's small, but not hard to track down with its loud and nasal call.
Hanging out in the shrubs of the forest understory, you might find a hooded warbler — look out for its bright yellow body, black neck and head, and the thick stripe of yellow across its face.
Another bright yellow bird you're likely to find here is the cedar waxwing. Its silky feathers fade from brown to cobalt blue to yellow at the tail, with red-tipped wings and a black mask. When searching, listen for a high-pitched and thin whistle call. In the fall, hundreds group together to gather berries. Don't be surprised by its impressive aeronautic skills if you see one in the sky!
If you hear a loud rummaging from the undergrowth of the forest, don't worry — it's most likely a eastern towhee. Its movement is loud for its size, but it's a very common bird identified by its deep black back and reddish-brown belly. They like to hang out in hidden spots, so you might only be able to catch a glimpse through the branches.
Rocky Mountain National Park, Colorado
This park is full of a variety of species from birds of prey and woodpeckers to hummingbirds and water fowl. The park provides such a diverse habitat that it's a designated Global Important Bird Area. Along with the white-tailed ptarmigan and the three-toed woodpecker, you can find the exotically colored western tanager and the rare but energetic and social pygmy nuthatch.
Hawk Mountain Sanctuary, Appalachian Trail, Pennsylvania
Of course there are some notable birding sites along the entire trail, but Hawk Mountain never fails to impress. The crosswinds create the perfect situation for the raptors to soar on the updrafts. The best time to see a variety of hawks, eagles, falcons and vultures is from September to November, when they make their journey south from Canada, New England and New York. The trail is a great place to camp out for a few days or even just spend an afternoon on one of the many tours and birding events the trail has to offer.
All of these beautiful wildernesses and birds are waiting for you. And these spots are only a few of the amazing areas across the country where rare and exotic birds can be found. Start with these, and see what you can find. You just might find them a little more exciting than your backyard.