Growing the field for Tree Equity
Over the past five years, American Forests has led and mobilized a nationwide movement of frontline advocates, national partners and allies to address the inequity around tree cover in American cities by income and race, and its life-or-death implications. Our own Tree Equity Score highlights this disparity: that communities of color tend to have 45% less tree cover than white communities, and lower income communities have 36% less than wealthier ones, leading to these neighborhoods being 6-9°F hotter as well. With extreme heat and flooding increasingly ravaging these communities, Tree Equity is a true climate justice issue. However, many cities and towns, and community-based organizations lack the needed funds, resources or bandwidth to achieve Tree Equity in their communities.
American Forests both unlocked $1.5 billion through our policy efforts in the Inflation Reduction Act of 2022 (IRA) and secured $50m of this public funding to deploy to the highest-need communities. Over the next five years through the Catalyst Initiative, American Forests will work to remove barriers for organizations and municipalities who can move the needle for Tree Equity on the ground by providing critical learning opportunities, technical assistance and funding. The Catalyst Initiative will undertake the following:
Identifying and engaging city, community frontline and faith-based actors facing the greatest barriers to entry into the Tree Equity movement.
Provide no-cost technical assistance with American Forests' Tree Equity tools and expertise.
Through the Catalyst Fund, provide cash grants which, when paired with tailored technical assistance, can realize catalytic and sustained progress in Tree Equity for those actors facing barriers to entry.
Working in close partnership with the U.S. Forest Service, American Forests will launch a first round of support through the Catalyst Fund for small and large cities beginning in early 2024.
The Catalyst Initiative and Catalyst Fund are a key part of our promise to help at least 100 cities make meaningful progress on Tree Equity by 2030 through best-in-class tools, resources and equitable funding. If you want more information about future opportunities to partner or be involved, please email info@americanforests.org.
Join Our Upcoming Webinar
This series will spotlight community action utilizing the Tree Equity Score and other methods, featuring leaders and members of these communities: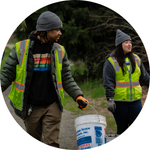 Leveraging Tree Equity Score: Digging into TES & equitable urban, community forestry
Join us for the first in a series of learning webinars on January 11 focused on leveraging American Forests' Tree Equity Score (TES) in your local urban and community forestry program. This series is especially geared toward recipients of the USDA-Forest Service 2023 Urban and Community Forestry grant awards, an unprecedented national $1.5B investment in urban and community forestry. In this webinar, American Forests' experts in urban forestry, data, mapping and GIS, and community engagement will outline the Tree Equity Score and introduce its applications in communities, as well as additional resources for implementing tree equity.