Magazine
Current Issue:
Best of American Forests
From new urban forestry methods and visiting champion trees, to fighting invasive species and learning about the many incredible creatures that make their home in forests, these articles offer some of the best that American Forests magazine has to offer. More will be added as time goes on, so check back to discover more archived articles.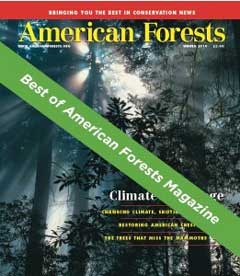 Get Involved
There is a lot you can do to ensure that our forests in cities and natural landscapes are healthy for generations to come. Be a voice for forests.
Support Us
Every gift helps American Forests restore forests in cities and natural landscapes — for people, wildlife and the planet. Give today and help us protect forests for tomorrow.