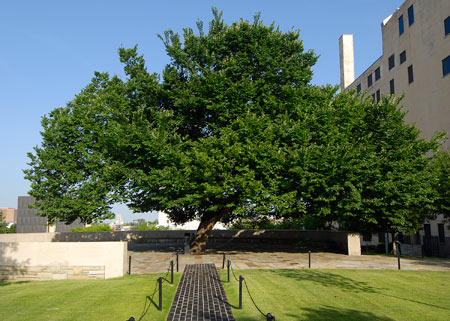 A week ago, I stood in front of "The Survivor Tree" at the site of the Oklahoma City bombing, humbled by the strength of this tree that so accurately reflects the courage and spirit of the Oklahoma City community.
Today, as I hear stories and see images of the destruction caused by the tornado just four days after I left, my heart is saddened, and my thoughts are with those who must soon start to face the journey of recovery. Tearing through 17 miles of central Oklahoma and leveling hundreds of homes on Monday, the F5 tornado spanned 1.3 miles and packed winds that topped 200 mph. As the search continues for those who are missing, I've found myself reflecting on the city, the loss and the challenges that are being endured. And, I am reminded of The Survivor Tree.
This 80-year-old American elm witnessed one of the worst terrorist attacks in our country. Prior to the Oklahoma City bombing of 1995, this lone elm stood in the middle of a parking lot, surrounded by concrete and cars, outside the Alfred P. Murrah Federal Building. While some folks enjoyed parking under the limited shade of its limbs, others thought it was an eyesore. Not much went into caring for this tree — until it was the only thing left standing.
On April 19, 1995, a 4,000-pound bomb exploded at the federal building, killing 168 people, injuring hundreds and destroying multiple buildings. But this tree, in the midst of the explosion and fires, survived. Then, it was almost cut down to recover evidence embedded in its trunk and limbs, but the community, survivors and rescue workers all came together to protect the tree as a symbol of resilience. Today, the tree thrives, surrounded by special features that protect and highlight it.
As I watch the news and hear stories of the newest tragedy to strike Oklahoma City, I reflect on the courage and strength of this community. As we make strides to make some sense of the natural and man-made horrors that come our way, I find hope in the tenacity of our human spirit. As we seek to support the recovery of this town in its time of need, I wanted to share the story of The Survivor Tree as a symbol of the strength of Oklahomans. As the inscription around the tree reads, "The spirit of this city and this nation will not be defeated; our deeply rooted faith sustains us."