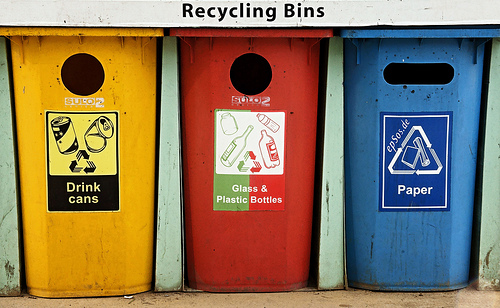 Last week, Newsweek released its green rankings for 2011, identifying the world's top 500 eco-friendly companies. Such a massive undertaking requires a bit of help, so the rankings are created in cooperation with two major environmental research organizations. As someone who tries to be environmentally conscious when shopping, I wanted to learn more.
Each company is ranked according to their overall Green Score, which is determined by a combination of individual scores. First is the Environmental Impact Score, which reflects the company's comprehensive environmental footprint, including everything from carbon emissions to water use to waste disposal. Next comes the Environmental Management Score, which determines the quality of the company's practices, such as the contractors they hire or the goals of their environmental policies. Last in line is the Disclosure Score, which assesses how accurately and completely the companies report their environmental impacts and practices.
Though the rankings feature the top 500 global companies, I was more intrigued to see the top U.S. companies and how they got to the top of that list. So here are some highlights from the top 15 green companies in the U.S. that surprised me a bit.
IBM
Not only is IBM #1 among U.S. companies, but it also holds the #2 spot on the entire list and is the only U.S. company in the top 10. Apparently IBM has been working towards greener goals since 1971, and some of its environmental practices have been so cutting edge that they were put into practice before even the EPA caught on to their importance.
Johnson & Johnson
Most of us know this company (which holds the #6 U.S. spot) for baby shampoo, but they're also extremely proactive in the realm of alternative energy. They've reduced their greenhouse gas emissions by 23 percent in the past decade and are one of the nation's biggest consumers of solar power. The EPA even named them the seventh largest producer of renewable energy in the U.S.
Adobe
This well-known company holds the #14 U.S. slot for taking a variety of steps towards sustainability over the last few years, including reducing its electricity usage by 35 percent and its natural gas usage by 41 percent.
Take a look at the rest of the nation's top 15 greenest companies here.