This week's International Society of Arboriculture's 2012 True Professional of Arboriculture has travelled as far as China to bring arboriculture practices and work safety education to people who need them. Donald Lee Picker is an ISA-Certified arborist, CEO of Asia Tree Preservation, Ltd. and chairperson of the Institute of Arboriculture Studies in Hong Kong.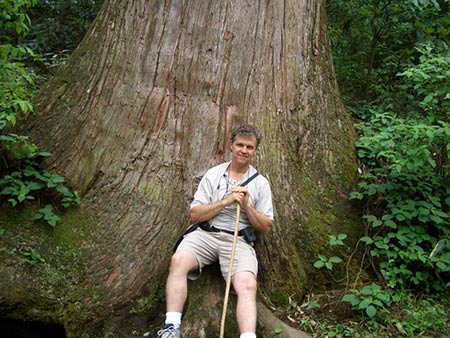 Donald Lee Picker's ties to arboriculture reach back to his early years growing up in Belleville, Ill., where he started a lawn mowing service at age 12. Later, while studying cross-culture communications at Crown College in St. Bonafacius, Minn., Picker also studied planting and landscape architecture. He worked every summer at Swedberg Nursery in Battle Lake, Minn.
"You learn the basics," Picker remembers. "You start right from the beginning and are put through the ropes. I worked with a handsaw first for about half a year and I dragged brush through the snow in my first job in Vegetation Management. It was good hard knocks learning."
After college, tree work continued with jobs in utility vegetation management and the formation of his first business, Picker Tree Experts, Ltd. "My whole life I wanted to work outdoors," says Picker. "I was satisfied doing what I've always wanted to do, but there was a deep interest in peoples of the world and their languages and cultures."
Picker's natural curiosity of culture and people led him to think globally instead of centering on what was happening in his own backyard.
He sold his business, obtained an advanced degree in cross culture communications from Wheaton College Graduate School in Chicago, and moved to South China. His family then spent the next nine years involved in relief and development work in China while studying the culture and languages there. One of his initial projects was researching to help improve a population's way of life. "A number of the Yao people in South China had outgrown the area and soil was limited, so they had to move," recalls Picker. "We worked with the people to choose a new area and decide what they should live on (fruit trees) that could be sold fresh or dried. They went from near starvation to making about $1000 U.S. dollars a year, a significant improvement.  It was such a satisfying project."
A brief return stay in the U.S. from 2000 to 2004 allowed Picker to become an ISA Certified Arborist, and re-establish Picker Tree Experts. It also gave him the idea to take modern practices of arboriculture to areas of China that could benefit from education. In 2004, Don and his wife went back to Hong Kong, taking his tools and Picker Tree Experts with them.
Picker has been instrumental in promoting arboriculture abroad for the past decade. He is currently the CEO of Asia Tree Preservation, Ltd, his tree care company founded in China in 2007. He also helped establish the Institute of Arboriculture Studies-Hong Kong, coordinated the translation and publishing of the first-ever Tree Climbers' Guide; Chinese 1st Edition and has long been a lobbyist through his work with the ISA International Safety Committee for safety among tree workers.
"There is a great need for a special focus on safety in Hong Kong, as in many countries, where in some cases no helmets are worn and safety belts are not attached," admits Picker. "We are committed to providing educational programs to raise the standards of arboriculture practices and also create a safer work environment. Whatever we do, the result should be that someone is educated." —ISA and Donald Lee Picker
Join us next Friday to meet a True Professional who went from falling out of trees to giving some of the most memorable safety talks in the industry.