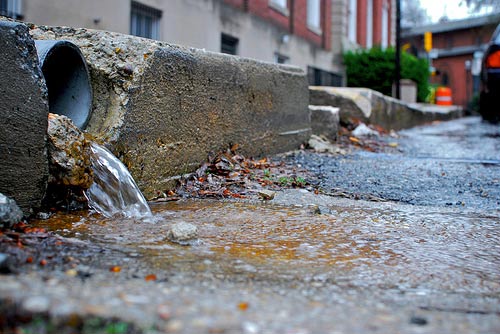 From basement backups to beach closures, polluted runoff can have big costs for communities.
In 2011, polluted runoff caused 47 percent of beach closing and advisory days. A study of 28 popular, yet polluted, beaches in Southern California calculated that swimmers suffered an estimated 1.5 million gastrointestinal illnesses, resulting in an economic loss of between $21 million and $51 million every year.
When it rains in cities or suburban areas with lots of roads and rooftops, rainwater is unable to soak into the ground. Instead, it begins to rapidly accumulate and flows quickly along the surface, where it picks up sediment, pesticides, oil or heavy metals. The polluted urban runoff flows into storm drains, where the untreated water is discharged into local rivers and lakes. In cities with combined sewer systems, runoff can cause sewage overflows — sending untreated sewage into local waters.
At American Forests, we've been working to increase awareness of the benefits urban forests bring to a city, including the role they play in reducing such runoff. Urban forests intercept rainfall, allowing the water to be absorbed into the tree, roots and soil. This saves cities money, as it decreases the need for artificial stormwater controls, or gray infrastructure. A single front-yard tree can intercept 760 gallons of rainwater in its crown. A number of our Global ReLeaf projects have focused on plantings in urban areas for precisely these reasons. But there's still a long way to go.
Right now, the Environmental Protection Agency (EPA) has the opportunity to update and modernize its approach to managing runoff, including requiring onsite management of runoff to capture rainwater where it falls. This would incentivize green infrastructure, aka urban forests, in the form of projects like green roofs and rain gardens.