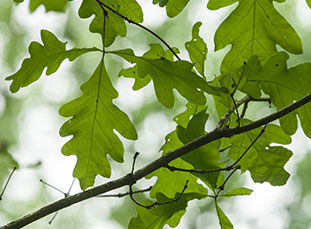 Across the Eastern United States, oaks have sustained us and shaped our way of life. But now they need our help.
If you like a glass of wine, whiskey or bourbon, your drink was probably aged in white oak barrels made in America. Oak is also one of the most valuable woods for making furniture and other wood products, supporting an important slice of the 2.4 million jobs in America's forest products industry.
Oak forests dominate some of our most important landscapes for water and wildlife, too. The lush mountain headwaters in heartland states like Kentucky and Missouri flow from oak forests. Oaks are also an unusually productive source of food for wildlife thanks to the abundance of acorns. In fact, those same acorns were once a source of food for people!
Oak forests are under pressure from many directions: lack of natural, low-intensity fires, too many deer, and new pests and diseases. If we want to sustain oak forests as a resource for our country, we have work to do.
Oak Restoration in Action
American Forests is working with diverse partners to meet this challenge by restoring and revitalizing oaks across America, stretching from Missouri, Kentucky and Tennessee to Virginia and West Virginia. In response, American Forests established the Oak Restoration Fund.
The Oak Restoration Fund goes directly into planting and restoring oak forests for our future. These dollars pay for reclaiming abandoned mine land to be replanted as oak forest, planting seedlings, and managing forests to support native oak stands. This fund brings future oaks to life and sustains the benefits that they provide us.
To kick-start the Oak Restoration Fund this year, Independent Stave Company is providing up to $50,000 in matching funds to support over $100,000 in restoration projects. As the Fund matures, additional projects will be implemented throughout the areas where oak populations are suffering.
To join this effort and contribute to the Oak Restoration Fund, please contact Jennifer Broome, Vice President of Philanthropy at jbroome@americanforests.org or 202.370.4513.