Like grizzlies, North American wolverines have come back from the brink. In the early 20th century, human encroachment on their habitat led to a dangerous decline in numbers, but today, wolverines once again roam a large section of their old range in the Mountain West, from Alaska and the Canadian Rockies to Idaho, Montana and Wyoming.
One wolverine in particular has become a sort of mascot for his species' miraculous recovery. Enter M56. Fitted with a transmitter that tracks his location, M56 was once your average Wyoming wolverine, but in 2009, he became a symbol of hope for his species' future when he made a 500-mile trek into Colorado, becoming the only known wolverine in the state and very likely the first to live there since wolverines disappeared from the southern reaches of their range nearly a century ago.
But, this success story is not all that wolverines have in common with grizzlies. Both are facing a new foe brought on by climate change. These new challenges suggest we may want to temper our hopes.
Wolverines love — need, actually — snow. And I'm not talking about a dusting. An environment too harsh for many is just right for them. They can even smell food beneath 20 feet of snow! Females dig their dens in snow. The litter of two to three cubs requires a warm, safe den in about 15 feet of snow that will last well into the spring. As the warming climate lessens snowpack and brings about earlier snow melt, wolverines' habitat is threatened.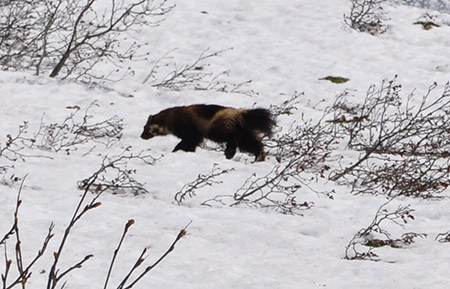 The threat is serious enough that in 2010, the U.S. Fish and Wildlife Service determined that wolverines should be a candidate for listing under the Endangered Species Act, citing climate change as the primary reason. Actual listing was delayed as the agency focused on species in greater need, but now, the wolverine's status has been revisited. After deliberations this month the Fish and Wildlife Service is expected to list the wolverine as "threatened," halting trapping of the animal. This year's trapping season in Montana had already been suspended in anticipation of the decision.
With 2012 having gone down as the warmest year in recorded history, the potential threat to wolverines is inching closer and closer to a reality. Four years since his journey, M56 is still believed to be the only trail-blazing wolverine in Colorado. As warming continues, it seems less likely that others will join him there.