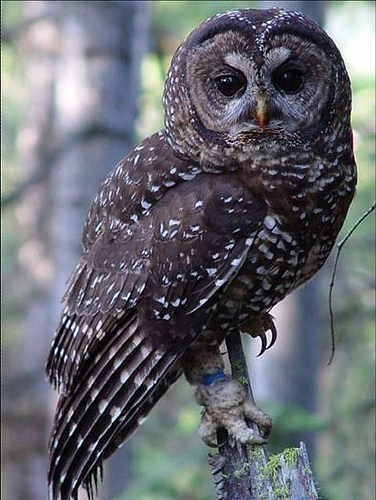 The Pacific Northwest is well known for its old-growth forests, untouched by humans for centuries. These diverse and resilient ecosystems are home to a host of wildlife, including the northern spotted owl. But unlike perception, not all of the forest has remained untouched.
In the last few centuries, destructive activities such as clear-cut logging have become a threat to old-growth forests and the wildlife that call them home. Much of what's left of the Pacific Northwest's old-growth forests lies on public land, managed by the U.S. Forest Service and the Bureau of Land Management, which allows for some timber harvesting. Despite their rich history and diverse plants and wildlife species, these forests remain targets for logging activities. This isn't good news for the northern spotted owl.
Primarily found in the old-growth forests of Oregon, Washington and California, the northern spotted owl is very territorial and sensitive to habitat disturbance. That means human activities like logging, land conversion and forest fragmentation are huge threats to the survival of the species. Due to diminishing old-growth forests, the northern spotted owl has been listed as a threatened species, which is a disturbing sign for the health of the old-growth forests — the northern spotted is an "indicator species," which means that scientists study them to get a better picture of the health of the overall ecosystem.
Recognizing the urgency, the U.S. Fish and Wildlife Service (FWS) is working on recovering the species and recently sought public comments on revising the critical habitat area for the owl. According to FWS definitions, critical habitat is an area that's essential to the conservation of a species and is legally protected under special management practices. American Forests submitted comments with several suggestions for the agency. The comments point out the agency needs to incorporate adaptive management strategies that allow for close monitoring of species recovery and making adjustments if necessary. It's also important for the agency to take an "ecosystem approach" to management, focusing on recovering the overarching ecosystem that the owl relies on for the most effective and lasting recovery. Another suggestion is to incorporate landscape-scale management, which heavily values local knowledge and public participation.
It's tough to restore and protect wildlife habitat with increasing human activity and interference, but my hope is that the U.S. Fish and Wildlife Service incorporates American Forests' suggested management strategies to ensure that the northern spotted owl will continue to be spotted in old-growth forests for years to come.