From the "most wonderful time of the year" to maybe the most dreaded: holiday clean up.
It's estimated that each year, more than 25 million live Christmas trees decorate people's homes, businesses and other establishments during the holiday season. That's a lot of pine needles! These trees represent just a fraction — seven percent — of the 350 million Christmas trees growing on farms throughout the U.S., and more trees are planted by farmers than are used each year: The University of Illinois reports that one to three seedlings are planted for every tree harvested.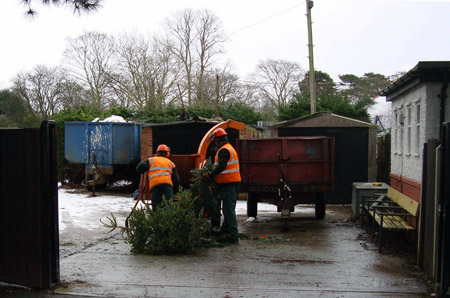 But what happens to the harvested trees once their yuletide job is done? In many communities across the country, they get put to work again — just in a different form.
For instance, in New York City, the Department of Sanitation has already instituted its annual curbside pickup program, which simply requires residents to remove all ornamentation from the tree (tinsel, stands, ornaments, etc.) and place it on the curb for pickup. The non-bagged trees are then collected by the city, chipped and made into compost, which is used to provide nutrients to the Big Apple's many parks, gardens and sports fields. This is a fairly common practice in municipalities across the country, but some other places get even more creative.
A quick internet search should be able to help you find the tree-cycling program in your area.
And while you're thinking about trees, think about heading over to our Donate page to help us continue to protect and plant forests and trees. You have a few more days to get those tax-deductible gifts in before we welcome 2013.