Johnny Appleseed may have been a folk hero who wandered the frontier in his burlap sack and tin pot hat, scattering apple seeds to the wind, but John Chapman — the real life figure upon whom that legend is based — was actually an astute businessman who planted nurseries in strategic locations. He was born in Massachusetts on this day in 1774. Centuries later, his life's work still has a hold on Americans' imaginations.
As a young man, Chapman went west, probably armed with some apple seeds from the pulp of a cider mill. Staying one step ahead of the settlers who were journeying toward the frontier, he planted nurseries that would be ready when they arrived.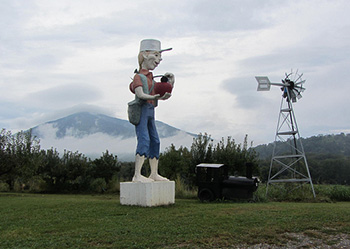 Chapman knew something that remains true today: Trees are good for communities. Although they may not have known it, those settlers were reaping many of the same benefits of trees that we enjoy today: cleaner air, cleaner water, cooler temperatures. But they were keenly aware of some other benefits that Chapman's trees brought: alcohol and land rights.
Hard cider and applejack were important drinks for settlers on the frontier in those days. They could be used as currency or medicinally. What's more, the presence of an orchard was often a way that settlers could uphold claim to land. As Chapman's nurseries grew into orchards, he could sell them off to eager buyers. Just as today, trees added value to property. It's said that Chapman died a rich man thanks to the many unsold orchards he owned, but his humble, bare-bones lifestyle belied his wealth.
Chapman was a successful businessman, but he was also a conservationist and a true outdoorsman. Most accounts say that "the appleseed man" was welcomed by all during his travels, but often preferred to sleep outside rather than in the beds or on the floors offered to him. He was known as an animal lover who not only wouldn't harm a fly, but would actually rescue them from the campfire, according to one account. Throughout his life, he chose roaming from nursery to nursery and sleeping under the stars over settling down.
Like Chapman, we at American Forests know that trees have practical benefits, but are also good for the soul. His birthday is a good reminder to value both those sides of planting trees. Like him, we plant trees because they have measurable value to communities, but also because of something immeasurable — it just feels right. And, like him, we've even been known to plant a fruit tree or two.