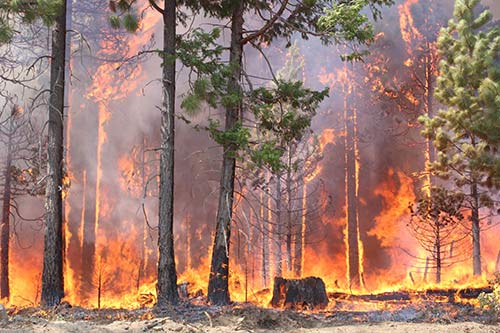 In a recent paper published in Science, leading fire scientists in the West propose a solution to address the sweeping and highly destructive wildfires that have ravaged the region in recent years: more fire. The authors, including top scientists from the University of California, Berkeley, the University of Washington, Colorado State University and the University of Arizona, stated that "fire policy that focuses on suppression only delays the inevitable, promising more dangerous and destructive future forest fires." In the past, conventional wisdom in wildfire prevention tactics held that suppression of fire is the most effective tool in fighting fires, but this paper states that the effect that climate change has on forests should be reflected in new fire policy. The proposed changes to fire policy in this paper include the use of more controlled burns as a method of reducing fuel levels in forests.
Previous  fire suppression policies  have contributed to more destructive fires in the region. The regrowth and fuel buildup resulting from these campaigns, coupled with the timber harvesting that removed many larger and more fire-resistant trees, has changed the forested landscape in the West. As rising temperatures lead to a longer fire season, these forests are more vulnerable. A chief concern expressed by the authors of the paper is that severe fires will disturb large enough areas of the conifers that have adapted to frequent forest fires, causing the loss of the seed bank, thereby thwarting forest regeneration. This would lead to more permanent changes to forest makeup as these areas would become shrub fields as opposed to robust forests.
The prescribed burn method has been used at several national forests with remote wilderness areas across the country, but has been hindered in California, where air quality regulations and threat posed to neighboring communities has many concerned with this method. In this case, the authors concede that, with the careful preservation of bigger trees, mechanical thinning to weed out the smaller, denser tree growth in the region could have a similar effect as burning.
At American Forests, we recognize that large, intense, destructive wildfires pose a serious threat to forests, which is why we have several Global ReLeaf campaigns focused on the restoration of areas affected by such wildfires, including Alpine County, California, which was affected by the 2011 Airport Fire. To learn more about the Airport Fire Planting or any of our Global ReLeaf campaigns, visit the Global ReLeaf section of the American Forests website.