The U.S. Fish and Wildlife Service's National Pollinator Week is a time to celebrate pollinators and marvel at how some of the smallest among us — bees, hummingbirds, bats and others — facilitate the reproduction dance of so many of our flowering trees. In fact, according to the Fish and Wildlife Service (FWS), more than 75 percent of all flowering plants are pollinated by animals. Without pollinators, we wouldn't have crops like coffee, chocolate or many fruits and vegetables. Pollination by insects alone contributed to approximately $30 billion worth of crops in 2010.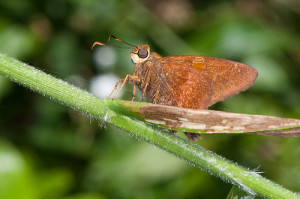 But, this year, there is also sad news: Last week, the FWS, alongside other members of the Imperiled Butterflies of Florida Working Group, concluded that two south Florida pollinators, both butterflies, are likely extinct. The rockland grass skipper hasn't been spotted since 2000, while the Zestos skipper was last seen in 2004 and even that was after decades without any sightings. What makes the Zestos skipper's story particularly poignant is that it was only recently discovered to be a separate subspecies, distinct from the Zestos skippers in the Bahamas and eastern Antilles. Those skippers' healthy populations account for why the disappearing Florida butterfly was never listed as endangered.
While many factors may have contributed to the skippers' disappearances, including pesticides, invasive species and poaching, scientists believe the main culprit is habitat loss and fragmentation. That's why we work to protect and restore wildlife habitat in order to protect biodiversity. We've planted more than 44 million trees, including some projects focused specifically on pollinator habitat, such as our Forests for Monarchs partnership with the La Cruz Habitat Protection Project, planting 100,000 trees in the monarch's winter habitat. But our habitat restoration work depends on the support of people like you. Please help us continue our protection and restoration efforts.