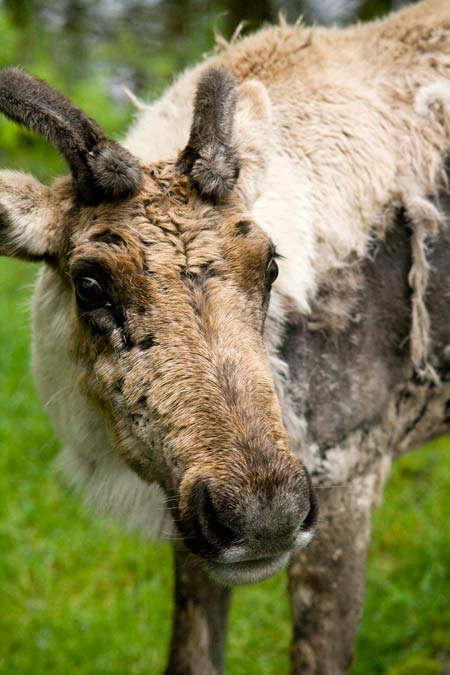 Today is the eighth annual Endangered Species Day! In December 1973, President Nixon signed into law the Endangered Species Act, which charged the U.S. Fish and Wildlife Service and the National Oceanic and Atmospheric Administration with protecting not only the listed species, but "the ecosystems upon which they depend." And for the last 40 years, the agencies have been developing and implementing wildlife protection and recovery plans for hundreds of plant and animal species.
Woodland caribou (Rangifer tarandus caribou)
Last year, American Forests Global ReLeaf visited Washington's Colville National Forest to work with the U.S. Forest Service to improve habitat for the forest's wildlife, which includes the endangered woodland caribou (Rangifer tarandus caribou). Woodland caribou was added to the Endangered Species Act in 1983.
Red-cockaded woodpecker (Picoides borealis)
From 2008 to 2012, American Forests partnered with Florida's Hal Scott Regional Preserve and Park to plant longleaf pine throughout hundreds of acres of the park to restore habitat for the endangered red-cockaded woodpecker. The woodpecker, endangered since 1970, requires many acres of mature longleaf pine habitat to thrive, but longleaf ecosystems have been dramatically reduced from almost 90 million acres two hundred years ago to less than three million today.
Coho salmon (Oncorhynchus kisutch)
Each year, American Forests conducts multiple riparian restoration projects to improve watershed health and aquatic habitat. Many of our riparian projects in the Pacific Northwest are aimed specifically at helping endangered and threatened fish species. This year, we're planting 8,800 trees along Oregon's Thompson Creek to help the threatened Coho salmon, which has been listed under the Endangered Species Act since 1997.
Wood stork (Mycteria americana)
Found in the Southeast, the wood stork was listed as endangered in 1984. Last year, American Forests partnered with The Nature Conservancy to plant pond cypress trees in South Carolina's Washo Reserve to create nesting habitat for the stork.
Over the years, we've been able to help so many species thanks to the support of our members, but, today, amidst our recognition and extra focus on endangered species, I want to also take a moment to talk about what if. What if we didn't have an Endangered Species Act working to save animal species on the brink? To date, less than one percent of species listed under the act have been removed because of extinction — that's a 99 percent success rate! While my question might seem theoretical, due to the state of the U.S. budget, this question is more real than you think.
In 1982, the designation "warranted but precluded" was added via amendment to the Endangered Species Act. This fancy phrase means that a species should be given protected status under the act, but other species take priority in that year. Basically, it can't be added because of a lack of funds to support recovery plans and activities. Ruh-roh!