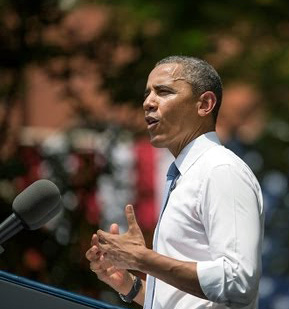 This week has been rather historic in D.C. between Supreme Court decisions and new presidential initiatives, and as you can imagine, the latter has us pretty revved up.
On Tuesday, citing the need to address climate change for the health of our children and our children's children, President Obama revealed his wide-ranging agenda regarding climate change. His executive plan outlines three core areas of focus:
Cutting carbon pollution in America.
Preparing the United States for the impacts of climate change.
Leading international efforts to address global climate change.
Some of the ways the plan aims to address these areas include reducing carbon pollution from power plants, investing in clean energy, improving energy efficiency, supporting climate-resilient investments and working with other countries to take action around climate change.
As the plan acknowledges, America's forests remove nearly 12 percent of the total U.S. greenhouse gas emissions each year, but we can't rely on them to continue to perform this massive feat unaided. They are continually being threatened by the very thing they're helping fight in the form of intense wildfires, drought, pests and disease, so we're gratified that "the administration is working to identify new approaches to protect and restore our forests, as well as other critical landscapes including grasslands and wetlands, in the face of a changing climate" — this is something we've been doing for more than a century.
Back in the 1800s, American Forests' founders recognized a disturbing trend in the country: Healthy forests were being destroyed at an alarming and unnecessary rate. As a result, in 1875, they formed this organization for "the protection of the existing forests of the country from unnecessary waste." It's hard to believe that almost 140 years later, we're still fighting some of those same concerns, but over the years, we've become pretty good pugilists.
In just the last few decades, we've planted more than 44 million trees in diverse landscapes across the country and around the world. We've helped restore swamps in Maryland, streamside vegetation in Washington, severely burned forests in California, wildlife refuges in Texas and endangered bird habitat in Michigan, to just name a few. It is no wonder to us how similar to the climate change plan's call to implement "climate-adaptation strategies that promote resilience in fish and wildlife populations, forests and other plant communities, freshwater resources, and the ocean" this sounds.