By Caroline Brooks, Communications Intern
American Forests invites you to bid "aloha" to the mainland and come along on our Hawaiʻi Wild Forestscape this fall. For one week this October, our group will explore some of the Island's most captivating sights, from volcanoes and beaches to wildlife to forest habitat. While we appreciate these Hawaiian wonders, we will also learn about the threats to their existence.
For millions of years, plants and animals across the Hawaiian Islands evolved in isolation, creating perhaps the most unique ecosystem in the world. The various species of wildlife and vegetation thrived in their natural habitat until the arrival of the first human settlers 1,000 years ago. These settlers — the Polynesians — brought with them new animal species and hunted the archipelago's native creatures. Additionally, they cleared much of the forest lowland to plant their own non-native crops.
The most severe destruction occurred in the 1800s, when European and American colonists introduced cattle and livestock to Hawaiʻi. The animals were not supervised and roamed freely, damaging acres of forestland.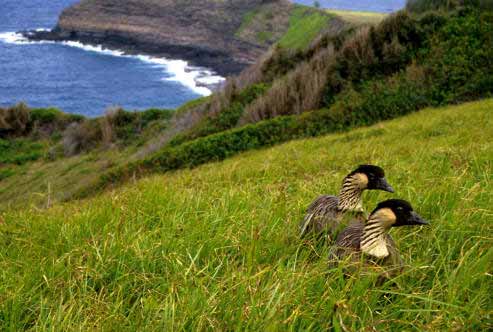 Government and industry officials grew concerned that the livestock would deplete sources of water throughout Hawaiʻi. In turn, this would cap the production of sugarcane, the territory's main cash crop.
Hawaiʻi's first preservation movement followed in 1903, when the Territorial Legislature established its Division of Forestry, which possessed the power to form forest reserve systems. They sought to block and remove livestock from indigenous forests and develop reforestation and fire-control programs.
The reserves planted some 2 million trees by the late 1930s. However, these species were foreign to Hawaiʻi and created sparse, simple forests. Today, less than one percent of Hawaiʻi's budget goes towards forest management. Simultaneously, imperiled plants and animals experience survival threats from feral animals and invasive vegetation.
On the Hawaiʻi Wild Forestscape, our group will meet with several organizations and agencies dedicated to restoring and protecting the state's forests. We will visit project sites, observe endangered native species, and engage in dialogue and action to appreciate how the wonders of the island can be preserved for future generations.
In the coming weeks, Loose Leaf will highlight some of the destinations included on Hawaiʻi Wild. We will illustrate the work of groups like Hawaiʻi Volcanoes National Park and the San Diego Zoo.
We will also discuss two endangered flora and fauna, the koa and the Hawaiian Crow, to explain the circumstances that significantly depleted their populations and how they can be protected so that they might flourish again in the Hawaiʻi wild.
Read about some of the plants and animals that we will encounter on Hawaiʻi Wild:
Hawaiʻi Wild Part Two: Something to crow about in Hawaiʻi —  

The Hawaiian crow is one of the state's most critically endangered species; however, a San Diego Zoo program solemnly strives to reform this status.

Hawaiʻi Wild Part Three:  King koa — A dwindling koa tree population has compelled various reforestation groups to action.
Hawaiʻi Wild Part Four: National park loyal to native wonders — Hawaiʻi Volcanoes National Park is intent in its duty to restore endangered plant and animal species so they can freely roam the land that they call home.