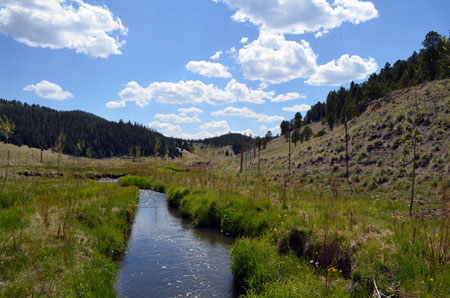 Like its neighbors, the Zuni Mountains, the Jemez Mountains are an important water source for the area and have been devastated by wildfire. In 2011, the second largest wildfire in New Mexico's history, the Los Conchas Fire, burned across more than 150,000 acres of the Jemez Mountains. As Loehman relates, "Fish populations on streams where we have done projects … were wiped out or greatly reduced by the fire. And all wildlife suffered, not just the trout. The scope and intensity of the damage shows how much at risk the rest of our Jemez streams are."
Even before the Los Conchas Fire, American Forests recognized the importance of this ecosystem. Since 2010, we have planted more than 280,000 trees in the area, restoring almost 800 acres of critical ecosystem. But this isn't the only work underway in the Jemez Mountains.
One of the first 10 projects funded under the U.S. Department of Agriculture's Collaborative Forest Landscape Restoration (CFLR) program, for three years, the Southwest Jemez CFLR project has been working to reduce wildfire risk, restore perennial streams and improve forest health and wildlife habitat. So far, 2,668 acres have been cleared of hazardous fuels, and 3,546 acres of wildlife habitat have been restored. It's successes like these that make American Forests a proud supporter of the CFLR; we sit on the CFLR Coalition Steering Committee, which was created to ensure that CFLR projects receive full funding throughout the course of their 10-year project plans. In 2012, this goal became a reality with all 20 CLFR projects receiving full funding, with another three receiving additional support — a level of funding that continued in 2013 through continuing resolutions. Now, the coalition and our policy team are actively working to make sure that full funding is here to stay in FY2014 and beyond because the CFLR programs are proving we can make great strides when we work collaboratively on forest restoration.