By Austa Somvichian-Clausen, Marketing and Communications Intern
There's so much more that can be done with your Christmas tree besides throwing it away! From festive decorations to functional garden helpers, here are a few tips on how to make the most of your Christmas tree this year.
1. Living Bird Feeder
A whole Christmas tree makes an excellent bird feeder for your backyard. Stick the tree in the ground or leave it in its stand. A wide variety of birds will be attracted by suet, cranberry and popcorn strings, stale bread and dried, chopped fruit in mesh bags. If you grow sunflower seeds, simply hang the whole sunflower head on the tree. Your family will discover that chickadees, song sparrows, cardinals and a host of other birds come for the food and stay for the shelter.
2. Home and Garden Decor
Cut off all the branches and use the trunk to edge a garden. The trunk can also be strategically placed in your garden as a resting spot for birds, squirrels and other little critters. You can also use the cut-off branches as decorations throughout your home.
3. Mold-Free Mulch
Since pine needles dry quickly and decompose slowly, you can use them as moisture- and mold-free mulch in your garden. Many communities throughout the country have tree-recycling programs, in which trees are collected from residents and then chopped up to be used as mulch for plants in community parks and gardens. You can find out about your local tree-recycling program by calling city hall.
4. Relax by the Fire
The trunk can be sawed into logs and burned in your fireplace. Just make sure to not burn the branches, since they can send off sparks!
5. Smell Like Christmas Year-Round
You can make a DIY air freshener by crushing up the pine needles and putting it into a bowl of potpourri or into sachets.
6. Sippin' on Tea
Another use for your pine needles is to make them into tea. It's as easy as steeping pine needles in boiling water, and then straining it into cups to drink.
7. Wooden Coasters
Use the stump of your tree to make wooden coasters! Saw your tree stump into 1/3- or ½-inch-thick disks.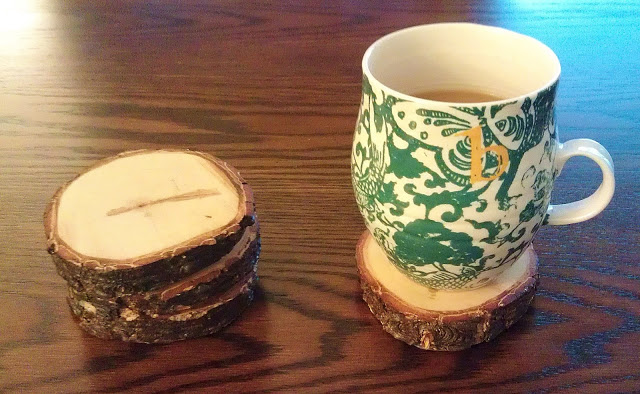 8. Feed Your Garden
If you still have your Christmas tree out in the yard when warm weather appears, there's still a use for it. Burn the branches, which contain soil-enriching nutrients and minerals, and spread ashes in your garden.