By Eric Sprague, Justin Hynicka and Jeff Lerner
In short, we have fewer forests, and large portions of those that remain are fragmented and degraded. Not surprisingly, those factors spell outright loss of habitat and are the main threats to biological diversity in our country. Because of these factors, more than 17,000 species of animals and plants in the U.S. are considered at risk of extinction.
In the last 25 years, American Forests has restored more than 150,000 acres of forest, an area that would cover more than 200 square miles if it were contiguous, through projects in every state. Yet, we know so much more needs to be done to restore forest habitat and recover populations of at-risk species. What is needed is a more strategic approach. Taking on that challenge, American Forests has embarked on a new initiative to focus on a handful of critical forest ecosystems in the U.S. with the goal of accelerating conservation activities for critical wildlife habitat in those areas: our new Wildlands for Wildlife initiative.
Introduced here are the initial seven forest ecosystems where we will invest in restoration work, participate in conservation planning, engage policymakers and raise public awareness. After a review of regions across the U.S., these priority areas were selected because, though they have been severely reduced in size and extent as a result of various factors, they are key to the recuperation of biodiversity and are places for which opportunities exist to accelerate the pace of ecosystem recovery. Systems were also chosen based on American Forests' history in the areas, our ability to make long-term commitments to play a transformational role in ecosystem recovery and the potential to raise awareness about the need for restoration in these neglected forests.
Wildlands for Wildlife will build on other American Forests programs by implementing a range of protection, restoration and stewardship actions in each priority area, focusing on controlling invasive plants and pests, enhancing habitat structure, fostering climate change resilience, informing public policy and reintroducing forest wildlife back into the wild.
Southeastern U.S.
WHAT WE'RE GOING TO DO:
tree planting, prescribed fire, endangered species translocation, conversion of tree plantations
STATES: North Carolina, Virginia, South Carolina, Georgia, Florida, Alabama, Mississippi, Louisiana
THEMES: endangered species, biodiversity, water
TREES: longleaf pine forest ecosystems
FOCAL WILDLIFE SPECIES: gopher tortoise and red-cockaded woodpecker
Longleaf pine forest ecosystems are national biodiversity hotspots. Historically, the forests extended across 90 million acres in the Southeastern U.S. Today, less than 3 percent of longleaf pine forests remain — one of the steepest declines for any habitat type. Prized for their tall, straight trunks, longleaf pine forests were heavily timbered and converted to other uses like agriculture. Today, development and plantations of other pines, like loblolly and slash, are the primary drivers of forest loss.
Where longleaf pine forests remain, their health is threatened by decades-long fire suppression policies. Without fire to clear pine needles and brush that blanket the forest floor, sunlight cannot reach the soil and longleaf seeds will not grow. Eventually, the pines are replaced by other species, like oaks and maples, which can sprout and grow in a shadier understory. The changing nature of these forests is a real challenge to the gopher tortoise and nearly 600 other species adapted to life in and under longleaf pines. Half of these species are considered rare and more than 100 at-risk, including the red-cockaded woodpecker and reticulated flatwoods salamander.
Central Appalachians
WHAT WE'RE GOING TO DO:
tree planting, mine land reclamation
STATES: Pennsylvania, Maryland, West Virginia, Virginia, Kentucky, Tennessee
THEMES: biodiversity, carbon storage, rural communities
TREES: red spruce forest ecosystems, oak systems in lowlands
FOCAL WILDLIFE SPECIES: West Virginia northern flying squirrel and Cheat Mountain salamander
Forest ecosystems of the Central Appalachians have a long and ancient history, and the origin of most forest types east of the Mississippi River can be traced to this region. The rugged terrain, large differences in elevation between lowlands and highlands and north-south orientation of the mountains promotes the growth of widely dissimilar tree species. The highlands, which are cool and moist, once supported extensive stands of old-growth red spruce, while the dry, southwest-facing lowland slopes and ridges are preferred by fire-loving tree species such as oaks and pines. The celebrated plant diversity of this region supports a truly unique cast of wildlife species, including the rare West Virginia northern flying squirrel, also commonly known as the Virginia northern flying squirrel — a subspecies of the northern flying squirrel — and the endangered Cheat Mountain salamander, not to mention amazing freshwater clams and mussels. Remarkably, this area has more types of salamanders than anywhere in the world.
This region is also rich in natural resources, such as timber and coal, and natural resource extraction — combined with current policies of wildfire suppression — have significantly altered the trajectory of forest development. In high-elevation areas historically free of wildfire, widespread logging of red spruce in the late 1880s contributed to catastrophic wildfires that destroyed seed banks. In contrast, fire suppression on historically dry sites have allowed less desirable tree species to become more widespread. And presently, there are more than 1 million acres of highly-compacted abandoned mine land where, without restoration, trees cannot grow.
Northern Great Lakes
WHAT WE'RE GOING TO DO:
prescribed fire, invasive species control
STATES: Michigan, Minnesota, Wisconsin, New York, as well as Ontario, Canada
THEMES: endangered species, recreation, wildfire
TREES: jack and red pine forest ecosystems
FOCAL WILDLIFE SPECIES: Kirtland's warbler and moose
The Northern Great Lakes region contains diverse mixed forest types, including aspen; northern hardwoods of sugar maple, beech, and birch; and white, red and jack pine. These pines are among the least common forest types but are disproportionately important to the endangered Kirtland's warbler. Each spring, the bright yellow and bluish-gray songbird leaves its wintering grounds in the Bahamas and migrates to a highly specific habitat: large, dense areas of young jack and red pine that are up to 15 feet high and 20 years old in Michigan's Upper and Lower peninsulas, in Wisconsin and the Canadian province of Ontario.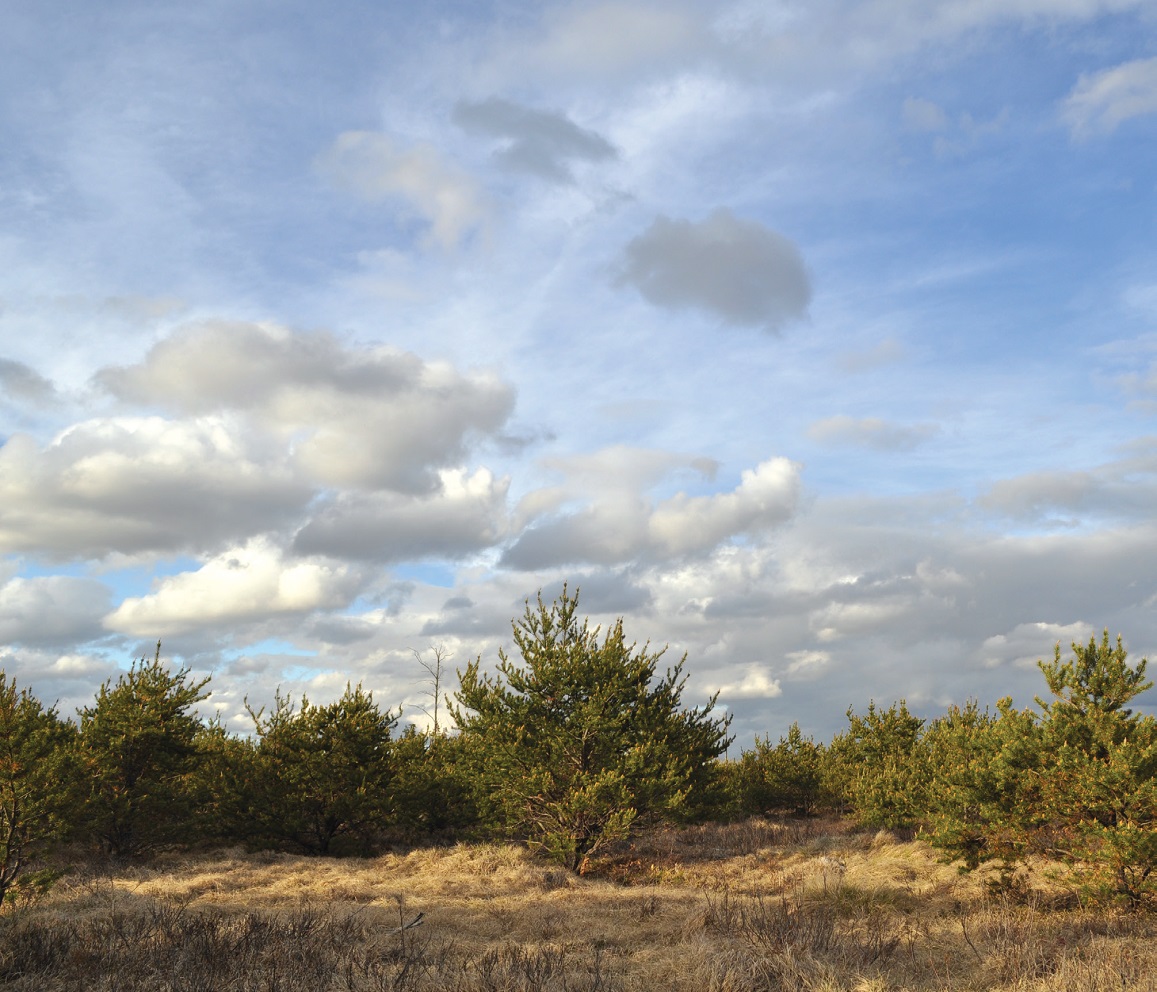 Fire was historically an integral part of creating early successional pine habitat, removing the bigger older trees and competing trees and shrubs, and causing the cones to release seeds. But, modern fire suppression policies interrupted this cycle. The already narrow breeding range, combined with loss of habitat, caused the Kirtland's warbler population to plummet. Since the bird's Endangered Species Act listing in 1973, conservation efforts have expanded the warbler's population, but even though the global population has risen to more than 4,000 birds, it is still one of the rarest of warblers in North America and will require continued conservation to maintain breeding habitat.
Hawaiian Islands
WHAT WE'RE GOING TO DO:
tree planting, habitat enhancement, invasive plant removal, predator control, endangered species translocation
STATES: Hawai'i
THEMES: biodiversity, endangered species, water
TREES: 'ōhi'a lehua forest ecosystems, including species like koa, mamane and iliahi
FOCAL WILDLIFE SPECIES: Hawaiian honeycreepers and other endangered forest birds
For tens of millions of years, the Hawaiian Islands have been isolated by vast stretches of Pacific Ocean from the rest of the world. As such, the Hawaiian Islands developed unique wet and dry tropical forest ecosystems resulting in an incredible amount of biodiversity. 'Ōhi'a lehua forest ecosystems have adapted to occur throughout the islands and can occur as a shrub or a 100-foot tree.
The flowers of the 'ōhi'a lehua are favored by many species of the spectacularly diverse honeycreepers. Historically, the islands supported at least 51 species of Hawaiian honeycreepers. In the isolated habitats of the islands, these birds adapted from a single finch species to exploit different habitats. The Maui parrotbill (kiwikiu) uses its parrot-like bill to strip bark and break branches to search for insect larvae. The scarlet honeycreeper ('i'iwi) uses its long decurved bill to feed on nectar.
Today, less than half of the formerly known honeycreepers are still found in Hawaiian forests. The widespread distribution of non-native plants and animals have wreaked havoc on Hawaiian forests and its wildlife within the last few hundred years, making Hawai'i the "extinction capital of the world." Restoration efforts offer hope that these evolutionary wonders will recover and thrive in Hawaiian forests once again.
Northern Rockies and Cascades
WHAT WE'RE GOING TO DO:
tree planting, expand programs to cultivate whitebark pines that are resistant to blister rust, protect rust-resistant trees
STATES: Washington, Idaho, Montana, Wyoming, as well as Alberta and British Columbia, Canada
THEMES: endangered species, recreation, water
TREES: whitebark pine
FOCAL WILDLIFE SPECIES: grizzly bear and Canada lynx
The forest ecosystems of the Northern Rockies and Cascades are some of North America's most ecologically diverse and intact landscapes, supporting iconic wildlife like the threatened grizzly bear. The range includes Yellowstone, Glacier and North Cascades National Parks and dozens of other national parks, national forests and other protected public lands. Yet, even this remote wilderness is threatened. In the high elevations of this region, whitebark pine trees are sustaining heavy losses from white pine blister rust, successive waves of mountain pine beetle and the impact of fire suppression. All of these forces are further fueled by climate change.
Whitebark pine, a candidate for listing under the Endangered Species Act, is considered a keystone species — one that increases the biodiversity of a community. Within high-elevation, subalpine communities, whitebark pine forests help regulate runoff and reduce soil erosion, provide food for birds and mammals and promote post-disturbance forest regeneration, as a pioneer species that can establish on harsh sites.
The grizzly bear is threatened throughout this region, and the National Park Service is currently reviewing plans to reintroduce the bear to the North Cascades Ecosystem. Whitebark pine can be an important food source for grizzlies. When cones are abundant in these high-elevation forests, grizzly bears can feed almost exclusively on whitebark pine seeds, making them important to survival for winter hibernation and to keeping the bears in the wildland forests instead of human communities.
Sierra Nevada Mountains
WHAT WE'RE GOING TO DO:
tree planting, sustainable forest management (i.e. thinning dense forests to lessen wildfire risk and promote tree growth) and prescribed fire
STATES: California
THEMES: wildfire, water, rural economies
TREES: sugar pine forest ecosystems, including a mix of conifers like Jeffrey pine, ponderosa pine, western white pine, Douglas-fir and incense cedar
FOCAL WILDLIFE SPECIES: Pacific fisher and northern goshawk
The Sierra Nevada Mountains are one of the most cherished and dramatic landscapes in the U.S. This region captured the attention of world renowned naturalist and writer John Muir and photographer Ansel Adams and presently attracts millions of outdoor enthusiasts every year. Abrupt changes in elevation from California's Central Valley up to the steep mountain summits create stellar views and a large variety of microclimates that have resulted in one of the most biologically diverse temperate conifer forests on Earth. Sugar pine, which was historically a dominant tree species in this mixed-pine forest ecosystem, is the largest and tallest of all pines. Living more than 500 years, sugar pines illustrate the great old-growth potential of this forest type that is critical to many wildlife species, including the rare Pacific fisher, an important midsize forest carnivore.
In the past six years alone, an unprecedented 100 million trees have died throughout the Sierra Nevada Mountains due to drought, pests and disease and wildfire. But, make no mistake, these forests need fire! This die-off is a legacy of fire suppression policies that have actually increased wildfire severity, leaving portions of the forest without a seed source for miles and turning back the clock on forest development by decades, if not centuries.
American Forests has a long history in this region and remains committed to restoring and increasing the resilience of this landscape using a variety of restoration tools in partnership with the U.S. Forest Service and local communities.
Lower Rio Grande Valley
WHAT WE'RE GOING TO DO:
tree planting, habitat enhancement
STATES: Texas
THEMES: endangered species, biodiversity, recreation
TREES: Texas thornscrub forest ecosystems, including diverse mix of tree species, including huisache, granejo, brasil and Texas ebony
FOCAL WILDLIFE SPECIES: ocelot and rare birds and butterflies
The Lower Rio Grande Valley (LRGV) is the fertile river delta of the Rio Grande River. The combination of climate, vegetation and associated wildlife create an ecosystem unlike any other in America. The local Tamaulipan thornscrub vegetation (Texas thornscrub) is characterized by dense brush that provides habitat for many wildlife species. This uniquely Texan habitat is required for a diverse group of wildlife and plants, including:
11 federally listed threatened or endangered wildlife species, including ocelot and jaguarundi, both small forest cats that have lost much of their native habitat in south Texas and surrounding states.
530 bird species, some reaching their northern limit in the LRGV and not found elsewhere in the U.S., making this a critical protected habitat and a much-sought-after destination for visitors and bird enthusiasts from around the world.
300 butterfly species, a number that encompasses approximately 40 percent of all butterfly species found in North America. This area also includes crucial migratory habitat for dwindling numbers of monarch butterfly populations as they embark on their 2,000-mile journeys across North America.
1,200 plant species that live within the region, including six threatened and endangered plants. Since the 1920s, 95 percent of native Texas thornscrub forest has been cleared for agriculture and development. These trends have been devastating to the endangered ocelot. As of 2016, there are only around 50 known ocelots in the LRGV. The cat's recovery will ultimately depend on the success of habitat restoration efforts.
This is the first installment of an eight-issue series covering our Wildlands for Wildlife initiative. Over the next seven issues of American Forests magazine, we will take a deep dive into each region, exploring the wildlife species housed in, and conservation issues faced by, each ecosystem.
Eric Sprague and Justin Hynicka write from Washington, D.C. and serve as American Forests' director of forest conservation programs and manager of forest conservation, respectively. Jeff Lerner is the former vice president of conservation programs.