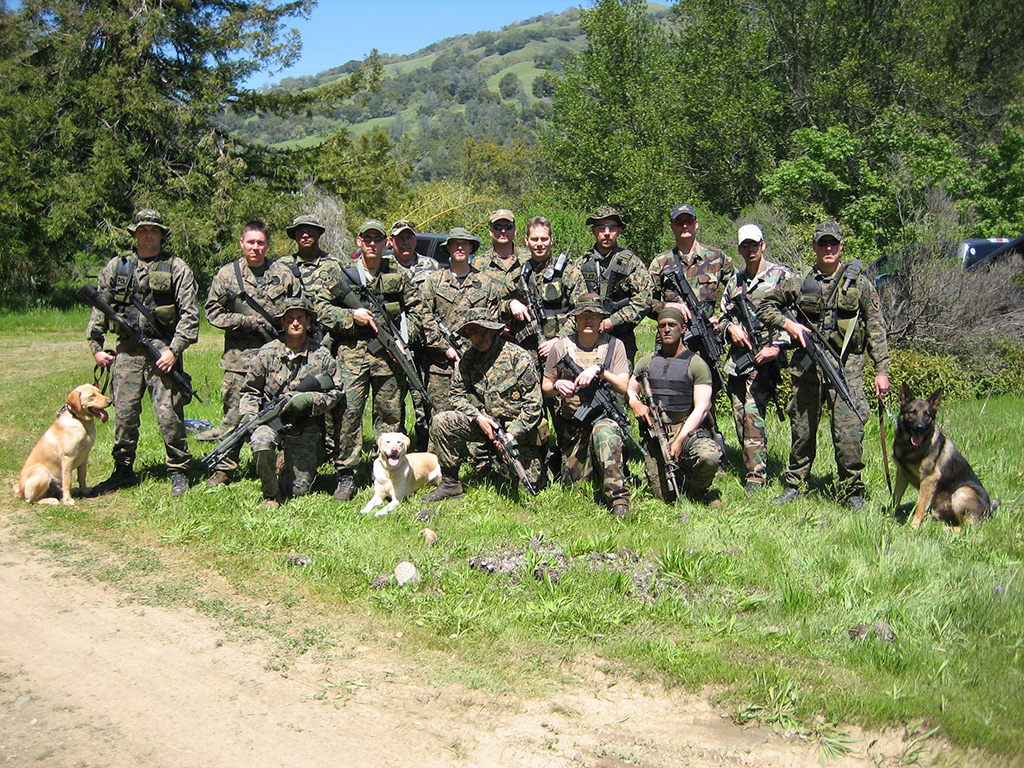 Game Wardens are unknown to most people. They typically patrol remote areas and have a reputation for simply checking licenses and limits. In these times, when police-community relations have become so important, it's certainly worthwhile to understand what game wardens actually can do to avoid conflicts, as their job is unique and extends beyond what many other law enforcement officers do.
Game wardens are known by various names, including conservation officers, conservation police, wildlife enforcement agents, fish wardens, fish and game wardens, rangers, etc. In most states game wardens are part of a state resources agency, with the exception of Oregon and Alaska, where they're part of the state troopers. Regardless of what they're called, all game wardens enforce wildlife law and a lot more.
There are more than 765,000 full-time, and 44,000 part-time, sworn federal, state and local law enforcement officers in the United States: almost 400 officers per 100,000 population, with the most officers in major cities. In contrast, nationwide there are about as many state game wardens as the New York Police Department assigns to the New Year's Eve celebration in Times Square — about 7,000. If you add federal conservation law enforcement officers, the total conservation law enforcement officer population for the U.S. barely nears 8,000.
Until about 10 years ago, I didn't know much about game wardens, even though since the 1970s, I've worked on various aspects of environmental conservation at the local, state and national levels. I'd twice been checked by a game warden who wanted to see my fishing license or catch, but that was it.
That changed in 2006 when the California Fish and Game Wardens Association asked my son and I to produce a documentary film about them, as California had the lowest ratio of game wardens per capita in the U.S. — only 200 in the field for 38 million people — and wildlife crime in the state was estimated at more than $100 million a year and increasing.
When we said we were interested, the wardens said that the best way to learn about them was through first-hand experience. A week later, I climbed in a patrol truck with warden Lieutentant John Laughlin for an afternoon patrol.
The patrol began at a park on the east bank of the Sacramento River where people were fishing for shad, striped bass, sturgeon and salmon. One of the first things I noticed in John's truck was that he had both a rifle and a shotgun, and he was carrying a pistol. I asked John about the firepower. He replied that wardens typically work alone in remote areas where there's no back-up and carry a rifle, a .308 — more powerful than most police carry — because wardens might have to shoot through brush. He added, they also are issued a second concealed handgun, "just in case."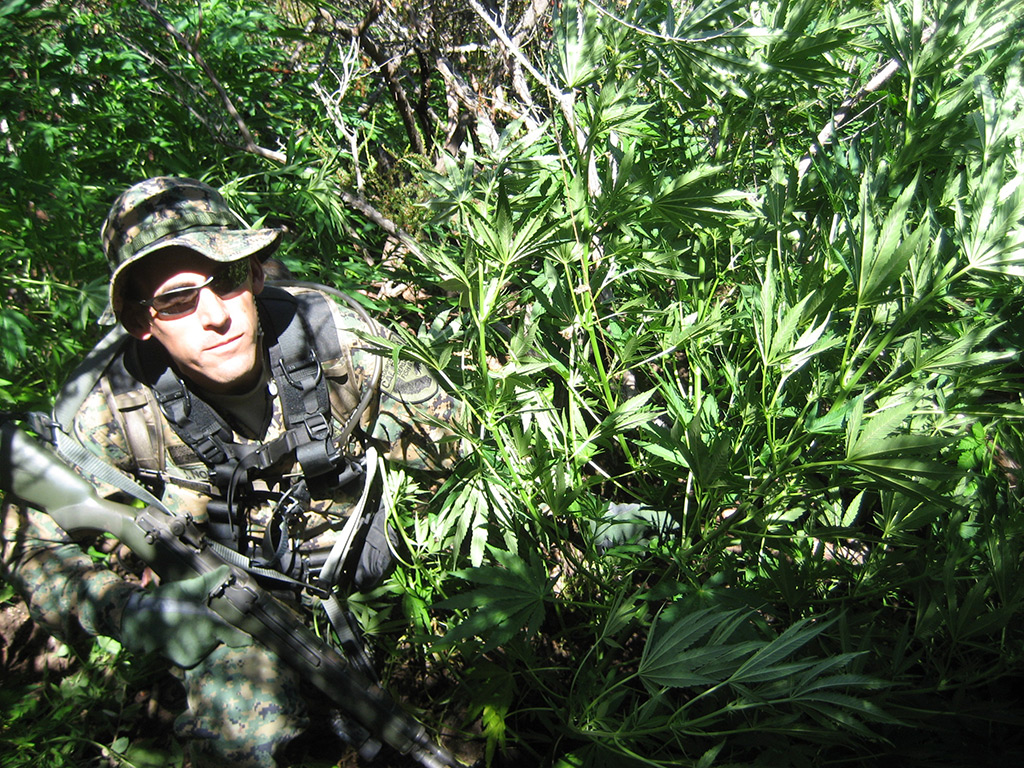 Laughlin was wearing a dark green uniform with badge clearly identifying him as a state game warden. He said that wardens also work in plain clothes, and there was a special operations unit that does long-term covert investigations.
We spotted several fishermen, and John set off on foot to check licenses and catches. The river level was relatively low, and there was a high bank. As we reached the river, what initially looked like one man, turned out to be seven.
John said to me, "Stay on the bank and keep an eye out for unusual things while I go down and check them. You're now my back-up."
As John approached the first man, I saw a knife laying on top of his tackle box. No doubt they all had knives. It was all legal and normal, but John was outnumbered by seven armed men.
As John began to check licenses, one of the men set off for his car at a brisk pace. I called to John and he pursued the guy on foot, catching up with him before he could drive away.
The man had a fishing license on a chord around his neck, which is the law in California, but it was for the previous year. He insisted that his current license was at home. John listened patiently and said that he was supposed to have a current license with him.
As he was writing up the ticket, John called in the man's name and driver's license number to see if he had any outstanding warrants. The man had a clean record, so John told him how to respond to the ticket.
As we walked to the next group of fishermen, John explained that California game wardens enforce wildlife law, as well as criminal, civil and traffic law, conduct search and rescue and do their own crime scene investigation. They are also deputy U.S. Marshalls, enabling them to work interstate cases and bring in people who are avoiding warrants. The dangers of checking for warrants were demonstrated in 2007, when California Game Warden Joshua Brennan came into a campground and found that 39-year-old Bartyn Pitts had set an illegal campfire. When Brennan called central dispatch while writing the citation, he was told that there was an outstanding warrant for Pitts in Hawaii. Brennan told Pitts he was going to arrest him. Pitts got a shotgun and started shooting at Brennan, who defended himself, killing Pitts.
SEARCH WARRANTS, PROBABLE CAUSE AND EXIGENT CIRCUMSTANCES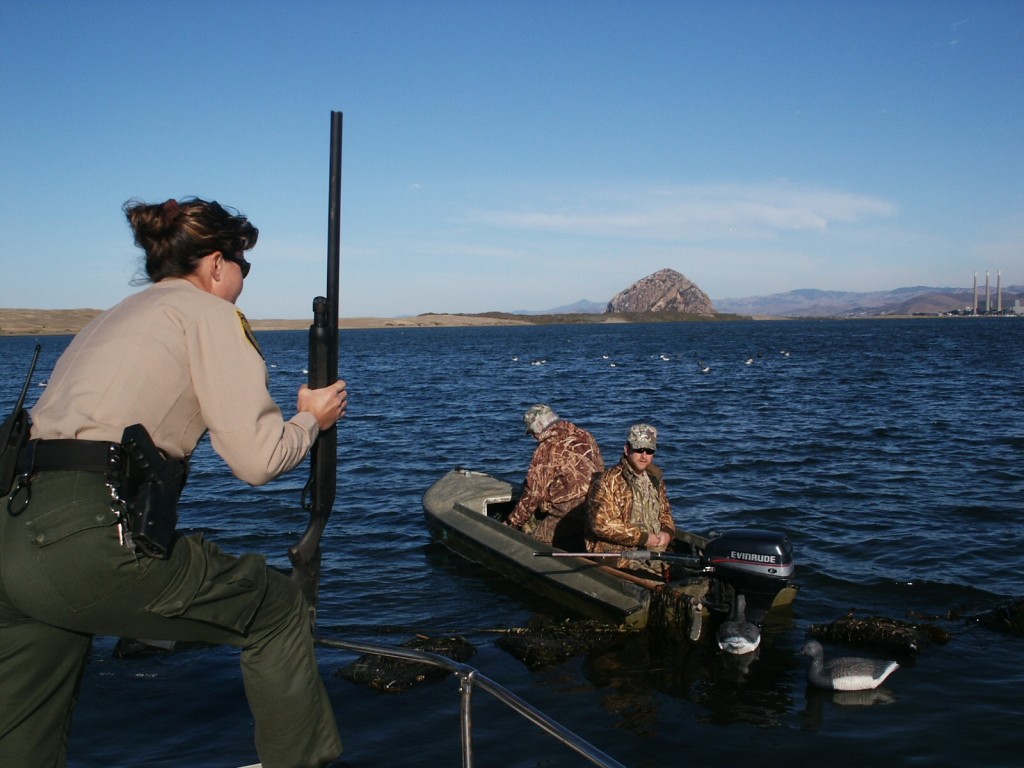 John walked up to a group of fishermen and began to open ice chests and containers as he talked to them. It seemed to me that this would have been an illegal search for a police officer. When he was finished, John explained that because wardens usually work far from towns and have to perform compliance checks, getting a search warrant for every contact they make would be impossible. Wardens can legally inspect everything without a warrant except the clothing worn by a person, because of "exigent circumstances."
Each state's laws that game wardens enforce are somewhat different, but most allow them to conduct extended searches. In California it's a crime to refuse to show a wildlife officer "… all licenses, tags, and the birds, mammals, fish, reptiles or amphibians taken or otherwise dealt with under this code, and any device or apparatus designed to be, and capable of being, used to take birds, mammals, fish, reptiles, or amphibians." The U.S. Supreme Court and the California Supreme Court both have affirmed this.
John next checked four fishermen. John is 6'2" and plays football in a police league. Three of these guys were bigger than him. All were carrying knives and one had a gun. He had a hunting license and duck season had just started. It was legal, but it drove home the fact that wardens almost always encounter armed people.
These guys were very nice. One had his son with him. John gave the young boy a "Deputy Game Warden" sticker to wear.
As we moved away from town, the banks along the river became a tangle of trees and brush. John checked a couple more fishermen and then we came upon a car with expired plates parked in a thicket. John called in the car's plates. It was stolen.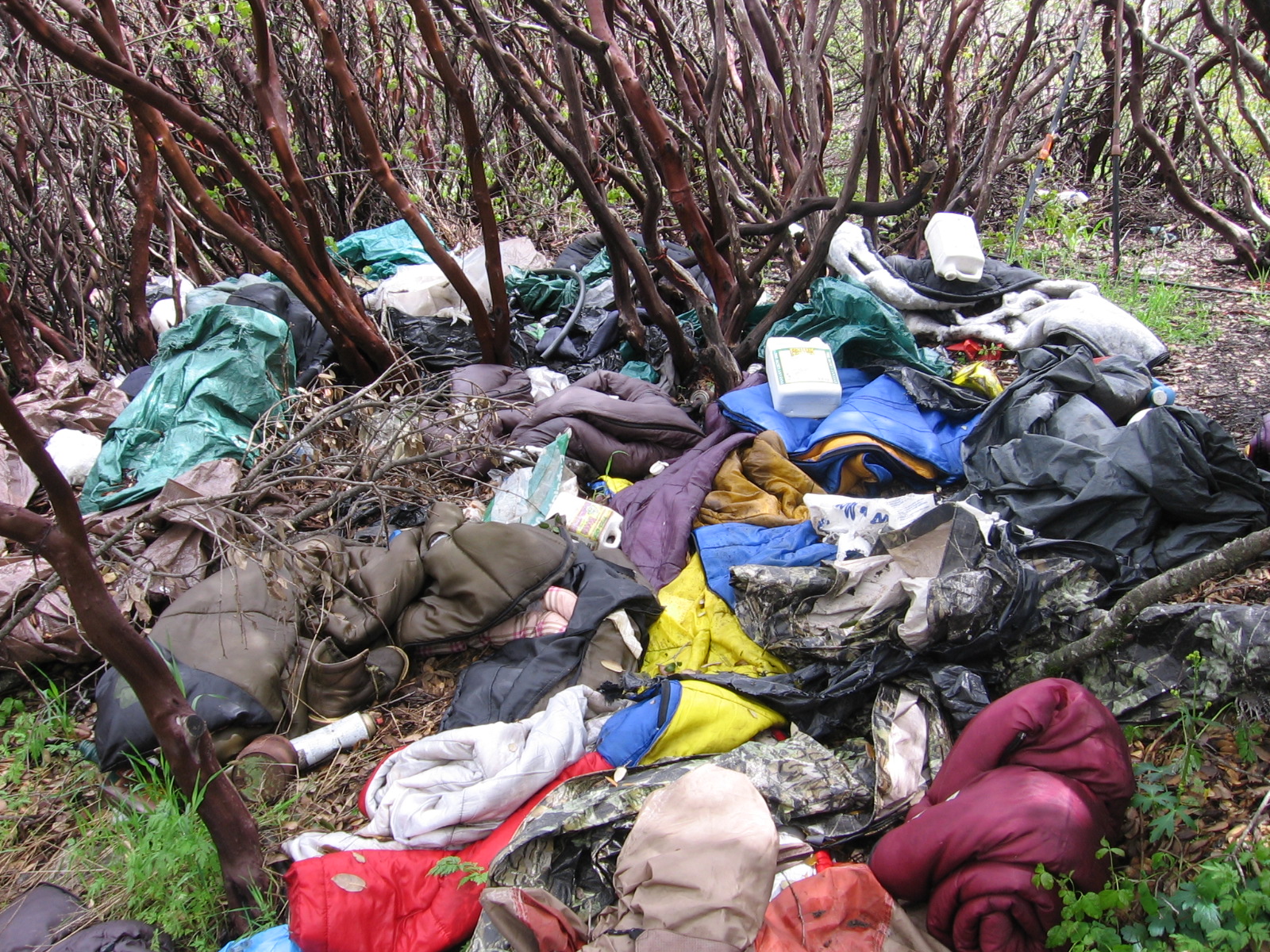 Walking around the car, John picked up a trail of footprints that led into the thicket. The aroma of smoke, food and marijuana were in the air. John told me that back-up was 45 minutes away. He planned to investigate. If I wanted to follow him, he said I should stay back a few paces and, if anything should happen, I should run to the truck to radio it in to the dispatcher and then disappear.
John cautiously approached the camp with a smoldering fire pit, tarp shelter and piles of beer peared into the brush. As he reported the situation to the dispatcher, I breathed a sigh of relief.
Half an hour later, we came on a man living out of his car parked by the river. John talked with him for some time. The guy was coping — barely. John reported him to the local dispatcher. As we drove off, John said that it was becoming more common to find people who were homeless and living on wildlands. On national forest or Bureau of Land Management (BLM) land, one could camp for up to two weeks and then move for another two week-stay, but others try to hide and even build shelters.
John drove to a stretch of river where people regularly gathered at night to fish, drink and sell drugs. There was garbage strewn over the entire area. He said that almost every time he checked that area he made at least one arrest. He added that wardens also patrol by boat, but there were not that many patrol boats. They also use airplanes, but again, there are not nearly enough to cover all patrol areas.
On the way back to the office, John talked about some recent cases: caviar poachers snagging sturgeon; guys using ATV's to chase down sturgeon stranded in shallow water; a meth lab bust in a state forest; people setting fires "for fun;" and some suspicious people training with military weapons in a remote area.
John was interrupted when a car coming from the opposite direction swerved across the road in front of us and pulled into a gas station. John had to slow down to avoid a collision. He quickly turned on his flashing lights and siren, did a U-turn, drove into the gas station, parked and approached the driver, who said he was in a hurry for an appointment. John ended up writing him a ticket for reckless driving.
It was the end of the day for me, and I breathed a sigh of relief. As I exited the truck, John noted that wardens work out of a home office and are on call 24/7, so his day was just starting.
GETTING TO KNOW THE THIN GREEN LINE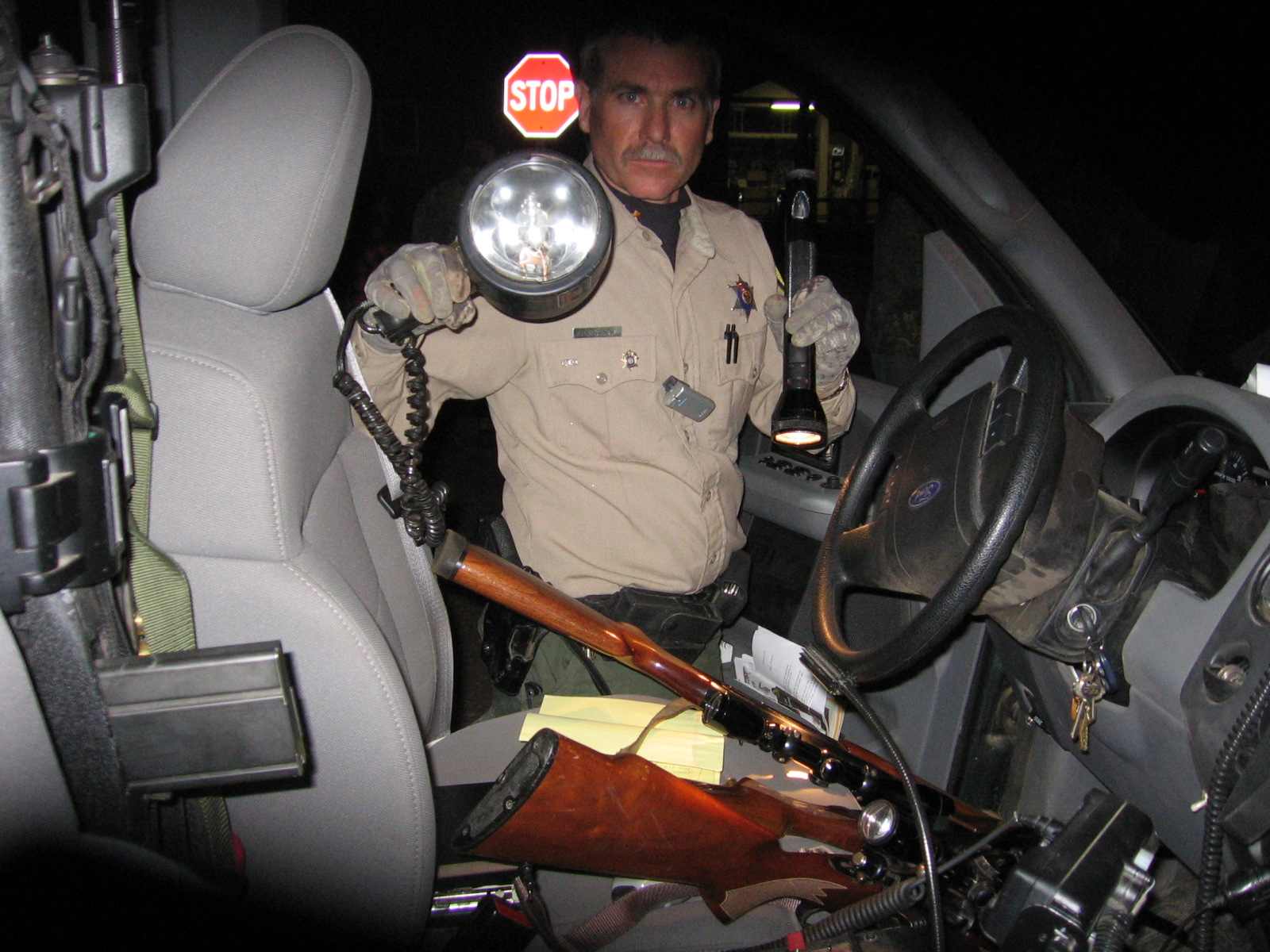 From 2007-2009, we went on many ride-alongs with wardens on land, water, snowy mountains and in the air, as well as take-downs of organized crime. Many patrols were in remote areas, but several ventured into big cities. We had many more lessons about the uniqueness of game wardens.
1) Enforcing the "Public Trust Doctrine" — Wild fish and animals are public property managed by state governments. Migratory birds are managed also by the federal government. According to the Public Trust Doctrine, wardens can come onto private land without permission or a warrant to inspect.
2) Federal Conservation Officers — Each federal conservation agency also has law enforcement officers:
U.S. Forest Service: 660 uniformed law
enforcement officers (LEOs) and 250 undercover
special agents.
U.S. Fish and Wildlife Service: 140 uniformed
wildlife inspectors at airports, sea ports and
borders, with refuge rangers for the 560 National
Wildlife Refuges, and 261 Special Agents.
Bureau of Land Management: 300 special
agents and rangers, primarily in western states.
National Park Service: 3,861 rangers and special
agents to enforce state and federal laws on
409 areas, covering more than 84 million acres in
every state and U.S. territory
3.) Being a Game Warden is Dangerous — According to California game warden Jerry Karnow, there have been 10 shootings involving game wardens in the state in the last seven years. This puts them on equal terms with police officers in some of the worst urban neighborhoods and Drug Enforcement Administration (DEA) agents.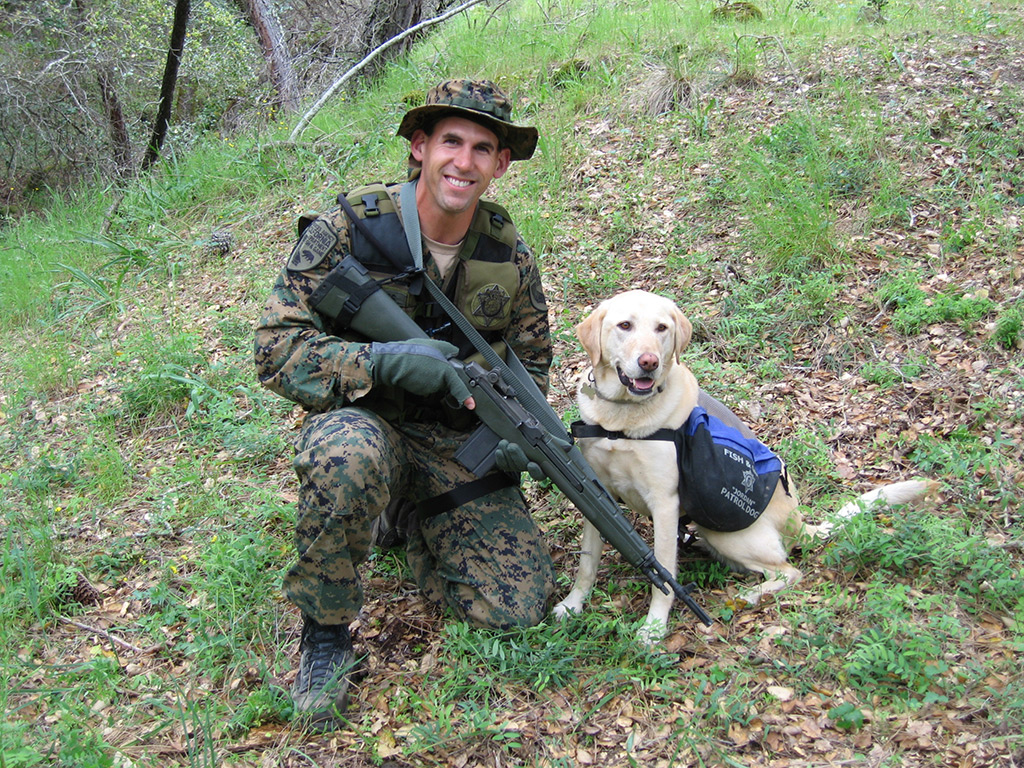 On another ride-along, we joined Lieutentant John Nores, who is part of an interagency MET (Marijuana Eradication Team) tactical team of local, state and federal officers, as they eradicated 20,000 marijuana plants in two cartel marijuana grows in a regional park south of San Francisco.
Walking into a grow after it was secured, we had to follow John's footsteps to avoid trip wires and pitfalls. The grow was in a forest. At the perimeter, we passed through a chicken wire fence used to keep out rabbits. Boxes of rat poison were everywhere, along with tents, cots, propane tanks, ammo boxes, fertilizer, pesticides and garbage, all camouflaged. The natural understory plants under the forest canopy had been removed, and in their place there were five-feet-tall marijuana plants. Each plant was worth at least a $1,000 street value. Black plastic irrigation pipelines were everywhere. Each plant had its own drip irrigation system connected to a timer. The irrigation water containing illegal fertilizers and pesticides came from a nearby dammed stream. This camp appeared to be only for growing marijuana, while some sites are also used as meth labs. Another 10,000 plants were removed. In 2015, MET team raids confiscated plants estimated at $65 million in street value.
MET averages at least one gunfight per year for the last 10 years. In 2005, a warden was shot and seriously wounded in an ambush, a grower was killed and another was seriously wounded. In April 2015, a California game warden shot and killed a grower who pulled a gun on him when a grow on a wildlife refuge was discovered.
As border security has increased, cartels have increased marijuana grows on U.S. soil. Marijuana grows have been found on federal, state and local wildlands in at least 20 states. Almost 4 million plants are removed from illegal grows on public lands nationwide every year. This is estimated as less than 20 percent of what's actually out there.
Game wardens also play an important role in countering terrorism. Six months prior to 9/11, California game warden Zeke Awbrey was on patrol in a desert area of Southern California when he heard gunshots from automatic weapons. Awbrey called in sheriff deputies. They found a group of men with truckloads of ammunition firing some automatic weapons. The weapons were confiscated, and the incident was reported to the Federal Bureau of Investigation. No one is certain what happened after that, but on 9/11 two of the men who happened to be in that group flew the plane that crashed into the Pentagon. Right after 9/11, all the field wardens in California were called up to help patrol borders.
Get to know your local warden. You will never forget the experience, and they will appreciate it. The Thin Green Line needs all the support they can get.
James A. Swan, Ph.D. is a Co-Executive Producer of the "Wild Justice" TV show on the National Geographic Channel, and the author and coauthor of 10 books, including co-authoring with Lt. John Nores, War In The Woods: Combating the Marijuana Cartels on Our Public Wildlands, which is in development as a feature film.