Seventy years ago this summer, Smokey Bear's first public service ads appeared. Since then, his main message has stayed basically the same: "Only YOU can prevent wildfires."
Yet Smokey is no stodgy septuagenarian. Smokey has "evolved with the times," stresses Ellyn Fisher, a vice president at the Ad Council, which creates Smokey's ads. Early images of Smokey seemed somewhat stern. In one 1944 ad, he looks at us out of the side of his eye as he douses an unattended campfire. His grim looks seems to ask, "Did you leave this fire unattended?"
Newer Smokey Bear Hugs ads show Smokey's softer side as he rewards people with bear hugs for practicing fire safety. In one recent ad, a young couple stares awe-struck after Smokey after receiving a hug for properly extinguishing their campfire.
Smokey's not the only thing that has changed with the times. The ways we manage — and think about — the wildfires he urges us to prevent have changed too.
"Natural climate variability always gives us a wild ride," notes Bill Patzert, a climate scientist with NASA's Jet Propulsion Laboratory in California. For example, much of the West is currently in a drought linked to the Pacific Decadal Oscillation, a climate pattern that causes climate swings every 20 to 30 years.
Today, though, longer-term worries come from climate change linked to greenhouse gas emissions. "The real concern is that we're going to have more extremes," notes climate researcher David Peterson at the Forest Service's Pacific Wildland Fire Sciences Laboratory in Seattle. "We anticipate by the middle of the century, we'll be burning two to three times as much area in the West as we do now," he says. So expect to see Smokey warning of red alerts at parks and forests more often.
Meanwhile, about 70,000 American communities now abut natural areas. "More people are building in the wildland-urban interface than ever before," says Loren Walker, acting national fire prevention manager for the U.S. Forest Service. Residential spread increases risks for accidental wildfires. As Patzert puts it, "People equal fire."
Smokey urges us to prevent wildfires, and that's because people are still the No. 1 cause of wildfires in the United States. Generally speaking, the less often accidental fires occur, the better.
The smaller percentage of fires that start naturally by lightning are another story. "Fire isn't necessarily a bad thing," says Alex Gavrisheff at the Forest Service's Missoula Technology and Development Center in Montana. Instead of preventing all fires, he says, "we try to manage fire." Thus, agencies can now let naturally caused fires burn as long as lives aren't at risk.
Historically, fire has been a regulating agent for forests, explains Brandon Collins at the Forest Service's Pacific Southwest Research Station in California. "It kept tree densities fairly low and it also kept a lot of fuel from accumulating on the forest floor." More fuel means hotter burning fires, which are harder to contain.
Now, prescribed burns help remove excess fuel. Other projects clear brush or thin trees in dense areas that haven't burned in a while.
Meanwhile, Smokey's prevention message still matters, and accidental human-caused fires require a response. In 2012, fire-related activities ate up more than 40 percent of the Forest Service budget, leaving funds for other important conservation programs diminished.
But there is hope on that front. A group of 160 conservation, recreation, forestry and other groups, including American Forests, continue to fight for the successful passage of the Wildfire Disaster Funding Act. This act ensures funding for both wildfire first responders and for land managers, creating an emergency funding process for fire response that mirrors the funding process FEMA depends on to respond to other natural disasters. This process works to reduce the amount of emergency firefighting funds being borrowed from other important Forest Service programs. As fires continue to burn more frequently and with greater intensity, it is increasingly important to have a funding strategy to meet the challenges.
Of course, fighting wildfire cannot be done in Washington alone. Things have changed for the boots on the ground as well.
Agencies use updated helicopters and aircraft. The Forest Service has also invented a new descent device that lets firefighters slide down safely from helicopters, even in the ever-changing conditions of a wildfire.
As workers build fire lines, other crews slow the fire's spread with foams, gels and retardants. Recent developments include more effective and environmentally safer products.
Foam chemicals decrease water's surface tension. That process "allows water to penetrate into real dense fuel, like a smoldering log or thick dust layers," says Shirley Zylstra at the Forest Service's Missoula Technology & Development Center.
Gels make water thicker. "They're the same types of chemicals that they use in baby diapers," says Zylstra, so they hold lots of water to protect nesting trees, cabins, or other sensitive areas. With consistencies like mayonnaise or Vaseline, gels get applied from the air or ground very shortly before a fire arrives. In a pinch, they can go on active flames too.
In 2012, Smokey Bear went to the International Space Station in the form of a plush toy, as a symbol for wildfire prevention, to help draw awareness to the research related to plant growth and combustion and materials sciences being conducted on the space station.
"Satellites are the first to detect some of these fires as they're started," says Doug Morton at NASA's Goddard Space Flight Center in Maryland. He describes the satellite as "the tallest fire tower around."
Satellites also help with planning. "Areas that have not burned during the satellite era might be at greater risk," adds Morton. That's because the longer it's been since a fire, the more fuel is likely to be built up. Agencies can use that information to position firefighting resources. The information also helps with fuel reduction programs, such as tree thinning or prescribed burns, by indicating areas in need of such measures.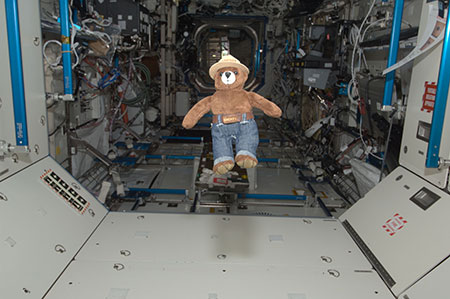 Space is not the only frontier Smokey has explored. He now has a huge digital presence too. Smokey Bear tweets. He is on Facebook, Instagram and YouTube. He's even on LinkedIn. "We have him out there," says Walker.
Smokey's not alone in going digital. More and more, computer modeling plays a role in fire management. Weather forecasts from local radio or TV stations might cover a whole county or more. When wildfire breaks out, forecasts on that large scale aren't good enough. "For fighting fire, what we really need is a very small scale," says Shyh-Chin Chen at the Forest Service's Southwest Pacific Research Station. Crews need to know precisely where fire will go and how fast it will spread. For example, says Chen, "wind is one of the most important factors that affects the fire spread." But in hilly areas like southern California, terrain can cause very local shifts in wind and other factors.
The winds of wildfire management have certainly shifted over the last 70 years, and 2014 will be a befitting year to look back and learn from our mistakes and successes, as Smokey Bear himself turns 70. Smokey will make lots of appearances this summer as he celebrates his anniversary. Watch for him on TV, at parks, around county fairs and elsewhere. "Smokey is communicating that personal responsibility message — that everyone can do something to prevent wildfires," says Fisher.
Meanwhile, government agencies and groups like American Forests are doing their part. Greater success in restoring forests and removing excess fuel can lower the risks of devastating fires and habitat loss. That's something Smokey and all of us can celebrate.
Kathiann M. Kowalski has written 25 books and more than 600 articles, including many features on science and technology. She lives and writes near Cleveland in northeast Ohio.