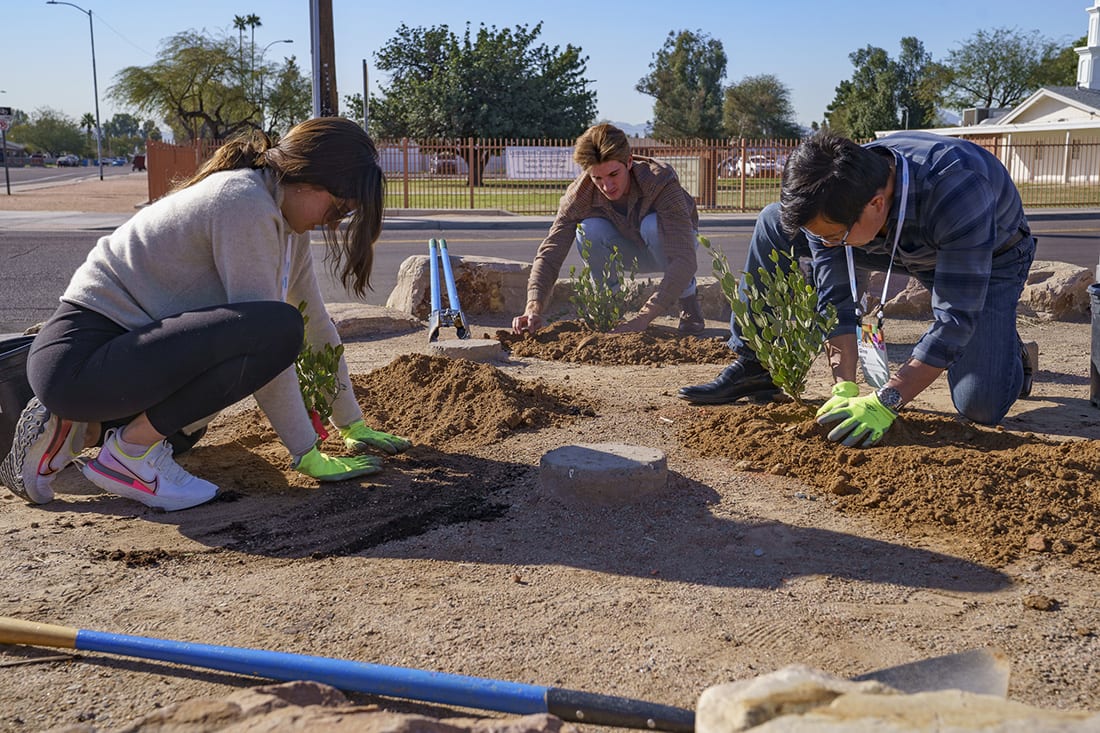 CLIMATE CHANGE-induced extreme heat is a serious and growing problem for cities nationwide. For desert cities, such as Phoenix, figuring out the best way to plant and care for trees is critical to addressing this problem. And saving lives.
That's because extreme heat puts many people — especially low-income families, the homeless and people with respiratory illnesses — at risk of heat-related illnesses and death. In 2019, 187 people died from heat-related causes in Maricopa County, Ariz., which includes the city of Phoenix, one of the nation's hottest cities. That's an increase of 232% from 2006, according to data from the Maricopa County Department of Public Health.
In cities, trees help cool down neighborhoods and mitigate the health impacts of extreme heat, making them critical life and death infrastructure. The city of Phoenix is committed to planting trees to help double its vegetative land cover to 25% over the next decade.
American Forests is working to help achieve that goal. One way is co-leading the Phoenix Metro Urban Forestry Roundtable, a coalition of more than 40 local partners, including members from academia and local nonprofit organizations, as well as city, county and state government. Together, a plan for planting trees in an equitable way is being created. The first step is identifying which neighborhoods need trees the most.
With the help of an award from the Microsoft Datacenter Community Environmental Sustainability initiative, American Forests has done this by calculating Tree Equity Scores for all urban neighborhoods in Maricopa County.
A Tree Equity Score uses a science-based approach to determine the tree canopy cover needed in a neighborhood to ensure the people living in urban areas benefit from trees.
People can use the scores to prioritize planting and conserving trees, as well as allocating resources for trees in neighborhoods that lack them. For example, city governments and urban foresters might use the scores to make the case for planting trees in neighborhoods where families can't afford to run their air conditioning units 169 days out of the year — the average number of days Phoenix experiences temperatures of 90 degrees or higher per year.
Roundtable participants also are assessing which tree species can tolerate the area's high temperatures and developing best practices for keeping trees alive in desert climates. This is important because planting trees in the desert presents a number of challenges, including drought and protecting trees during monsoon events. The purpose of American Forests' work in Phoenix is to increase not only the number of trees but also the level of care they receive long term.
"We know as trees grow, so do the health and environmental benefits they provide," says Aimee Esposito, executive director of Trees Matter, a member of the Phoenix Metro Urban Forestry Roundtable. "With our collaborative efforts, Phoenix trees can grow longer and stronger. And with Tree Equity Score, we can use our collective knowledge to plant trees in places where people need them the most."
The comprehensive approach American Forests is taking with its partners in Phoenix will ensure trees thrive, especially in places that need them the most, reducing temperatures, improving air quality and advancing environmental and social equity. That's called creating Tree Equity. And when trees thrive in Phoenix, American Forests will be able to share and replicate what worked there with other cities nationwide that face similar challenges.