IN THE 1820S, AMERICA'S CITIES HAD A PROBLEM: People kept dying, and church burial grounds were filling up. Fortunately, a group of horticulturists in Massachusetts had a solution and, in 1831, Mount Auburn Cemetery in Cambridge became the first modern cemetery. Other cities began to follow suit, dedicating rolling, scenic tracts of land on the outskirts of town to honor the deceased. This "rural cemetery," or "garden cemetery," movement not only temporarily solved the problem of where to put the dead, but it also gave us the nation's very first parks.
Over the decades, cemeteries fell out of vogue as cultural centers, but their fall from favor was not to be permanent. Today, the practice of using cemeteries for outdoor recreation is bubbling up once more, as urban dwellers seek out nature in the city.
THE RISE AND FALL OF THE GARDEN OF GRAVES
In the early 19th century, as cities like Boston grew, inner-city burials were no longer cutting it. Land prices were rising and the small church burial grounds were overcrowding. Storms would flood the grounds with gruesome results. Outbreaks of diseases like cholera and typhoid fever had communities fearing urban burials.
In response, the Massachusetts Horticultural Society presented a vision that would solve the city planning problem, while carving out a piece of land they would turn into a horticultural wonder to rival the gardens popular in Europe at the time. It was dubbed a "garden of graves" or a serene "city of the dead." Mount Auburn Cemetery grew into a feat of landscape design, sculpture and meticulously manicured Victorian-style gardens. The rural cemetery movement spread as other cities established their own garden cemeteries, from Green-Wood in Brooklyn to Laurel Hill in Philadelphia. They were extremely popular among locals and visitors alike, becoming regular gathering places for strolling and picnicing. "In a country sorely lacking in public green spaces, these cemeteries provided these graceful, elegant places," says Keith Eggener, architectural historian and author of the book "Cemeteries." "They were allaround recreational and artistic centers for people. They became seen as major urban amenities."
But it was the cemeteries' success that inspired the competition that edged them out — city parks. The popularity of the rural cemeteries, especially Green-Wood in Brooklyn, was an inspiration to landscape architect Andrew Jackson Downing, an early proponent for a central park. Early cemetery topography, with its rolling hills and gently curving paths, also highly influenced the first large city parks designed in the mid-19th century. As urban destinations like Central Park and Prospect Park became more popular, they edged their forerunners out.
The time was ripe for these parks' rise over the cemeteries: Attitudes toward death were shifting. In the Victorian Era, high mortality rates, especially among children, had meant that mourning and death were very much a common presence in peoples' lives. That culture, with its romanticized poems, songs and rituals surrounding death and mourning, had contributed to the elaborate rural cemeteries and their popularity.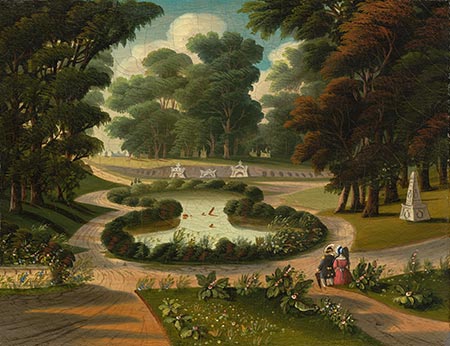 Over time, as burial became more sterile and efficient, cemeteries followed suit. Eggener writes: "Increasingly, they became places of the dead almost exclusively, as the living preferred to avoid them except when absolutely necessary."
Of course, the cemeteries themselves didn't go anywhere. As our cities continued to grow, they engulfed these plots of land until the cemeteries — once on the edges of town — were massive chunks of green space often smack in the hearts of our major metropolitan areas. Thanks to perpetual care agreements and historic preservationists, many of these historic cemeteries remain today, protected from development. The result is a generation of gated, astonishing landscapes lying comfortably in the hearts of major American cities, ready for their comeback.
If you had walked up to the entrance of Green- Wood Cemetery in Brooklyn as recently as the 1990s, unless you were there to leave flowers with a loved one, you were more or less turned away, says cemetery president Richard Moylan.
"We realized that that could be the end of us," says Moylan, in light of the increasing number of people opting for alternative arrangements like cremation. "Because as we bury less, people will visit their loved ones less. They might visit their parents a few times year, but are they going to visit their grandparents or their great grandparents?" he asks. "So, that's when we started welcoming people in."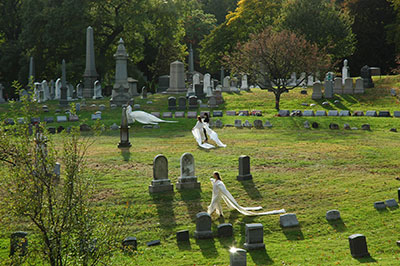 This summer, you're not only invited to tour the grounds, you can also sign up for yoga classes or gather in the historic chapel to watch old movies and drink a hot toddy.
Green-Wood is one of many cemeteries embracing more public use. While a lot of the old cemeteries are still selling plots and burying the deceased, even those with healthy endowments are increasingly aware that their days as just a cemetery are numbered. Not only are cremation and other arrangements increasing in popularity, but cemeteries eventually begin to run out of space. Public use can mean the difference between succumbing to degradation and becoming a thriving part of the community.
The results of embracing more and varied uses of these spaces can be memorable. Last October, for example, parts of Prospect Park were temporarily closed to public traffic when President Obama helicoptered into the park to visit a local school in Brooklyn. The president's stop was just before the New York City Marathon, so for the day, Green-Wood suspended its no jogging rule. The New York Post criticized the move, but Moylan says it was a hit, with no complaints from plot owners.
"I walked out of my office at 10 to six and I looked up on the hill, and there was a runner with her phone in her hand taking photos," Moylan says. "And it was just a great day. I'm hoping we can do more of that — using the space for different things at different times, while still showing respect for our permanent residents."
Green-Wood is now seeking arboretum status, considering how to draw more birders and building up the cemetery as a historic attraction. Trolley tours are selling out, says Moylan.
Even so, Green-Wood is relatively conservative when it comes to public use. Some cemeteries — often the publicly owned, the less active or those lacking a perpetual care fund — are more forward. One striking example is Oakland Cemetery in Atlanta. Oakland's story is similar to that of many historic cemeteries: Founded in 1850 on farmland, it now neighbors two of Atlanta's upand- coming neighborhoods, just five blocks from the state capitol.
In the 1970s, the neighborhood and the cemetery fell into disrepair, but in the last five to 10 years, largely thanks to the Historic Oakland Foundation, the cemetery has stepped up its public use and restoration efforts. Oakland is explicitly trying to revive the Victorian garden cemetery experience. Along with regular tours, major annual events draw about a third of Oakland's operating revenue, says Mary Woodlan, director of special events and volunteers.
"We feel that it's important to bring the public in; otherwise how are they going to know about this place?" Woodlan says. "We say, once we get them through the gates, they're hooked."
Oakland is planning the fourth annual "Tunes From the Tombs" event, a music festival that draws around 4,000 people. They hold an annual 5k run, "Run Like Hell," and a Halloween tour, a practice that has become popular in many cemeteries.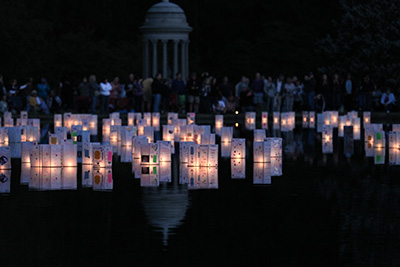 The question of dogs is a tough one for cemeteries, with many prohibiting man's best friend from the grounds. But in Forest Hills Cemetery in Boston, dogs are welcome and quite common. They have even offered "Dogwalk" tours of the cemetery's animal sculpture for guests and their dogs. At Congressional Cemetery in Washington, D.C., they go so far as to sell memberships specifically to permit dog walking. There's a waitlist for membership, and income from that covers groundskeeping contracts.
The decisions are not always cut and dry, and most cemetery staff interviewed say they have fielded complaints, either in response to existing activities or requesting to do more. Occasionally, people are offended by a screening of "Dracula," a rock concert or a Halloween tour. Cemeteries feel their way toward what the community finds appropriate.
But people who find it odd to hang out in a cemetery usually understand once they're through the gates, says David Barnett, president and CEO at Mount Auburn Cemetery. He recalls one family that tragically lost a son telling him a number of times how much they appreciate their time at Mount Auburn, specifically because it's such a vibrant place.
"If there's only one reason to come, and that's to bury someone — that seems like the wrong way to go," Barnett says.
MEETING THE NEED FOR GREEN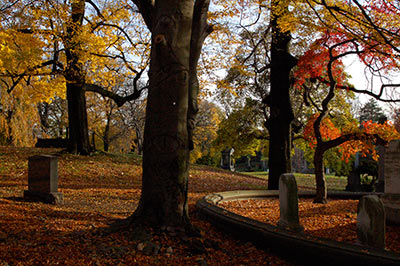 In a landlocked city, management of open space is a delicate balance. That balance becomes even more pronounced when it comes to cemeteries, where the land in question also happens to be hallowed. But if done right, cemeteries have tremendous potential to meet the demand for open space.
"Today, some cities have hundreds or thousands of acres of public cemetery lands, both with and without gravestones, which could theoretically help with parkland shortage," writes Peter Harnik, director of the Center for City Park Excellence with the Trust for Public Land, in his book, "Urban Green: Innovative Parks for Resurgent Cities."
He describes the pendulum swinging from mass migration to the suburbs post-World War II, back toward a growing desire to live in city centers. Many cities are experiencing a resurgence of central city neighborhoods as active residential communities and the trend is expected to continue. As Harnik points out, when people migrate back from the suburbs to cities, they continue to crave the open space.
It's not just a matter of recreation, either. Research has shown the profound effect that the presence of urban green space has on city dwellers' health and well-bring. People with regular access to urban green spaces experience less stress, lower levels of fear and aggression and a lower incidence of childhood asthma than those who lack such access. Given these benefits, access to cemeteries can be as important for the living as for the deceased.
In the 1990s, Mount Auburn Cemetery made a decision to prioritize the natural landscape, focusing on some native restoration, sustainable groundskeeping and more discreet burials to increase their longevity as a functioning cemetery with space for new plots, but also to keep the environment pleasant for visitors and customers alike. The 175-acre arboretum boasts nearly 5,000 catalogued trees, an enviable collection of maple, pine and flowering dogwood, with a stand of restored native woodland as the natural centerpiece. Other historic cemeteries are even wilder. Publicly owned Evergreen Cemetery is the largest open space in Portland, Maine, by a good margin. About 100 of its 239 acres are undeveloped woods, complete with hiking paths. In 2007, the city hired a forester to inventory the wooded area, which he noted had "one of the better stands of red oak that I have seen in Maine in a 35-year career."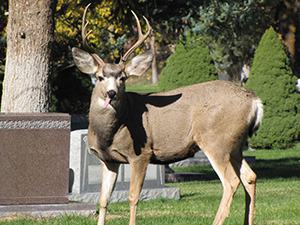 In Brooklyn, Green-Wood Cemetery is almost the size of nearby Prospect Park, boasting 478 acres of hilly land in the heart of the city, with views of the Statue of Liberty in New York Harbor. Even larger than Green- Wood is Spring Grove Cemetery and Arboretum in Cincinnati. More than 300 of its 733 acres are undeveloped, including a wooded preserve. The cemetery boasts 23 state champion trees. In Utah, publicly owned Salt Lake City Cemetery spans 250 acres with a 300-foot elevation change. Snug in the foothills of the city, it's home to owls, birds of prey, foxes, deer and amazing views of the city, says Sexton Mark Smith.
While it's important to discuss how a cemetery is like a park, it's just as important to highlight what sets it apart from your typical urban green space.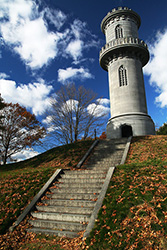 Central Park on a sunny day will be bustling with sporting events, skateboarders, rows of sunbathers. Even as cemeteries become more popular, on their busiest days they retain a certain tranquility. Eggener, author of "Cemeteries," discusses the value of cemeteries as liminal space — space at the joining together of different states. They're places where life meets death, nature meets city, present meets past. They offer a unique experience.
At Mount Auburn, even on a cold winter day after a snowstorm, visitors strolled the grounds quietly, leaving winding trails in the snow. Steve Pinkerton and Vicki Slavin were one of a few couples perched at Washington Tower — the observation tower that is perhaps Mount Auburn's best known feature — overlooking Boston. They've been coming here since the 90s, when they first came for a funeral. Pinkerton now volunteers as a docent. But on this day, they were just visiting.
"It's a nice place to walk," he says. "It's a peaceful place."
Tate Williams writes from Boston on a variety of subjects related to science, art and culture. Read more of his work at www.tatewilliams.org.