Los Angeles
Lindsey Putz, Director of Corporate Giving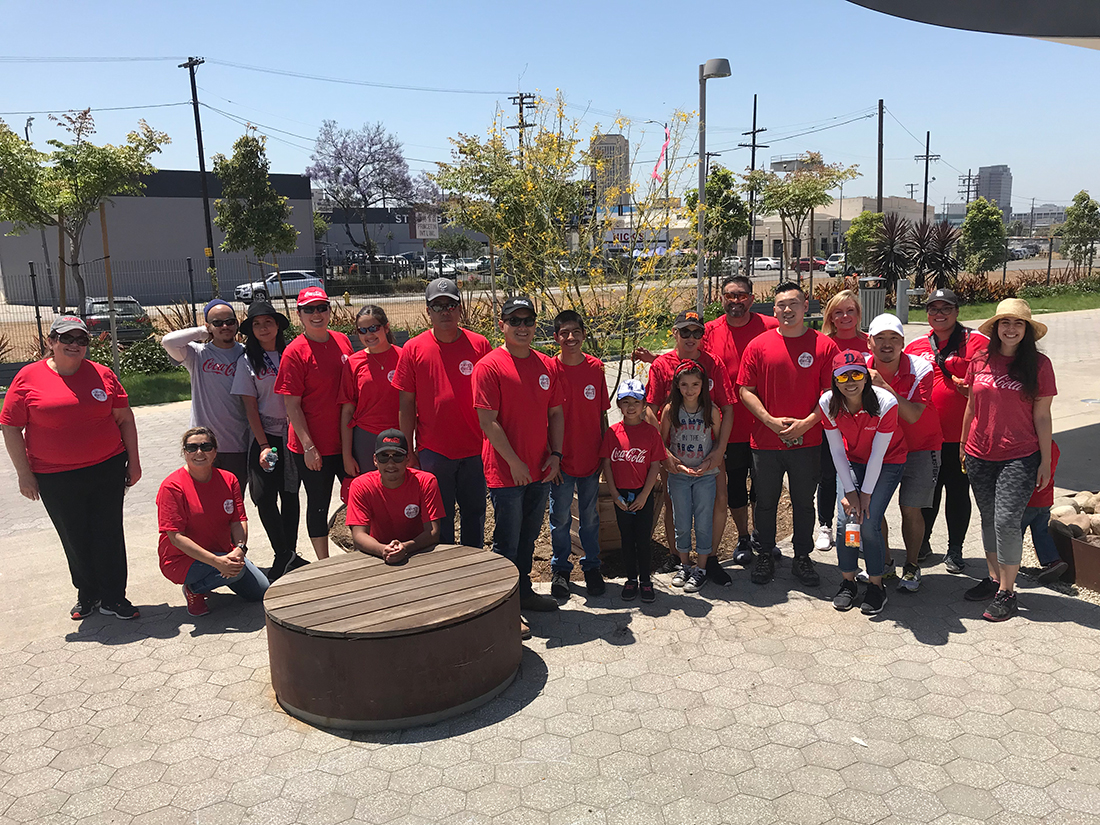 IN JUNE, I HAD THE PRIVILEGE of representing American Forests at a planting with Reyes Coca-Cola Bottling, the local southern California bottler for The Coca-Cola Company. The planting is part of a larger partner- ship with the Coca-Cola Foundation focused on water replenishment in critical watersheds across the United States. More than 30 employees and their families joined me on a toasty Saturday morning to plant 20 coast live oaks and western sycamores in Los Angeles State Historic Park.
Historic is a perfect way to describe this park. Los Angeles River State Park Partners shared with our group that prior to being a beautiful outdoor space, the park acted as a Zanja Madre (or irrigation ditch) for Pueblo Indians in the 1700s, a train station in the late 1800s, and a cornfield as part of an art movement in the early 2000s. It is now considered the Central Park of LA.
After an introduction to the park and a safety demonstration, our group put in some major sweat equity digging, planting, mulching and watering. One of my favorite things to see at plantings is families volunteering together, getting younger generations involved early on in giving back, especially in their own community. Most of the families in attendance were locals from the neighborhood — a park-poor area very much in need of greenspace.
One of the younger tree planters asked me, "Did you know trees provide oxygen so we can breathe?" I let her know I had heard that before, but I was glad she confirmed it for me.
Throughout the morning we had several community members come up and thank us for what we were doing. They shared a bit of their history, being from the area and not having a space like this before, and how much they appreciate having an outdoor area to come together, meet their neighbors, be active and play with their kids. While positive affirmation is not a necessity for volunteering, it definitely doesn't hurt.
My fellow planters made promises to come back and visit their trees, a living testament to their hard work and the impact a small team can make by giving up just one Saturday morning.