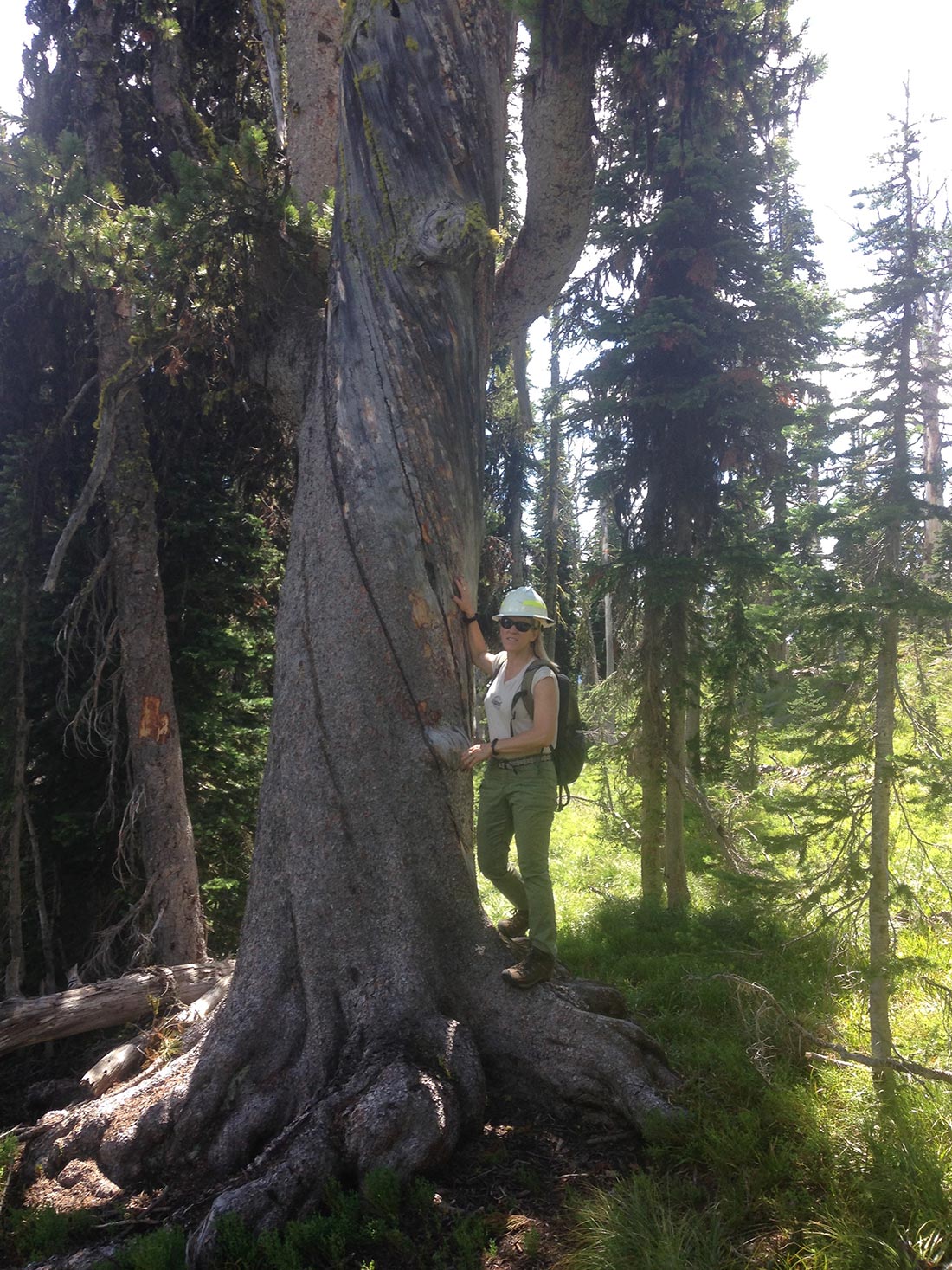 "I AM THE LORAX. I speak for the trees!" goes the classic conservationist tale by Dr. Seuss. But, who speaks for the whitebark pine? Melissa Jenkins is one.
Time seems to be running out for this keystone species. If we don't take action, and fast, the whitebark pine will undoubtedly become functionally extinct.
As a silviculturist and a natural resources specialist at the U.S. Forest Service, you could say that trees are Melissa's passion. But it's the whitebark pine that's earned a special place in her heart. Struggling for life in the face of challenges — the pesky mountain pine beetle, a non-native fungal disease called white pine blister rust, and the always ominous force of climate change — the species could certainly use someone advocating for its restoration. Someone like Melissa.
"It was kind of accidental," she says of her first interactions with whitebark pine in 1991. "Very, very few people were planting whitebark pine at that time. The wildlife biologists went and collected all this seed, and they really didn't know what they were doing — nobody really did. The seeds had really poor germination, so I knew that they hadn't done it correctly, and we needed to figure out why."
After only the first few minutes of speaking with Melissa, I could feel her affection for this tree oozing through the phone — a certain ecological infatuation she likes to call "the fever."
"I guess it was kind of happenstance when I first fell into it, but the more I learned about the tree and its plight, I got a passion for it," she adds. "I tell people it's like getting the fever. You just kind of get infected."
And infected, she was. In 1999, she became the chair of a subgroup of the Greater Yellowstone Coordinating Committee, which was dedicated to preserving and protecting the whitebark pine, leading restoration efforts and paving the way for future conservation projects, programs and research within the ecological community. In 2010, she joined the Whitebark Pine Ecosystem Foundation Board of Directors, on which she now serves as secretary. The whitebark pine isn't just any old tree, and that's why Melissa believes in working so hard to save it. She highlights the high-calorie, high-fat seeds on which dozens of wildlife rely as an indication of how much these ecosystems need whitebark to be healthy — or even exist, in some cases.
"That's why they call it a keystone species," she says of whitebark. "So many other species depend on it. I don't think our high elevations would be the same if we didn't have whitebark pine."
Clearly, the species is in quite a predicament. What's more, it's because of humans that the tree is now so severely threatened. Melissa notes that humans introduced blister rust around the turn of the 20th century, impacting a species that had been "doing just fine" for millennia. Even worse is the uncertainty surrounding climate change and how it will affect whitebark pine.
"Humans created this problem," she says, "and because we created this problem, we have a responsibility to restore this tree."
When asked if she always pictured herself fighting for the natural world, she replied with an air of confidence that assures you of her deeply rooted love for the Earth.
"I've always known what I wanted to do," Melissa says. "I'm one of those lucky few. I've always, always been a conservationist."
It's not exactly a job of day-to-day monotony, either.
"My job is to learn," she says. "We always have to have the best available science."
Naturally, given the limited available resources and the urgency of the situation, there's a lot of time, effort, energy and the occasional frustration involved when it comes to working to restore the whitebark pine. It's not always rainbows and butterflies out in the field.
"One time there was a tree that I found that appeared to be really resistant , so we caged the cones even though it hadn't been treated for the mountain pine beetle," she says.
"When we came back to collect the cones, the tree was totally riddled with mountain pine beetle. That made me sick."
For Melissa, however, special moments of gratification make the minor setbacks and obstacles well worth it.
In 2009, she visited the very first seed orchard and saw a little conelet growing on a sapling. The moment, which she describes as possibly the most amazing moment she's ever had with whitebark pine, was a kind of culmination of all the hard work she and her colleagues had done over the past decade or so.
"All that effort we had put into that one little tree, and that one little conelet, kind of represented all that work for me," she reminisces. "I could see the future of whitebark in that little conelet."
Though the whitebark pine seems to have all odds stacked against it, Melissa isn't giving up. She's doing everything she can to tell the uniquely touching story of the whitebark pine and its integral role in high-elevation forest communities, vouching for the resilience she's determined to see.
For Melissa, the Lorax of the whitebark, this tree needs our help now more than ever. While she thinks there will always be whitebark pine, she still has many questions. Will it function on its own and within a functioning ecosystem? Will there be a large enough population to provide a food source like it has in the past?
"I think, if we could wait a couple thousand years, whitebark would probably take care of itself," she concludes. "But it would take thousands and thousands of years. And, I don't think we have the time to wait."
To learn more about whitebark pine and American Forests' work to save the species, check out "One Tree, Many Futures."
Allie Wisniewski was American Forests' summer 2017 communications intern and is a rising senior at Florida State University, studying English and Studio Art.