Can Iconic Cypress Species Rise from the Ashes?
By Matt Krupnick
IT'S BEEN THREE MONTHS since California's most destructive wildfire killed nearly 100 people, and Professor Don Hankins has taken me through the Camp Fire's heartbreaking epicenter, in the scorched hills just outside the devastated town of Paradise. Piles of scrap metal amid the pine trees mark the sites of destroyed houses and businesses; a melted dinghy sits abandoned alongside a road, and crosses have been erected to memorialize the deaths.
But amidst all the sobering devastation, straddling a green-tinged ridge of serpentine rock, scores of MacNab cypress trees — dead MacNab cypress trees — have a rare opportunity to thrive.
Hankins squats to look at MacNab seeds scattered across the burned soil, released from the trees' acorn-sized cones during the Camp Fire's fury.
"These ones are open, and you can see the seeds right here," says Hankins, pointing at the ground underneath a hollowed-out cypress. Hankins, a geography and planning professor at nearby California State University at Chico who teaches, among other subjects, pyrogeography — the study of the distribution of fire, lives on a ridge afew miles away and evacuated with his family as the fire roared toward Chico in November.
California's cypress species — in the Cupressus genus, as opposed to the Taxodium species found in the southeastern United States — are basically the pandas of the botany world: they only reproduce under rare, specific circumstances. And, like pandas, they increasingly need human help.
Like other serotinous (meaning their reproduction is prompted by environmental events) cypress species, many of them endemic to California, the MacNabs depend on wildfires to open their tightly sealed cones and release seeds. The trees also depend on fire to kill off nearby trees and provide the direct sunlight many cypress species need to grow. Unlike some other conifers whose winged seeds can catch the wind and sprout far from their parents, cypress seeds plummet straight to the forest floor and stay put.
In California's recent history, fires have created a two-pronged challenge for these trees.
Most of the cypress species are found in northern California, where the state has been especially effective at fire suppression. Forests there frequently catch fire, but those flames are quickly doused and rarely burn long enough or hot enough to help cypress, such as the MacNab and Baker, reproduce.
Meanwhile, southern California cypress face the opposite problem: too much fire. Cupressus species take more than a decade to mature, so frequent fires kill off young cypresses before they're old enough to release their seeds. In Orange County's Santa Ana Mountains, for example, fire risk has worried scientists who study the Tecate cypress, a tree that needs at least a couple of decades to mature before it can regenerate.
"We have had way more fire in the past 100 years than we ever did historically," says Jon Keeley, a research scientist with the U.S. Geological Survey who has studied the effects of fire on California ecosystems. That trend — repeated fires in the same cypress population within a year or two — could lay waste to the Tecate cypress, he said. "If they burn before they reach maturity, they can't build a seed bank. They're suffering real losses."
The International Union for Conservation of Nature includes two serotinous California cypress species on its Red List of Endangered Species: the Baker and Gowen. Both species are on the decline, notes the IUCN, which lists the Baker as vulnerable and the Gowen as endangered.
Some researchers say the MacNab should be considered vulnerable as well, especially given the human-driven factors that make wildfire patterns unpredictable. Both serotinous species have been on the U.S. Forest Service's radar for some time.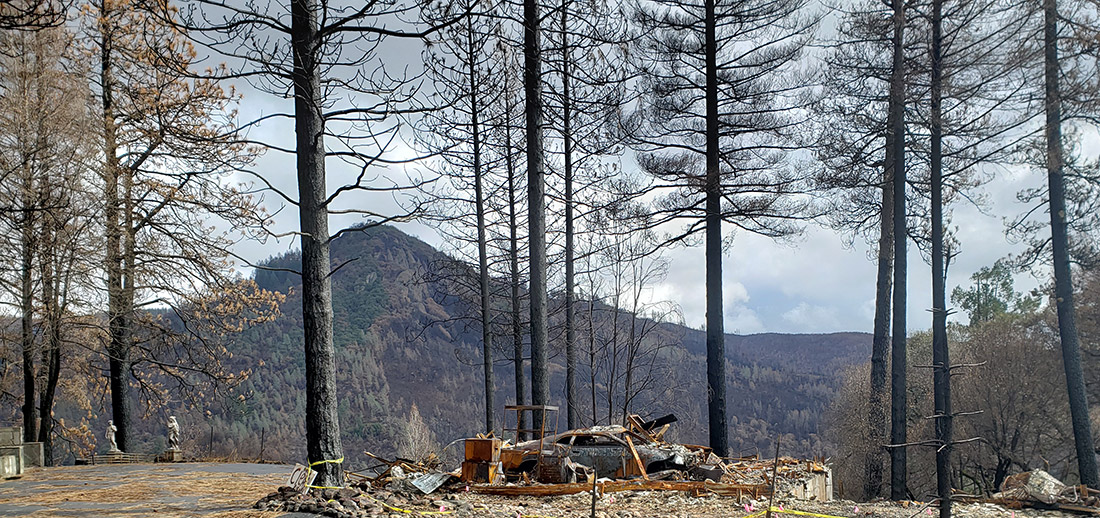 Only a handful of serotinous cypress populations exist on the planet, mostly limited to California and southern Oregon, says Kyle Merriam, the U.S. Forest Service ecologist who wrote the 2011 brief. She worries that a second fire will wipe out the MacNabs that burned in the Camp Fire, some of which were more than 200 years old, because California had cracked down on fire for so long. Destroying one of the few populations of the trees would send the MacNabs on a downward spiral that several cypress species are facing.
"For the past 100 years, we've been really good at putting out fires in ecosystems that have adapted to fire," says Merriam, noting that sage- brush populations also need decades to mature before they burn and reproduce. Frequent fires will turn forests into grasslands, she says. "We've really messed with fire regimes. We're going to lose most of our woody vegetation."
Among the researchers aware of the cypresses' decline is David Greene, a forestry professor at Humboldt State University who has studied Baker cypress in northern California. He has suggested targeted burns to clear space and sunlight for the Bakers to grow.
"They're not very good at this game," Greene says of the Bakers. Their seeds drop "like bowling balls," which he says is a significant disadvantage in the reproduction contest. The game used to be different, back before humans started playing, but now the trees need to adapt to the new rules. "It's like you're playing musical chairs, but you're only allowed to sit in one particular chair, the one you started from. Whereas the other guys will take any available chair."
And although it's difficult to imagine, for instance, some parts of the California coastline without the Monterey cypress, the Bakers are hidden away in remote forests and are relatively useless commercially, says Greene, who admits some admiration for the scrappy trees. "These cypresses don't matter to anyone in this state."
But his research could also illuminate severe risks to other serotinous species that do matter to California, ecologically, economically and culturally. A weighty example: the giant sequoia, the world's largest tree.
And that's why Greene is driving me along a bumpy logging road, his two young sons bickering in the back seat, just outside Lassen National Forest in far northern California. He's taking us to a hard-to-find stand of Baker cypress his graduate students have been studying, trying to quantify how threatened the species really is. We dodge logging trucks as we rumble up the unpaved road as Greene grumbles that California's sprawl makes the state reluctant to allow prescribed burns, which would help cypress and other species bounce back. Prescribed burns would also protect lives and property by clearing out underbrush and other species that wouldn't have been there without human firefighting.
"Where we used to have surface fires, now we're going to have crown fires, and those we can't stop," says Greene. California's firefighting agencies have put themselves in a tough spot by being too tough on fire, he says, leaving too much vegetation that then serves as fuel to larger, fiercer fires. "In effect, they're saying, 'We were so amazingly good that we've now created problems for ourselves.'"
The lack of fire also creates other problems for forests. In forests that have not burned, the growth is denser and the taller trees create too much shade for species, such as the cypress, that require sunlight to flourish. In turn, the crowding kills off sunlight-dependent species, which attracts insects that then damage healthy trees and destroy large swaths of forest.
Those effects can be seen already in northern parts of California, says James Johnston, an Oregon State University research associate who studies fire ecology.
"Species in California have been severely fire- starved," he says of the state's northern half. It's not just cypress species that are being hurt, he adds, but other fire-dependent species as well. "We've denied them fire and, as a result, there are many old-growth species that are dying out. Fire plays an important role as a thinning agent."
The implications of fire suppression are also visible in more populated parts of California.
In the suburban hills east of Oakland, Calif., another similar scrubby fire-dependent species, the knobcone pine, is disappearing in areas that haven't been allowed to burn in at least 75 years, says Joe McBride, a professor emeritus of landscape architecture and environmental planning at the University of California at Berkeley who studies the effects of fire on the California landscape. Some of the hills formerly populated by knobcones, he says, have turned into chaparral.
"These trees are called firepines because they're very dependent on fire," McBride says. He worries California will lose much of its forest unless it figures out how to balance fire suppression and ecosystem protection. "I have hope that this will not be ubiquitous."
But fire suppression — and, importantly, increased fire frequency — across the western United States is worrying scientists who study serotinous species and other trees. They see significant changes coming soon to ecosystems as fires burn the same forests year after year, and not just in California.
In Yellowstone National Park, for example, the massive 1988 fire burned more than one-third of the park. Researchers say we should expect those kinds of fires — in the past limited to, perhaps, once a century — nearly annually from now on. That frequency could wipe out species such as the lodgepole pine.
"Our findings suggest a shift to novel fire-climate-vegetation relationships in Greater Yellowstone by midcentury," several researchers wrote in the National Academy of Sciences journal in 2011, "because fire frequency and extent would be inconsistent with persistence of the current suite of conifer species. The predicted new fire regime would transform the flora, fauna, and ecosystem processes in this landscape and may indicate similar changes for other subalpine forests."
These changes could be quick, says Brian Buma, an assistant professor of integrative biology at the University of Colorado at Denver who studies forests. One fire on the heels of another could devastate a species.
At some point soon, Buma says, society is going to have to figure out what role to play in saving forests from fire and how to balance that need with that of fighting fires.
"There's a lot of value judgments people are going to have to make," Buma says. "At some point, a community is going to need to decide, 'Do we want a forest to be here?' It can't just be the scientists. To me, conservation is a moral issue. It reflects badly on us if we let things go because we're lazy."
That argument resonates with Hankins, the Chico professor. Humans have caused the problems facing cypresses and many other serotinous species, he says, both through climate change and firefighting strategies, and we owe it to those plants to help them.
"I think about all these species and their purpose," Hankins said as we hiked along the burnt serpentine ridge. "If humans are doing something that leads to their extinction, that needs to be corrected. I feel a sense of obligation when we're in a position to recognize our impact."
He stopped and wrinkled his nose as he looked at the ruins of burnt houses and a restaurant across the road. A faint chemical smell permeated the air.
"Normally I like the smell of wildfire," he said. "This one, not so much."
Matt Krupnick is a freelance journalist in Brooklyn, N.Y., whose work has appeared in The New York Times, The Guardian and HuffPost.