An adventure through the forests of Colorado to seek towering big tree champions.
What comes to mind when Colorado is mentioned to lovers of the outdoors? Chances are images of snowcapped peaks will dance in their heads. The high summits of the Colorado Rockies are magnets for climbers and sightseers alike. Elite peak-baggers rank the Centennial State's 53 "fourteeners," comparing elevations and geographical prominence. The extent of their numeric comparisons speaks to the importance they place on exact measures. Numbers rule.
Colorado offers another landscape feature needing description through precise quantification: its treasure of big, tall trees. True, the Rockies do not grow behemoths like those on the West Coast, nor are her forests as varied as the deciduous woodlands of the East, but recent discoveries made by the Native Tree Society (NTS) and American Forests National Cadre of expert tree measurers, both groups with which I have been very closely involved, offer a fresh perspective on Colorado's arboreal offerings.
Tree-hunter enthusiasm is undeniably boosted by numeric comparisons. Paraphrasing what Thoreau scholar and friend Richard Higgins once said to me, "Hard numbers trump soft adjectives." Colorado's cottonwoods reach impressive circumferences, and her blue spruce heights exceed all expectations. Additionally, Englemann spruce and subalpine fir, growing at high altitude, are unpredictably tall, but can we convert these colorful, though inexact, adjectives and adverbs to tough-love numbers? Yes, we can.
DURANGO — GENESIS OF MY CONNECTION
My wife, Monica, and I spend part of our summers in the colorful San Juan country of southwestern Colorado. Initially, I was searching for old-growth forests, and pursuing that mission in 2009, I met Laura Stransky, an old-growth inventory specialist for the U.S. Forest Service. Through Laura an informal connection between NTS and the San Juan National Forest developed. I began exploring the Hermosa Creek Wilderness north of Durango and the forested slopes of scenic Engineer Mountain. In both locations, I confirmed exceptionally tall trees that exceeded the expectations of botanists, foresters and naturalists alike. For example, along the Hermosa Creek Trail, I measured a 160-foot ponderosa pine, a matching 160-foot Douglas-fir only yards away and a 156-foot Colorado blue spruce a short distance uphill. These game changers alerted me to the untapped tree-hunting potential of the vast San Juan region. My story made the Durango Herald, but it wasn't all me. Steve Colburn of Laser Technology Inc. (LTI) participated in some of the early measurements. We employed LTI's most accurate height-measuring device to achieve results to within half a foot.
There were serious opportunities for further discovery, but the job required a team. I needed my NTS companions, living far away. First stepping forward were Don Bertolette (retired, U.S. Forest and National Park Service, living in Alaska), Dr. Lee Frelich (Director of the Center for Forest Ecology, University of Minnesota and NTS Vice President) and Rand Brown (tree hunter extraordinaire from Ohio). In 2010, they joined Laura Stransky and myself in an expanded search.
But, before reporting on our exploits, I should acknowledge that we were certainly not the first to document big trees in the Centennial State. That distinction goes to others, and in particular, the Colorado Tree Coalition, and Neal Bamsberger, Coordinator of Colorado's champion tree program who noted:
"The Colorado Tree Coalition was developed to lead Colorado's efforts to preserve, renew and enhance community forests. Our main focus is education, providing information on proper tree selection, planting and maintenance. In 1995 we achieved 501-c3 status as a nonprofit organization, which is celebrating its 25th silver anniversary in 2016."
The Coalition's champion tree list reveals the extent of their devotion and success. Colorado is in good hands, but as Neal reminded me, their focus is more urban, which leaves vast areas of the state as prime tree-hunting grounds.
I should also note that Iowa big tree hunter Mark Rouw visited and measured trees in the San Juans years before. We have named a tall Colorado ponderosa for him, recognizing his discoveries.
During the summers of 2014 and 2015, our team grew. American Forests joined with the Native Tree Society, San Juan National Forest (Laurie Swisher), Colorado State Forest Service (Kent Grant), Mountain Studies Institute (Aaron Kimple), Fort Lewis College and others to intensify exploration of the San Juans. American Forests Vice President of Communications, Lea Sloan, attended both the 2014 and 2015 events.
Our prior measurements supported our belief that the mountains of southwestern Colorado possessed trees of a half dozen species reaching record dimensions, particularly height. In 2014, confirmation came with a number of new discoveries by Matt Markworth, Will Blozan, Larry Tucei and Mark Rouw. In 2015, Don Bertolette, Eli Dickerson, Chris Morris, Dr. Robert Van Pelt and Bart Bouricius added depth to the effort, with Steve Colburn and I remaining the team anchors.
The 2014-2015 discoveries reinforced our thinking about what the Rocky Mountain Douglas-fir, ponderosa pine, white fir and Englemann spruce attain dimension-wise in the San Juans, but we were totally unprepared for a world height record: a blue spruce — serendipitously, Colorado's state tree.
Justice cannot be done to the 2014-2015 explorations in one article. It is a story of the highest exercising of tree hunting and measuring skills, a tale of dogged persistence. The team spotted thin spires from long distances and then made perilous descents into steep gorges to take meticulous measurements — tree hunting at its most athletic. I leave to the reader's imagination our combination of wild excitement, sore muscles and perpetual obsessing over accuracy (the distinguishing trait of Cadre members). Instead, I will settle for summarizing our findings and ponder their significance through some statistical tools: the convergence of science and big tree hunting.
SAN JUAN MOUNTAINS AND STATISTICAL MEASURES
How can we compare big trees for forest sites and larger geographical regions? One method developed by NTS computes a height index. The result is named for the late, great Colby Rucker.
We measure the tallest member of each of the 10 tallest species and average their heights. The result is the Rucker Height Index (RHI). We then compare indices for different locations. If the trees on a site are mature, we have a useful metric for assessing species growth potential. For large geographical regions, the index captures height maximums averaged over many variables to more fully reflect potential. The chart below shows trees of 10 species. Note that a status of "Tallest in Colorado" simply means that it is the tallest we know of in Colorado. All trees were measured using methods approved by American Forests in their new Tree-Measuring Guidelines Handbook.
In addition to the height champions included in the chart, Will Blozan spotted a big blue in 2014, measuring 165.5 feet tall and 12.5 feet around. Will Blozan's and Matt Markworth's exciting discoveries are national co-champions, returning a share of the crown to Colorado's state tree. Will's tree earns 324 points and Matt's tallies 322. A Utah giant certified by National Cadre apprentice Daniel Allen earns 323 points. We have three national co-champion blues. Sweet!
Where have these great trees been hiding? After all, this is 2016. The answer is: in steep ravines with dizzying cliffs and rock ledges that make off-trail travel a challenge and render useless traditional tape and clinometer-based tree-measuring methods. The National Cadre was up to the job, especially Matt, and of course, perennial super star Will, who verified Matt's 180.6-foot blue spruce. Incidentally, Matt also measured a 170-foot blue, using his Tru-Pulse 200. Will employed a TruPulse 360. Matt and Will applied trigonometric sine-based measuring methods as required by the Cadre.
Readers can see for themselves how outstanding these blues are by perusing Internet sites describing Picea pungens. Maximum listed heights are as low as 60 feet (probably cultivars), with most around 100. Despite the best intentions of the authors, tree guides seldom provide reliable maximum dimensions for tree species. Guide offerings represent little more than repetition from other sources — basically, it's the same information circulated ad infinitum.
Returning to the table above, does the 143.4-foot RHI improve our understanding? At a minimum, it speaks to the capacity of the San Juan forests to grow larger, taller trees of several species than elsewhere in the Rockies. For wider geographical comparisons, a 143.4-foot RHI surpasses some entire states. Interestingly, the RHI of my home state of Massachusetts is 143.9. New York's RHI is 144.4 — again, the entire state. From the number of Colorado blues more than 160 feet tall, we conclude that the species maximum lies between 160 and 170 feet with a few statistical outliers reaching 180. I would argue that this conclusion provides us with a new scientific understanding of Colorado's state tree.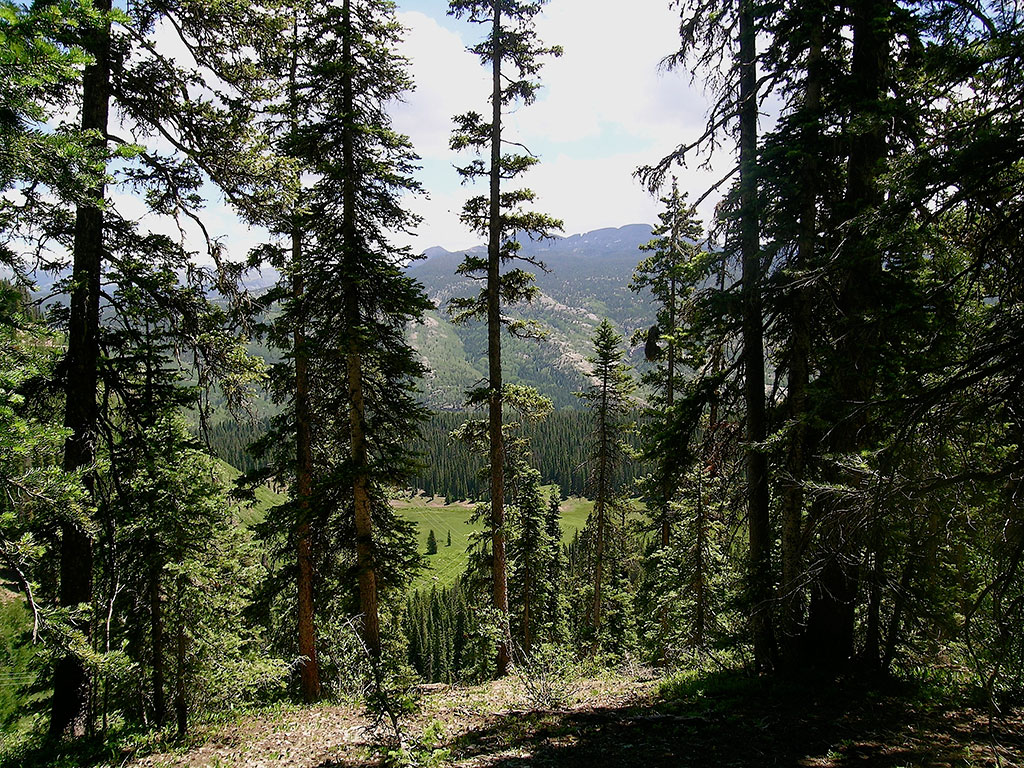 TREE STATURE AT HIGH ELEVATIONS
The tall pines, spruces and firs described tell one story. Another is the unanticipated tree-heights measured at two miles above sea level and higher. Coal Bank Pass lies at 10,640 feet on US 550 between Durango and Silverton. Vehicles stream over the pass with occupants dazzled by the much-photographed profile of 12,972-foot Engineer Mountain looming high above the road. In the presence of such a gigantic landform, who would notice that down the ridge from the small lookout at Coal Bank an extraordinary Englemann spruce thrusts its pointed crown to record height for the altitude. In 2009, using my Nikon Prostaff 440 and a Suunto clinometer, I settled on between 141 and 142 feet for this tree growing at two miles above sea level. In the nearby La Platas, I measured an Englemann to 136.5 feet growing slightly above 10,500 feet, and still another to 119 feet at 11,200 feet near Kennebunk Pass.
In 2010, Don Bertolette and Rand Brown confirmed my Coal Bank numbers, but the discoveries had just begun. On Engineer Mountain, I measured an Englemann to approximately 135 feet, growing at 11,100 feet in elevation, another record. In 2014, that tree was reconfirmed with my friend Larry Tucei. Nobody I talked to expected such heights at elevations above two miles, and I
assumed that we'd hit the maximums. Not so! In 2015, Will Blozan discovered an Englemann on Engineer topping 137.5 feet at 11,060 feet elevation. More 130-ft spruces grow above 11,000 feet, but how are other species performing?
The region's subalpine firs demand their place in the sun. A few make between 100 and 110 feet with one reaching 118. Collectively, these exceptional spruce and fir represent what we think is
the tallest forest growing in the western hemisphere north of Mexico. This astonishing statement is supported by no less an expert than Dr. Robert Van Pelt, forest ecologist and famed redwood researcher at the University of Washington. Bob announced his conclusion at the Durango Southwest Old-Growth Conference in June 2014.
BEYOND SIZE THERE IS FOREST AESTHETICS
I don't want to leave readers with the impression that in my world only numbers matter. To the contrary, the greatest appeal of Colorado's big trees lies in their artistically weathered shapes carrying imprints of drought, storms, and insect attacks stretched across centuries. Yet, the stalwart pines, spruces and firs persevere, asking nothing from us while providing an uninterrupted flow of ecosystem services.
The fragrant orange bark of arrow-straight ponderosas set against the rugged peaks and blue sky of the Hermosa Creek Wilderness leave indelible impressions, as do the needle-sharp spires of the blues and Englemanns. None of these fine old trees need measurement to project their power.
PURPLE MOUNTAIN MAJESTIES
Who would have believed that hidden in the San Juan's rugged gorges and even along well-traveled trails still grow conifers that set new records for species height. It took a team effort to locate and measure them, and yes, we truly may have found the western hemisphere's tallest forest north of Mexico.
Colorado's state tree has many cultivars. Homeowners love their symmetrical shapes and blue foliage. Urban planners prefer their modest size, but these tame landscape adaptations fall far short of the potential of their wilderness progenitors. The 2014-2015 tree-hunting coalition's discoveries reveal Nature's design for the Colorado blue spruce. The wild and free form of this charismatic species continues to reign in the remoteness of the San Juans — towering spires to match the towering peaks.
Robert T. Leverett is a member of American Forests Measuring Guidelines Working Group & National Cadre, co-founder of the Native Tree Society, co-founder and President of Friends of Mohawk Trail State Forest, and Chairperson for the Forest Reserves Scientific Advisory Committee for the Massachusetts Department of Conservation and Recreation.