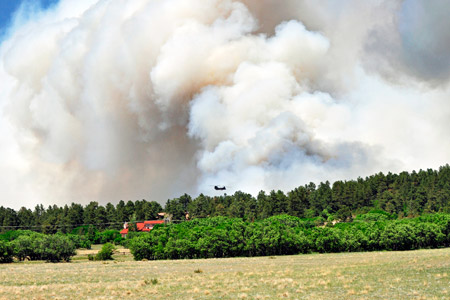 The last two wildfire seasons have been devastating to Coloradans. Lives have been lost, and homes and communities destroyed. Last year's Waldo Canyon Fire caused more than $450 million in damages, destroying 347 homes in the Colorado Springs area and killing two people. This year's recently contained Black Forest Fire is starkly similar: almost $300 million in insurance claims filed already, more than 500 homes destroyed and two lives lost. These two fires represent the costliest wildfires in state history.
And this heightened fire intensity has many wondering if there is a connection between these fires and the 3.35 million acres of Colorado's forests that have been decimated by mountain pine beetle and the additional 924,000 acres affected by spruce beetle. Scientists' opinions are mixed, according to a news story by I-News at Rocky Mountain PBS.
The research of Dr. Monica Turner, a University of Wisconsin professor, and Dr. Jesse Logan, a former U.S. Forest Service scientist and college professor, outlines the cycle of a beetle-killed forest. This cycle is most easily described by colors:
Green is a happy, healthy forest.
Red represents a forest in the throes of a beetle infestation with its green needles now red in death.
Gray is the final stage, as the trees lose their dead needles.
Turner and Logan tell I-News that forests in the green and red stages are much more combustible than those in the gray. "The overall trend would be that immediately after trees are killed and they still have all those fine fuels, needles in particular, on the tree, then it's highly flammable, probably more flammable than a green forest," Logan says. "But after those needles fall and that can be, like in lodgepole, a couple years after the tree is killed, then the standing forest is actually less likely to lead to a crown fire than a green forest."
So green and red mean a highly flammable forest, but gray is okay? Not so fast, says Matt Jolly, a researcher at the U.S. Forest Service's Missoula Fire Sciences Lab in Montana. He tells I-News, "A standing gray tree, particularly one like a spruce, will have a lot of really, really fine dead branches. It may not have needles, but it will have those fine branches that will also burn and support a crown fire."
All of the scientists agree on one thing, though: More research is needed on the consequences and effects of beetle damage to our Mountain West.