In a place where forests and woodlands are rare, one family-run farm is restoring Iowa's original landscape.
Story by Jamie Hansen
Photos by Emily Grimes
When most people think of Iowa farmland they envision seas of corn and soybeans. But in 1964, when Leonard and Mildred Grimes traded in their city home for the cheapest swath of farmland they could find, they saw trees.
Over the years, the couple has transformed nearly 700 acres of depleted soil into a model of forest and prairie restoration, as well as sustainable farming. According to many state conservationists, they led the way with techniques that have become increasingly popular as other farmers see value in regenerating Iowa's long-forgotten woodlands.
"They've been one of the pioneers in Iowa for tree planting and forestry," said Iowa District Forester Joe Herring.
Though Leonard, a lawyer by trade, and Mildred, a music and library science teacher, have always shared a love of trees, their main goal back in 1964 was to get their children out of the city.
"Our children were always one place or another, and it seemed like if they were out on a farm, as we had been, we could direct them better in ways that suited us," said Leonard, with humor. "It worked."
"It was horrible farmland," said one of the Grimeses' four children, Carrie Grimes Barr. ", who were farmers, told them, 'don't do it.'"
So the whole family got to work – repairing and disassembling 20 odd outbuildings, removing refrigerators and old cars, and restoring land depleted by years of traditional agriculture.
"We were trying to recreate Iowa the way it used to be," said Leonard. "When we got started, old cemeteries were one of the few places you still saw it."
In addition to its dramatic loss of native prairie, Iowa has lost about a third of its original forests; woodlands once composed as much as 20 percent of the state before farming and logging took precedence.
Collaborating with agencies like the Iowa Department of Natural Resources Bureau of Forestry, and the Natural Resources Conservation Service, the Grimeses forested great chunks of the depleted land. "Most farmers will retire a few 'odd acres' and forest them," said retired District Forester Bob Hibbs. "Leonard's 'odd' was 20 and 30 acres at a time."
The Grimeses have also experimented with various tree-growing techniques. In 1992, they direct-seeded about 50 acres. This close approximation of nature's chosen propagation method, as well as the early settlers', involves dispersing seed rather than planting seedlings. The seeds take root where they land, and the grower thins them over time. Leonard's direct seeded trees have grown so quickly that he refers to them as his "instant forest."
"When anything new came out, Leonard was willing to try it," said Hibbs, who worked closely with the Grimeses for 30 years as they sought the best planting methods.
By now, some trees stand over 100 feet tall. Bur oak, white pine, red oak, sugar maple, cherry, and others populate the uplands. Cottonwoods, silver maple, and green ash grow in riparian buffers along streams, as did many of Iowa's original trees.
In all, the Grimeses have planted about 200,000 trees over 240 acres. Meanwhile, they've cultivated other sections of their property as traditional cropland, and converted yet others to wetland and native prairie.
From the beginning, the family also made it their mission to share their love of trees and interest in conservation with others. Since 1964 they've invited all Marshall County fifth-graders to the farm to fish, look at different soil qualities, and walk the forests. In 1991 they began donating 160 acres to the Iowa Natural Heritage Foundation (INHF), for the Marshall County Conservation Board to use.
"The Grimeses had a whole vision for their property," said INHF Vice President and Director of Development Anita O'Gara. "They wanted to protect and preserve the natural aspects of the land, and public access was important so they could have people experience and enjoy the land."
Today a nature trail lures unsuspecting Marshalltown residents away from paved streets. They find themselves wandering through prairies aglitter with butterflies, restored wetland, and shaded hardwood forest, ending at the nature center, not far from the house where Leonard still lives. The Marshall County Conservation Board bases all its operations from that center, which draws visitors from as far as Russia and Japan.
Over the years, the Grimeses have received numerous honors for their conservation work, but you won't learn it from them. The fact that Leonard's a Harvard-educated lawyer and former mayor of Marshalltown, and that Mildred sat on about every conservation-related board in the state never comes up in conversation. Instead, you pick it up from their friends.
They've been named Iowa Woodland Owner of the Year, Iowa Tree Farmer of the Year, and in 2003 the Lions Club gave them the Marshalltown Lifetime Achievement Award for " as educators, horticulturalists, civic leaders, environmentalists, and conservationists."
According to O'Gara, their farm is unique in that it showcases a working landscape in harmony with conservation. She says that harmony can be best seen from a new observation tower constructed this year in honor of Mildred, who died in 2006 and had long dreamed of such a vantage point.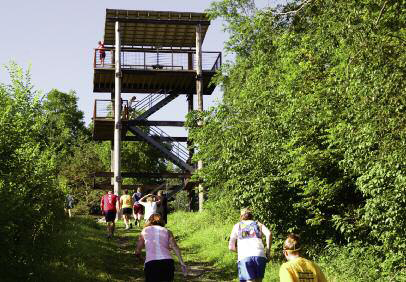 "From there you get the full perspective of what they've done," O'Gara said. "Rolling hills, textured land, crops, and woods are all intermingled. Visitors can see how crops and woodland can be compatible."
Not far from that viewpoint, Leonard continues working with the trees he began growing more than 40 years ago. He envisions his children and grandchildren harvesting some of them one day, and hopefully growing future forests too. Already, the children and grandchildren find themselves bound to the farm by a tree planted in their honor when they're born, and another when they die.
"I really love to watch how the trees grow," said Leonard when asked what the most rewarding aspect of his work has been. "I keep thinking almost daily about how big they are, and remembering what little seeds they were when they were planted."
– Jamie Hansen has written on ecology and conservation for Sierra Magazine, the High Country News, and Birder's World.
This article was published in the Autumn 2010 issue of American Forests magazine.