As the National Park Service prepares to celebrate its 100th anniversary, the "Leopold Report" of 50 years ago remains influential, but much has also changed.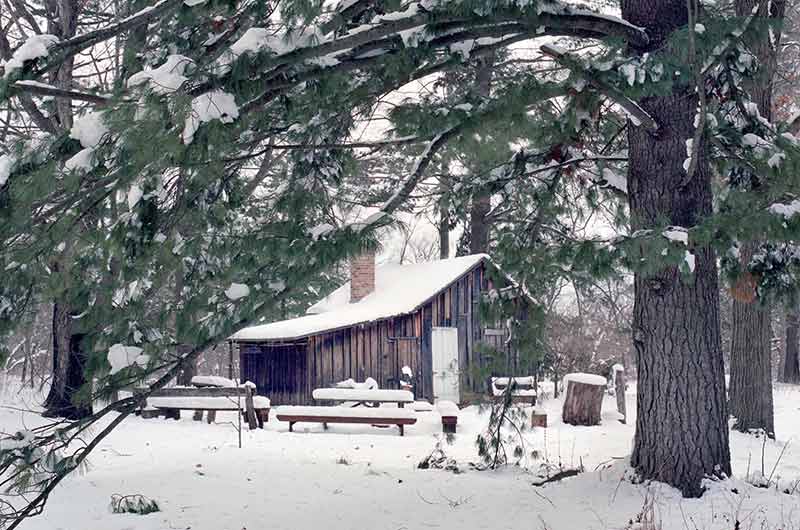 The shack I stand looking at on this cold winter day was once a run-down chicken coop on an abandoned farm on the Wisconsin River. But, in 1935, this place would become Aldo Leopold's weekend family retreat, living laboratory and the site where he would write one of America's most enduring environmental masterpieces, "A Sand County Almanac." It is also the land that would shape each of his children's lifelong pursuits and passions.
Aldo Starker Leopold, Aldo's oldest son, commonly called Starker, was already a young man by the time the Leopold family began their work to restore the farm to conditions resembling the days before its collapse from over-farming.
Even so, his time and effort there would prove foundational. In this place, Starker cleared brush, planted pines, built the outhouse affectionately referred to as "The Parthenon" and worked in his father's living laboratory as they experimented with ways to manage wildlife. Starker would use these experiences and others to go on to a distinguished career as professor at University of California, Berkeley, author, forester, zoologist, conservationist and — perhaps most significantly — creator of the document that would shape over 50 years of National Park Service policy.
So, my visit this morning to Leopold's shack and through the Leopold Pines is a visit to hallowed ground. And it is the beginning of my journey to uncover more about how the document this place inspired has shaped the course of land management history.
THE LEOPOLD REPORT: PRESERVING WILDERNESS

The report that would become one of the most significant in National Park Service history was born of a public relations disaster. In 1962, Secretary of the Interior Stewart Udall tasked Starker Leopold with addressing the issue of wildlife population control in national parks. Udall's request was formed in response to the public outcry brought upon by park personnel killing over 4,000 elk in Yellowstone National Park in the winter of 1961.
Elk were a major tourist attraction in Yellowstone and park management assumed that more elk would lure even more visitors. However, through an unfortunate combination of predator control and winter feeding, the elk population ballooned far beyond what the ecosystem could support and was beginning to adversely impact other species. The park service hadn't foreseen the public outcry the cull would create: Newspapers and television coverage created strong public opposition and congressional hearings.
The park service needed to find a way out of this mishap. What had seemed like a straightforward method to return the elk population to sustainable numbers became the impetus for a complete reconsideration of how the park system was managing its resources. Leopold and his committee of five distinguished scientists created a document called "Wildlife Management in the National Parks," which would come to be known simply as "The Leopold Report."
The "Leopold Report" focused around the principles that we should preserve lands in the state in which settlers from Europe would have found them and that we should not simply protect wildlife through designated protected areas, but also actively maintain and restore populations of native species.
Looking back on the report today, I think it's important to note that Leopold was only tasked with the consideration of wildlife management issues, specifically, as he put it in the report, "the procedure of removing excess ungulates from some of the parks." But he went on to say that it was his feeling that "this specific question can only be viewed objectively in the light of goals and operational policies." The visionary 23-page report, far more expansively considered than even Udall had anticipated, was written with those goals and policies in mind and would become the National Park Service's guiding philosophical document for the next 50 years. Examining Leopold's landmark work in light of a recently released report that actively considers contemporary issues facing the park system should make for an interesting exercise.
When the report was penned in 1963, times were different; the National Park Service (NPS) was smaller, their holdings and visitors far fewer, and many of today's significant issues such as sprawl and climate change weren't extraordinary concerns. In 1963, there were 29 national parks. Today, the park service manages 59 official parks, a total of 401 units, more than 84 million acres of land, 85,000 miles of rivers and waterways and 4.5 million acres of oceans, lakes and reservoirs — all of which are visited by more than 282 million people per year.
REVISITING LEOPOLD: FLEXIBILITY IN THE FACE OF CHANGE
The park service is preparing to celebrate their 100th anniversary in 2016. And, in preparation for the next 100 years, National Park Service Director Jon Jarvis launched the "Call to Action Plan" in 2011 to "prepare for the second century of stewardship." The plan lists 39 action items for the park service to accomplish prior to the centennial celebration and includes as action point 21 "the preparation of a contemporary version of the 1963 "Leopold Report" that confronts modern challenges in natural and cultural resource management."
To create this new report, Jarvis commissioned an 11-member panel of scientists, including two Nobel laureates and two Presidential Medal of Science recipients, to revisit Leopold's 1963 landmark document and provide a vision to guide the next 50 years that would address the new challenges the park service faces. In particular, the report would need to address management in the face of accelerating environmental changes including biodiversity loss, climate change, habitat fragmentation, invasive species and more. The final report, "Revisiting Leopold: Resource Stewardship in the National Parks," was completed August 25, 2012.
The report is similar to the original "Leopold Report" in many ways. Both begin with similar questions that guide their recommendations and discussions.
While the original report asks what the goals of wildlife management in the parks should be, the 2012 report expands this question to include not just wildlife, but resource management in general. Both reports ask what management policies can achieve those goals and how those policies can be implemented.
The recommendations of both reports are at a high level, offering neither implementation suggestions nor specific situational suggestions, but rather — as it's put in "Revisiting Leopold" — "general answers to the questions posed by the committee" intended to steer future park service policy consideration and decision-making. The 2012 report, for example, emphasizes the need for the National Park Service to "establish a standing Science Advisory Board that includes representatives from a range of disciplines within the scientific community" that should be given specific responsibilities for maximum effectiveness. However, the report leaves the question of what those specific responsibilities might be for the park service to answer.
Both reports agree that management based on scientific research is essential. Most will agree that science-based decision-making would be best, but one is left to question from where the necessary money to fund this board will materialize. Fortunately, neither commission was tasked with figuring out either the cost of implementing their suggestions or where those funds might be found. The constraint of funding can be significant and often can dampen visionary and inspired thought. The National Park Service's budget has been steadily shrinking and with less and less money available, one must wonder where the funding will be found to execute Revisiting Leopold's recommendations to "steward NPS resources for continuous change that is not yet fully understood."
"Revisiting Leopold" recognizes that its authors have "neither accepted all of Leopold's conclusions nor rejected them out of hand," and that several findings remain significant, including:
The need for the park service to recognize the enormous complexity of ecologic communities and the diversity of management procedures required to preserve them.
The necessity that management may involve active manipulation of plant and animal communities, or protection from modification or external influences.
The high importance of science to stewardship, such that the "Leopold Report" urged the expansion of research activity to prepare for future management and restoration programs.
But the two reports are not all similar. While Leopold mainly confined his suggestions in the original report to park land itself, Revisiting Leopold, with its focus on the need to adapt in the face of change, differs by advocating a park system that "should become a core element of a national network of lands and waters … managed for resiliency and connectivity."
BIOTIC LAND USE, YESTERDAY, TODAY AND TOMORROW
The idea of potentially expanding the intended sphere of park service influence over lands that are not directly controlled might make it more difficult to realize significant, tangible results. With fostered collaboration, however, it's not impossible. Aldo Leopold conducted a successful experiment in the 1930s that was known as the Riley Game Cooperative. It recognized the expansive interconnection of habitat and wildlife, nurtured collaboration between hunters from the city and those from the country and encouraged those who owned land to work with those who did not towards achieving a common goal to manage wildlife. I believe that Leopold would have fully supported the 2012 report's articulation of park lands as integral pieces of a larger whole.
I'm thinking of this while walking through a grove of Leopold pines. These now towering trees are the direct result of the efforts of Aldo, Starker and the entire Leopold family to restore the farm to the natural condition that existed before it was ravaged by years of poor agricultural practices. The family planted thousands of these trees and I believe they represent the roots found in the "Leopold Report" recommendations. They were a part of Aldo's efforts to test ideas and management practices toward what he called biotic land-use: a land management idea that worked toward "conserving land by keeping plants and animals favorable."
Starker Leopold's original report contained the often-maligned idea that national parks were intended to re-create a "primitive vignette of America." This notion has often been criticized for being idealistic and nostalgic and is altogether eliminated in the new document. The idea that has replaced it — the recognition that there should be an approach in which the "functional qualities of biodiversity, evolutionary potential and system resilience matter as much as observable features of iconic species and grand land and seascapes" — matches Leopold's biotic land-use in spirit, but differs in approach. This "protection of habitats that may serve as climate refugia" may mean that invasive or exotic species might be allowed to persist outside of their original range if climate change has pushed them to the place as their last, best place to survive. And, considering the increasing rate of climate change, responsible for melting glaciers and rising sea levels, this is critical to consider.
Although a significant oversimplification, I think that while both reports advocate management for rather than of the ecosystem, Leopold's 1963 report was managing for a paradigm that was less focused on flux and change while "Revisiting Leopold" recognizes ecological relationships as living, dynamic and uncertain. "Revisiting Leopold" offers what it calls the precautionary principle as a tool moving forward in the face of that uncertainty. It "requires that stewardship decisions reflect science-informed prudence and restraint." Moving forward is never easy, and moving forward into the unknown can be paralyzing without the toolset and method with which to do so.
Toward its end, "Revisiting Leopold" offers a few steps toward the effective implementation of its policy recommendations.
The NPS should undertake a major, systematic and comprehensive review of its policies, despite the risk and uncertainty that this effort may entail.
NPS will need to significantly expand the role of science in the agency.
Expanded scientific capacity must be interdisciplinary as well as disciplinary.
NPS should establish a standing Science Advisory Board.
NPS must also expand its capacity to manage natural and cultural resources efficiently across large-scale landscapes.
NPS should function as a scientific leader in documenting and monitoring conditions of the park system.
NPS managers must be supported with the necessary funds and personnel.
Considering the size and scope of NPS operations, it will be interesting to see how these recommendations are utilized to guide and develop future policy decisions. A leaner, more efficient organization is desirable, but could be difficult to achieve considering the current lack of financial support. Equally interesting to see will be if these recommendations prove to have the same staying power and long-term vision as Leopold's initial report.
Though it seems obvious, I think it's important to point out that there could not be a "Revisiting Leopold" without the original 1963 report. And reading through the new report, I'm left wondering: What if Starker had been tasked with providing a plan for comprehensive park system management? Would he have created a document that might have surpassed the vision and scope of this team's recommendations? Both teams' tasks were extraordinary and both documents provide plenty of fodder to consider and to fuel decision-making.
I march through ankle-deep snow, past the shuttered shack down to the frozen Wisconsin River. Chunks of ice drift down the waterway, knocking and bouncing off the thick, frozen crust that radiates out from the bank. Suddenly, a loud "pandemonium of trumpets, rattles, croaks and cries" — the very cries that may have inspired those words in Aldo Leopold's "A Sand County Almanac" — pierces the snowy silence. I look up and a sedge of cranes circles overhead, wings motionless as they descend beyond the trees and out of sight.
I realize that it's because of people like Aldo and Starker Leopold, and the hundreds and thousands of others who care about preserving and protecting our wild places, that I am fortunate enough to be here on the shore of a frozen river near a simple wooden shack and see these extraordinary creatures and hear the sound that Aldo Leopold called the "trumpet in the orchestra of evolution." And I can't think of any other recent experience that caused me to feel more humble and hopeful about the wild places in America.
Tom Persinger is a photographer and writer based in Pittsburgh, Pa. Read more at www.tompersinger.com.