American Forests' Rich Legacy Shapes the Future of Forestry
OUR ROOTS RUN DEEP. In the early 1900s, we rallied forest advocates across the country to champion the creation of the
U.S Forest Service and the network of national forests that now span nearly 190 million acres. In the 1930s, we helped create jobs for half a million Americans, many of whom helped to plant 3  billion trees. And, in the 1970s, we helped shape the guidelines for managing America's national forests.
These are just some of the moments in our 145-year history that transformed a seed of inspiration into a towering legacy, much like an old-growth tree. The achievements and lessons learned from how we reached them shape our thinking about what we can and should do over the next 145 years. And beyond.
The challenges we face today are different from those we faced when we were founded in 1875 as the American Forestry Association by a small group of concerned citizens in Chicago. In our early days, the challenges were mostly created by people — people who did not know how to manage forests responsibly and others who did not have the skills to properly govern our national forests. As a result, the tragedy of the commons played out in many of our country's forests.
Today, our greatest challenges are driven by natural foes, such as forest pests, tree diseases and wildfires — many of which are intensified by climate change. And we have new challenges that come with a growing population, such as the imperative to plant trees in marginalized city neighborhoods and the need to engage the next generation in forestry careers so we have enough people to care for our forests.
Despite the differing challenges, to solve them we need to show the same level of servant leadership today as we did during our early years. And we need to collaborate just as much, if not more, with our allies and people from across the aisle.
We know from our experience that's how movements are built.
America is perhaps hungrier now for a forest conservation movement than ever before. Climate change. Urban sprawl. Agricultural expansion. These things — and more — threaten the forests we all rely on to survive and thrive. If we take care of the forests, they'll take care of us.
We've selected nine moments from our history that show the kind of solutions that can be achieved by creating movements that are grounded in science, innovation, collaboration and strong leadership. This is the legacy we strive to match today.
1882
First American Forest Congress and Ohio's First Arbor Day. American Forests was founded in 1875, then known as the American Forestry Association. We were not truly up and running until 1882, but we were out the gate fast. That's the year we helped convene the first American Forest Congress, a gathering of public and private sector leaders that has, since then, been held every few decades to lay the groundwork for our country's forest policies and programs. We also participated in Ohio's first Arbor Day on April 27, 1882, coinciding with the first American Forest Congress. A remarkable 50,000 people gathered for a ceremonial tree planting at Eden Park in Cincinnati. This has become the true birthday of the American forest conservation movement.
1905
Second American Forest Congress and Establishment of U.S. Forest Service. The second American Forest Congress was held in 1905, under the leadership of American Forests. President Theodore Roosevelt addressed the need to create a national forest reserve and a federal agency to man- age those forests. Other legendary figures who spoke were U.S. Secretary of Agriculture James Wilson, who had just finished a term as American Forests' president, and Gifford Pinchot, who later became the first chief of the U.S. Forest Service. This gathering was pivotal, as grave concerns were raised about the governance of America's national forests. A report
to Congress from Secretary Wilson spelled out how America's forests were falling into disrepair, posing serious threats to public water supplies that originated in forests. That triggered support for resolutions that essentially created the foundation for America's forests — establishing the U.S. Forest Service, which occurred through new federal legislation passed just four weeks after the American Forest Congress ended; creating the National Forests in 1907; and creating the eastern National Forests in 1911.
1921
Memorial Tree Planting with First Lady Florence Harding. Urban forests. Women's leadership in forestry. American Forests was a pioneer on both fronts. Starting in the 1920s, we advocated for trees in cities and created leader- ship roles for women in forestry, long before any other national organizations did so. These interests came together in 1921, when First Lady Florence Harding, then a vice president of American Forests, helped kick off a memorial tree planting initiative that focused on trees in cities. This same initiative jump-started the urban forest movement. Harding's immense stature and tireless leadership created the momentum this movement needed to become what it is today.
1933
Passage of Legislation Establishing the Civilian Conservation Corps. The Civilian Conservation Corps (CCC), which American Forests helped create, was a powerful yet often overlooked force for forestry in America. While many people know about the bridges, dams and recreational facilities constructed by the CCC, fewer people know that this group planted 3 billion trees over 10 years. At its peak, as many as 500,000 Americans were hired to help with this work. American Forests played a critical role in assuring the CCC's focus on tree planting and other natural resource management. We tapped into our insights related to the power of a forest workforce, which we gained in the wake of World War I by helping to organize garden and tree plantings across Europe and some parts of the U.S. after the war. Those successes convinced policymakers that we could do something on as grand a scale as the CCC. To this day, it excites us to have in our office the pen President Franklin D. Roosevelt used to sign into law the CCC.
1946
Charting the Future of America's Forests after World War II. One of American Forests' most significant leadership efforts, highly informative for our needs today, came in the wake of World War II. During the war, America's forests were used heavily to support the war machine and, as a result, were in a relatively depleted state. American Forests realized that, when the soldiers returned home, there would be another huge push to use our forests for new housing and other economic activity. To assure the responsible use of our forests, we led a multi-year process to study the state of our forests and convened stakeholder meetings that climaxed with the third American Forest Congress in 1946. The resolutions from this meeting became guideposts for the careful and balanced use of our forests so they could meet our post-war needs while simultaneously continuing long-term recovery.
1976
Passage of the National Forest Management Act. By the mid-1970s, America's national forests were once again showing the signs of stress that come from trying to meet the needs of our nation's growing population. In some parts of the country, our forests were over-harvested (and often poorly managed) to meet the demand for forest-based products. In other parts of the country, the forests were left untouched, sometimes to the detriment of the health of the forests. American Forests stepped into this breach to broker compromise legislation, the National Forest Management Act, which lays out the ground rules and criteria for how national forests should be managed. Consistent with American Forests' centrist posture, this legislation provides equal access for all interest groups and individuals to the planning process, and allows citizens to challenge public land management decisions when they see concerns. This legislation has stood the test of time, still serving as the foundational law for national forest management today.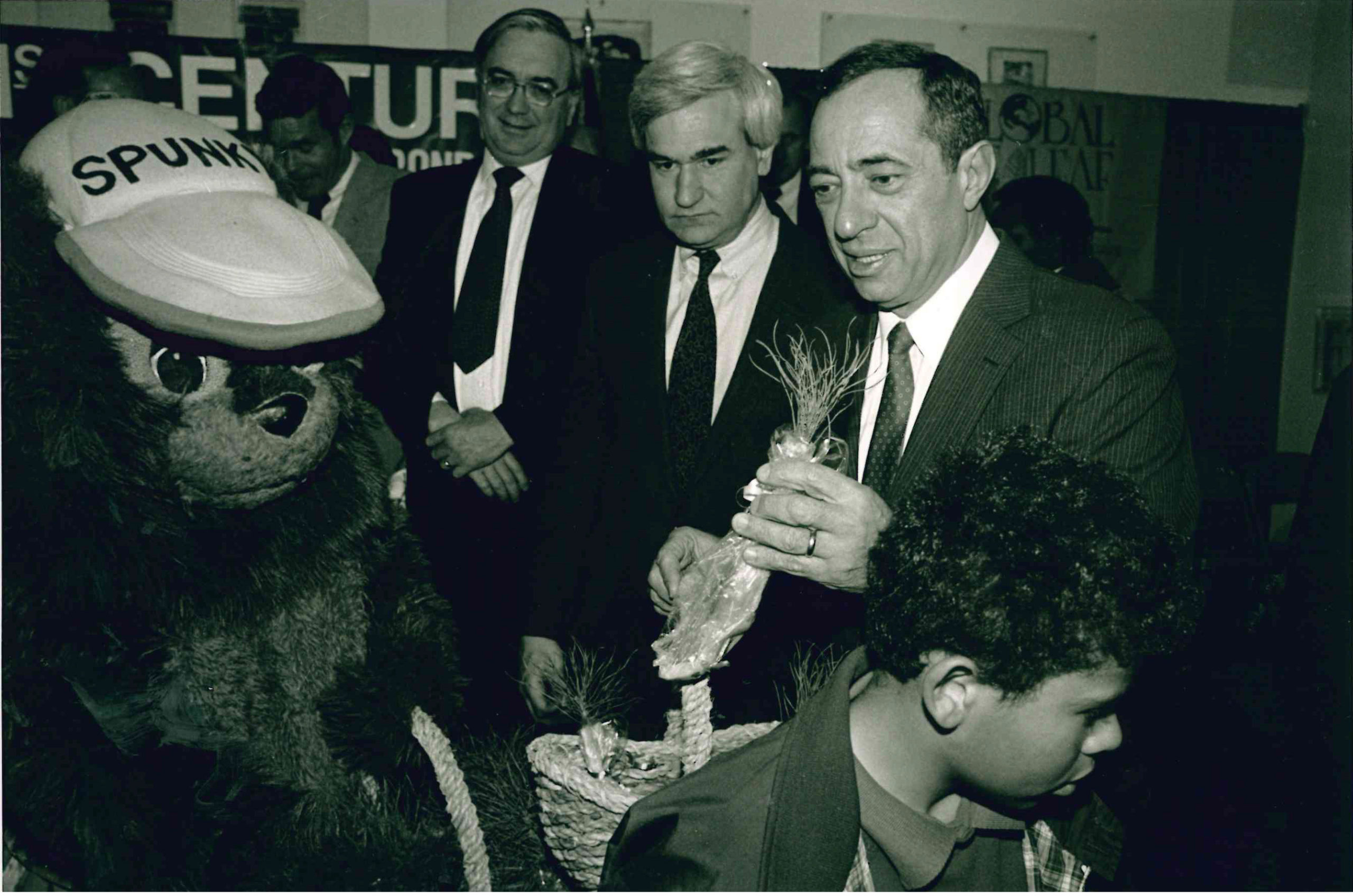 1990
Launch of Global ReLeaf. American Forests has always been a champion of tree planting. But, we took this work to a new level with a simple innovation — corporate partnerships priced at $1 per tree. Our Global ReLeaf Program created this model under the realization that companies would embrace the chance to meet their corporate sustainability and social responsibility goals through the simple, yet compelling, action of planting a tree. Whether restoring wildlife habitat and trails, protecting air and water quality, or acting on climate, planting trees provides a perfect platform for cost-effective action that a company's employees and customers can understand and support. The results of this innovation have been staggering. In addition to providing the resources for American Forests to plant more than 60 million trees, this approach has sparked emulation by other nonprofits, who have collectively planted at least 100 million more. These private contributions have also inspired governments to spend money on tree planting, including the U.S. Forest Service, which matches American Forests' tree planting dollar for dollar.
1996
Mapping Urban Tree Canopy with CITYgreen. Almost 80 years after launching the urban forest movement with First Lady Harding's memorial tree planting, American Forests again was the catalyst for a change. We developed a program called CITYgreen that provided the first computer mapping of urban tree canopy. The results were impressive. For example, our analysis in Washington, D.C. showed that the city's tree canopy was rapidly decreasing, with great consequences to the environment, economy and well-being of its residents. In response, the D.C. government mobilized resources, and Casey Trees, one of the nation's most effective nonprofit local tree planting groups, was born. The CITYgreen software also was the precursor to the U.S. Forest Service-led effort to develop i-Tree, now the standard for tree canopy mapping and analysis across the urban forest field.
2000s
Planting Hope after Disasters. American Forests has been planting memorial trees since the early 1900s, planting them to remember lives lost in World Wars I and II, and planting after natural disasters such as Hurricane Andrew in 1992. In 2002, American Forests planted thousands of trees, one for every victim of 9/11 in memorial groves in New York City, Washington, D.C., at the Pentagon in Virginia and in Pennsylvania. We helped communities along the Gulf Coast replant after Hurricane Katrina and helped the city of Asbury Park build resilience in their urban forest after Super Storm Sandy. Planting trees to remember our loved ones and to help communities recover from disasters is to a way to plant hope.
These highlights of American Forests' history are not just artifacts. They are important lessons and inspiration for our future. They prove that servant leadership and collaboration work best, and that America's forest community can move mountains when it comes together as one. Looking forward to our current challenges, such as mobilizing forests to slow climate change, these stirring moments in our history will provide the inspiration and model that we need to push through to ultimate success.
Jad Daley writes from Washington, D.C., and is American Forests' president and CEO.