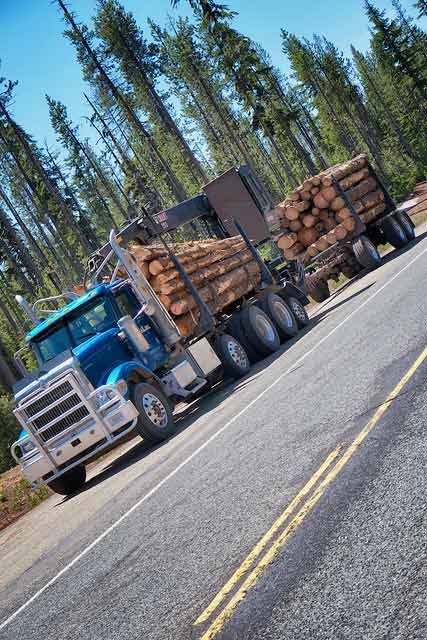 These days, much of the oxygen in Washington is being consumed by speculation about whether Congress will be able to pass a continuing resolution in time to avoid a federal government shut down on October 1. But contrary to what you may hear, read or see on the news, Congress is still working and passing other bills; last Friday, the House passed an important bill that addresses logging and wildfire management in national forests.
H.R. 1526, the Restoring Healthy Forests for Healthy Communities Act, passed 244-173 with 17 Democrats voting to support the measure and only one Republican voting in opposition. Proponents of the bill argue that over the next decade, it will create more than 200,000 jobs and save nearly $400 million. Opponents, which include both the White House and environmental groups, criticize the bill's limited environmental reviews and its delegation of federal forest management to states.
Even though only small pieces of the H.R. 1526 pie will likely see the light of the Senate floor, one of the most attention-grabbing provisions concerns the current amount of timber sales. The bill places statutory requirements on the board feet of timber to be harvested annually, doubling the current amount. And although increased logging in national forests can create headlines, one concerning aspect of the bill, especially in terms of environmental policy, is the manner in which this increase is accomplished.
The bill explicitly designates sections of national forests as "forest reserve revenue areas," designed for the purpose of logging and revenue generation for specific, mainly western, counties. Timber harvesting projects within these forest reserve revenue areas, however, are exempt from judicial review that is otherwise required under several key environmental statutes, including:
Timber salvage projects within these revenue areas are exempt from judicial review.
Decisions on logging and other projects by the secretary of agriculture are not subject to injunctions or restraining orders based on any procedural requirement violation.
Project review otherwise required under the Endangered Species Act is limited.
And, because it all really does come back to the National Environmental Policy Act, H.R. 1526 drastically curtails environmental review of a proposed project within these revenue areas.
In a recent statement, the White House expressed its opposition to H.R. 1526 as legislation that not only would harm the long-term management strategy of national forest lands, but also directly conflicts with existing statutory requirements. That said, many members of Congress, on both sides of the aisle and in both the Senate and the House, support the idea of increasing timber harvests on national forest land. As the recent wildfire in Yosemite tragically demonstrated, years of fire suppression policies have left forests too vulnerable to large and uncontrollable fires. Senator Wyden (D-OR) has expressed his support for legislation that will increase logging on national forest lands and is expected to introduce his own proposal concerning national forest land use.
But while many have expressed support for increasing timber quotas, for both revenue generation and forest management, other observers say this should not be at the expense of environmental and judicial review and that limiting environmental and judicial review, while expedient in terms of approving projects, is short-sighted for the long-term care of our national forests. It's a classic example of the difficult trade-offs that occur in formulating a national resources policy.