THERE IS SOMETHING ENDEARING about the way Rhode Islanders describe the drive from bustling Providence to the small city of Woonsocket on the northern edge of the state. The two communities are a world apart, but in reality only 15 miles. It is this unique scale for a state, with a wide diversity of New England culture nestled into 48 miles north to south, which led to a captivating opportunity for the lines of church and state to find themselves standing next to each other this spring.
Among dozens of new trees transforming a muddy Catholic elementary school yard, the pastor opened his Bible only a handful of pages, going full Old Testament in his impassioned spiritual plea for more trees. Beside him stood Rhode Island's Governor Gina Raimondo, who had just given an equally impassioned speech about the many scientific and public health benefits of trees. And when the children were unleashed with shovels to plant the final tree, it reminded everyone what perspective matters most: creating a stable future together.
The potential for such fundamental transformation is why Governor Raimondo made that 15-mile trek to Woonsocket and announced an Urban Forests for Climate and Health partnership. This initiative brings the State of Rhode Island, American Forests, and both the Environment and Child Well-being programs of the Doris Duke Charitable Foundation (DDCF) together. Working through the state's Health Equity Zones, this initiative has the potential to elevate urban forests to the mainstage in fighting climate change globally while utilizing their unique position in people's lives to reduce the negative health impacts of a heating climate, such as respiratory, extreme heat, and cardiovascular illnesses.
FRONTLINES OF CLIMATE CHANGE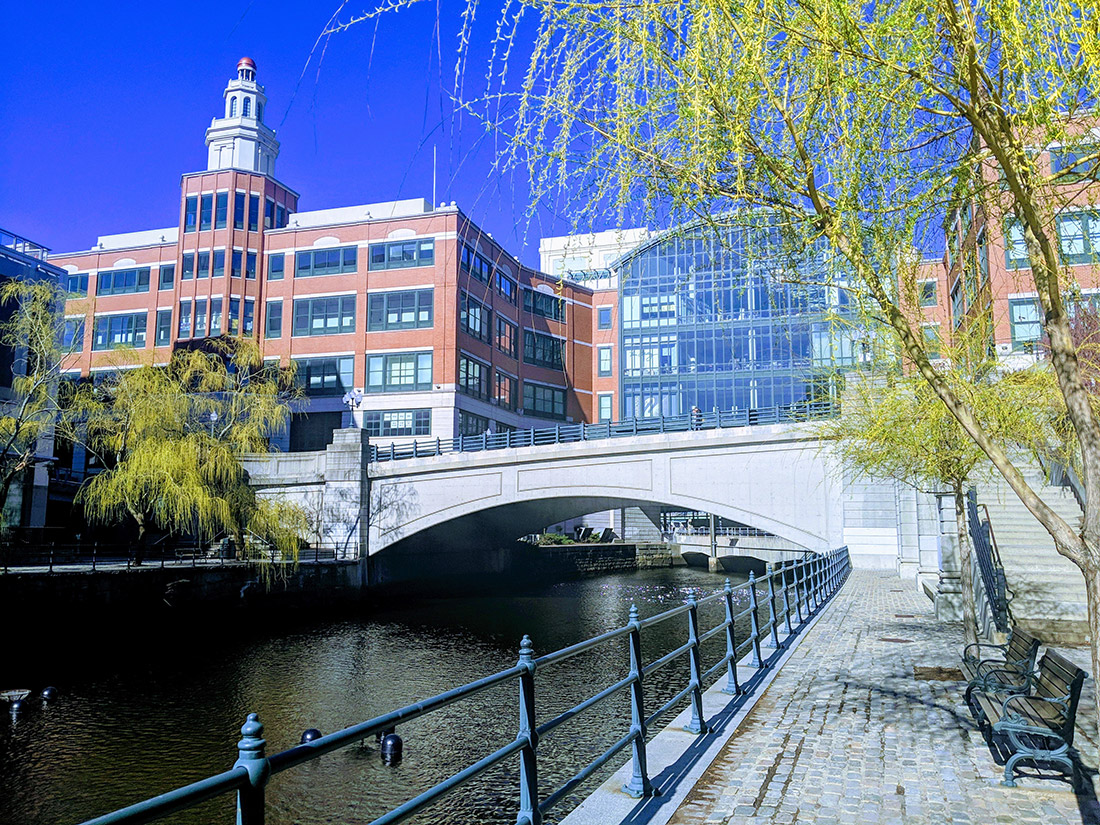 An increasing number of studies and media point to forests as a major solution for reducing global warming. Large-scale initiatives have taken off, with ambitious goals declared by foreign governments and individual states here in the U.S., as well as from the nonprofit world, including American Forests. While American Forests' goal of helping to plant at least 4 billion trees by 2030 from cities to wilderness, for others, urban forests — the trees in the small towns, suburbs and cities where people live — have largely been left out of the conversation.
Many do acknowledge the role urban trees play in adapting to climate change, such as reducing catastrophic flooding and surface temperatures. However, the perception is that the number of urban trees just don't exist at a large enough scale to take on global temperature.
Science tells a very different story.
Urban forests comprise 17 percent of the total U.S. carbon sink, or 1.8 percent and rising of U.S. emissions every year, according to a 2018 report by the Environmental Protection Agency. Urban trees when uniquely positioned near buildings reduce energy production and its carbon output by 7.2 percent nationally.
Perhaps most importantly, these trees are a life-saving infrastructure. Rollins School of Public Health projects a ten-fold increase in heat-related deaths in eastern U.S. cities by 2050. A 2017 Dallas Heat Island Study American Forests developed with the Texas Trees Foundation found that maximizing tree canopy with other surface-cooling strategies would reduce heat-related deaths by 22 percent. These saved lives would be particularly concentrated in neighborhoods where children and elderly are at risk for poor health outcomes due to such factors as lack of air conditioning.
Taken together, urban forests are a significant contributor to the tapestry of solutions needed to tackle this climate and health crisis. And yet, the partnership forged on that rainy morning in Woonsocket believes those trees can do more.
RHODE ISLAND POSITIONS ITSELF TO BECOME NATIONAL LEADER
The seeds of this initiative were planted last year when forestry and resilience experts from Rhode Island gathered in Washington, D.C., with 15 other
U.S. Climate Alliance states. Far from generic conference rooms suffocated by collapsible beige walls and PowerPoints with too many words, American Forests' Learning Lab in an exposed- brick loft downtown was an intense, multi-day work session. Each state's team walked away with a detailed plan to maximize the role of their natural lands in reducing global warming.
While many larger states logically focused on their vast forests or prairies, Rhode Island looked at its 1,200 square miles, just smaller than metro Detroit, as one urban forest. Such an astute decision would position the state to be selected as the statewide laboratory in this DDCF-funded initiative. This unique collaboration brings together the Rhode Island Department of Health with the Resilient Rhody climate strategy to develop, test and deploy a suite of next-generation analysis, planning, policy and finance tools that help slow global warming and protect public health from its devastating impacts.
Given decades of skepticism, it is important to determine first how much America's urban forests can actually contribute to slowing the rise of global temperatures. We are, therefore, partnering with U.S. Forest Service researchers David Nowak and Eric Greenfield to conduct a nationwide study that will measure just how much more carbon storage and energy reduction is possible. Their findings will help define state and national targets toward which communities can contribute by using the decision- support tools being developed in Rhode Island.
TREE EQUITY SCORE
The first step in the process for any city will be to determine its Tree Equity Score. It's somewhat in the vein of a Walk Score or ParkScore but focuses on populations that are most vulnerable to a heating climate. The underlying analysis integrates tree canopy, climate projection and public health data to quantify how well the many benefits of tree canopy are being delivered to those who need them the most.
CLIMATE AND HEALTH PLANNER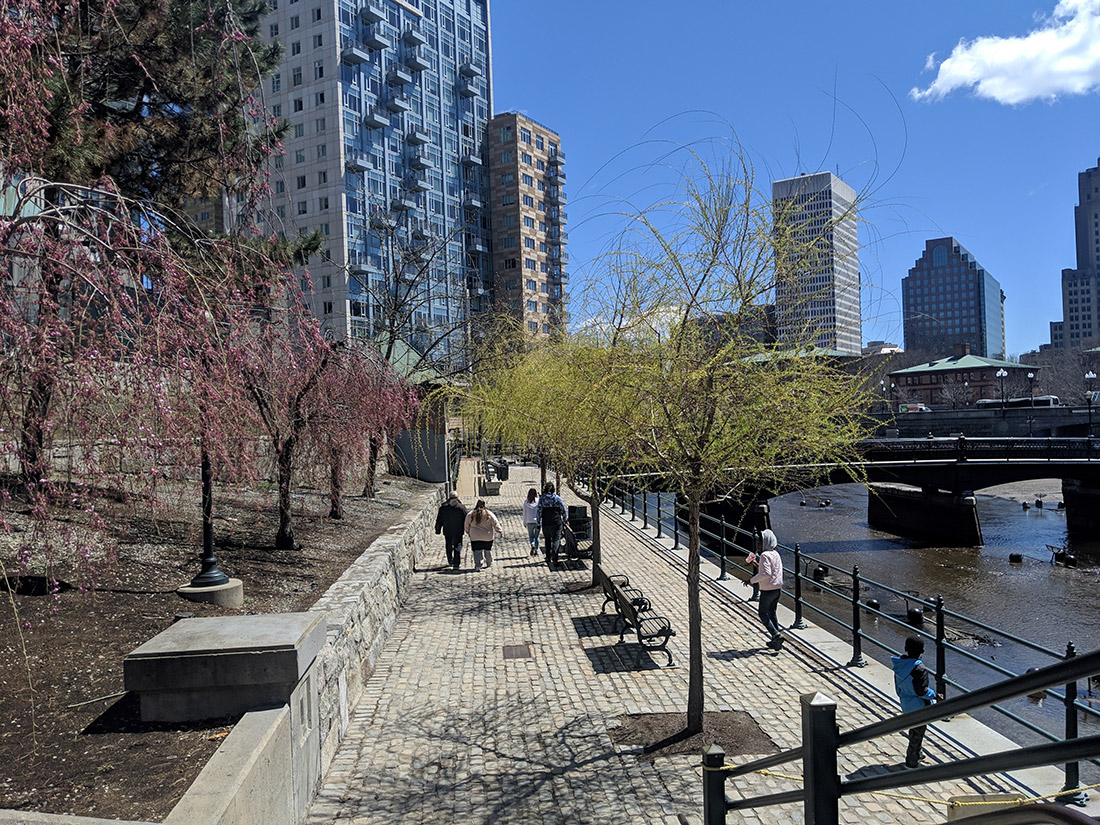 A score is only a number if there's no plan for action. The National Institute of Applied Climate Science (NIACS) is helping create a free tool for cities and nonprofits to design strategies and work flows for undertaking this climate and health- informed approach. With technical guidance for such factors as species selection, workforce and urban wood reuse, it will also help urban forests maximize their ecological, economic and health benefits as the climate changes.
LEVERAGING INVESTMENTS
Turning those plans into transformative action requires more urban forestry funding. American Forests is building a coalition of citizen advocates to advance innovative policy and funding mechanisms at both the state level in Rhode Island, and the federal level in Washington, D.C. The goal is to leverage strategic public investments that generate several times the return in private investment.
To attract those coveted private dollars, the partnership is building the capacity of, and growing the market for, an exciting new finance tool: City Forest Credits. These credits work like a traditional carbon credit but are designed for the unique dynamics of city trees, quantifying not only carbon dioxide storage but also rainfall interception, air pollution reduction, and energy savings. King County, Wash. was one of the first to confront climate change in this manner, allowing companies, like Microsoft and Fishermen's Finest, to offset their carbon emissions while keeping forests intact.
The many moving parts of Urban Forests for Climate and Health have the potential collectively to give urban forestry a central seat at the climate solutions table. An invigorated urban for- est is also uniquely positioned to have a transformative, potentially life-saving impact on the lives of those most at risk, like the elementary school children haphazardly tossing mulch on their new tree. As Molly Henry, an American Forests employee embedded in Rhode Island government for this project, says, "This is a powerful opportunity for Rhode Island to bring environmental justice to communities that have long been starved of resources. It will serve as a model for climate change mitigation that emphasizes equity and can be implemented throughout the nation."
Note: American Forests would like to thank the Sant Foundation, which helped to make this initiative a reality.
Ian Leahy writes from Washington, D.C. and is American Forests vice president of urban forestry.