The end of winter doesn't officially come until March 21, and as Winter Storm Wiley proved in the Midwest and Mid-Atlantic, cold temperatures and heavy snowfall can still trigger tree-related problems and fixes. This winter's major snow events, high winds and cold temperatures have many people turning their attention to "weatherizing" their homes from the elements.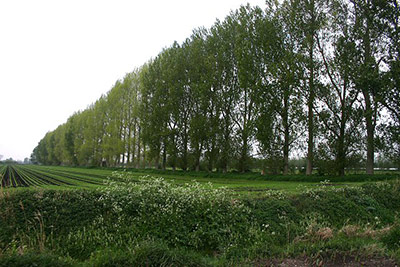 Given rising heating costs, increasing home efficiency is both the cheapest and most sustainable means of doing so. An eco-friendly, low-cost way to weatherize your property is to plant a windbreak of trees around your home or, as mentioned in a previous blog post, employ a green roof of growing plants.
The different forms of insulating one's home with plants are, fittingly, collectively referred to as "greening," and can include efforts to reduce one's ecological footprint, such as using rain gardens to reduce water runoff during storms or planting native species to reduce the amount of maintenance needed.
Planting trees that provide shade in summer and break cold winter winds equalizes year-round temperatures within homes, which reduces heating and cooling costs. In turn, when energy consumption goes down, less fuel is burned and carbon emissions are reduced.
American Forests has worked in certain areas to replant tree windbreaks that help reduce weather extremes. While all tree planting efforts have beneficial effects on global climate, planting tree windbreaks is a great way to create a positive feedback loop combating climate change.