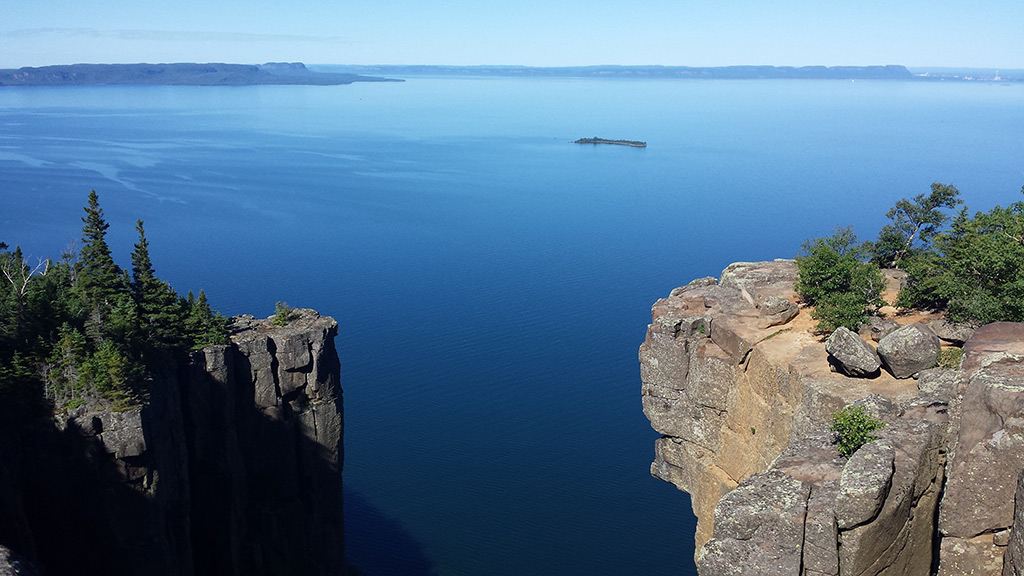 Sometimes going in circles can be incredibly rewarding, especially when it allows you to experience the rugged beauty of the forests and shorelines of the largest (in area) freshwater lake in the world. Imagine traveling through a landscape of wild and majestic waterfalls; canyons that harbor plants whose nearest kin are on the shores of the Hudson Bay; trails winding through boreal forests devoid of maples, oaks and other familiar tree species, but rich in mosses and lichens. Better yet, quit imagining and go! Camping and RVing are probably the best options, but there are also plenty of places to get a motel room or cabin as you make your way around the shores of Lake Superior.
While the Lake Superior Circle Tour is a designated route, there are lots of places where you might choose to deviate from the track in order to catch more out-of-the-way attractions. For purposes of this narrative, I will start and end our trip in Duluth, Minn., traveling clockwise around the lake.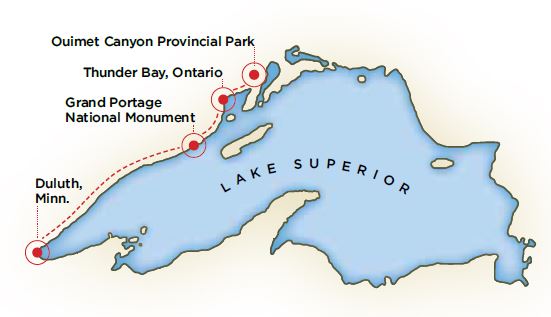 Thunder Bay, Ontario, with a population in excess of 100,000, is worth stopping to see. It is a vibrant, ethnically diverse community with good restaurants, lots of shops offering local artwork and crafts and many cultural events. A particularly fascinating must-see destination is Fort William Historical Park, where exhibits and reenactors bring an 1815 Northwest Company fur trading post to life complete with voyageurs, birchbark canoe builders, coopers and blacksmiths.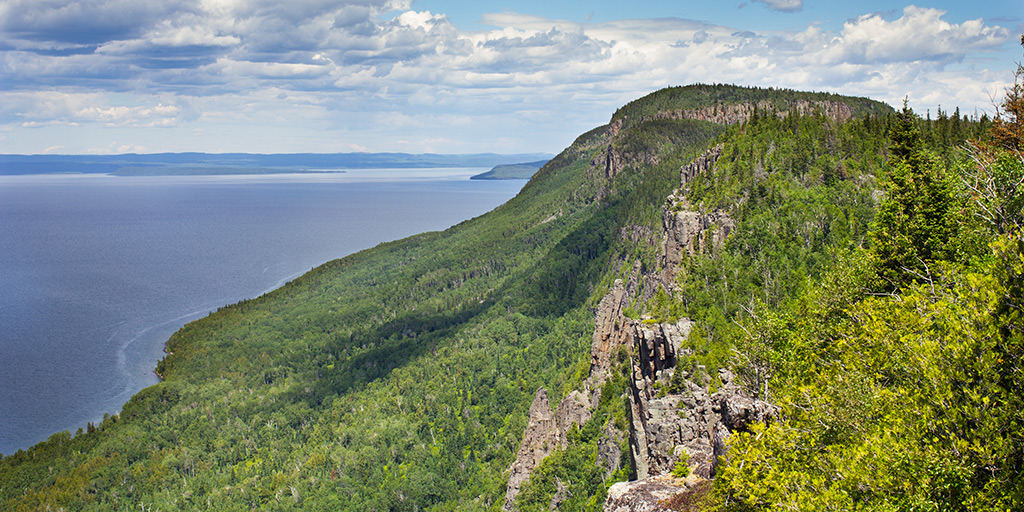 Heading north out of Thunder Bay, you may want to stop at one of the amethyst mines to pick your own gemstone. These deposits were found accidentally when a road was being built in 1949, and have been producing large amounts of amethyst ever since. A bit further on is the turnoff for Sleeping Giant Provincial Park, which has more than 50 miles of hiking trails as well as an excellent campground. For a special treat, hike the Top of the Giant trail, a sometimes steep switchback route that culminates in some truly breathtaking views.
As your route takes you northward, you will begin to notice changes in the forest. Back near the border, you were traveling through the Laurentian Mixed Forest Province (aka Great Lakes–St. Lawrence forest), which contains many hardwood tree species. Soon, you will be completely immersed in the boreal forest, also known as taiga. These woodlands are dominated by coniferous tree species, including spruces, firs and pines, although there can be significant populations of deciduous trees such as aspens, mountain maples and birches. Other hardwoods are conspicuous by their absence, so say goodbye to the last of the oaks, maples and others that you will not see until you head south again. You will also notice many large, even-aged stands of conifers due to the burn/regeneration cycle that is natural to the boreal ecosystem.
Back on the route, you will soon see the turnoff for Ouimet Provincial Park, which is just a few miles off the main road. This is a must-see stop! Ouimet Canyon, 450 feet wide, 300 feet straight down and about a mile long, was formed sometime around the last glaciation. Due to its narrowness and depth, a unique micro-habitat is formed at the base of the boulders at the bottom, allowing arctic and subarctic plants to thrive there, hundreds of miles south of their usual range. There is a trail of less than a mile in length that includes two viewing platforms at the very edge of the canyon, offering spectacular views — bring your binoculars! Nearby Eagle Canyon, privately owned, is operated as a tourist attraction and boasts the longest foot suspension bridge and the longest, highest and fastest zip line in Canada.
After Ouimet Canyon there are a number of small scenic communities; near Hurkett, Ontario, the Hurkett Cove Conservation Area is considered one of the best birding locations in Ontario. The communities of Red Rock and Rossport, Ontario, are other picturesque stops.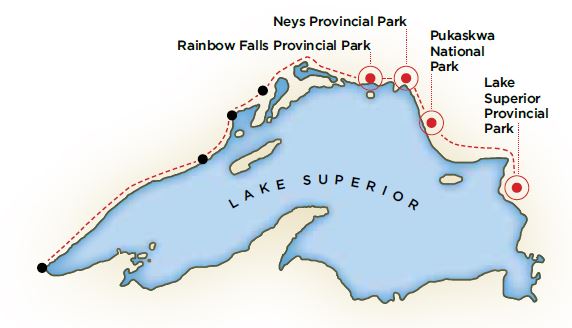 Neys Provincial Park is guaranteed to be an enjoyable stop, so plan on spending some time there. This area was the site of some extreme geological activities over the past 600 million years or so, and the one-kilometer-long Under the Volcano Trail, with its interpretive signboards, is an excellent way to comprehend the vast forces that have shaped the landscape here. There is plenty of camping space as well as a swimming beach.
Speaking of geology, you have been and will continue to travel through some very impressive geological formations all around Lake Superior. If you have an interest in geology, the best book to have along is "Roadside Geology of Ontario: North Shore of Lake Superior" by E. G. Pye. It is keyed to mileages along the route and points out features in the geological history of the area. I certainly came to appreciate the amount of work it must have taken to build the Trans-Canada Highway (Highway 17) across this section. As a matter of fact, although construction of the highway had started in the 1920s, 165 miles of the route between Terrace Bay and the Montreal River required so much blasting and earth-moving that it did not open until 1960.
Past Marathon, Ontario, is the turn for Pukaskwa National Park, a jewel in the boreal forest. We have camped here twice and are looking forward to visiting it again. The road to the park passes through the Pic River First Nation Reserve. The campground is tucked into the forest and Lake Superior is easily accessible. There are several hiking trails ranging from the easy, one-mile Beach Trail to the very demanding 37-mile (one way!) Coastal Trail, which includes a series of backcountry campsites. The Bimose Kinoomagewnan trail, which circles Halfway Lake, is a particularly scenic hike of only 1.6 miles.
After Pukaskwa, Ontario, the road swings inland through White River, where evidence of past wildfires can be seen for miles, down to Wawa, Ontario. Wawa's claim to fame is the giant goose statue at the entrance to the town (the name Wawa comes from the Ojibway word for goose), but there are also good restaurants and accommodations. The Visitor's Center is certainly worth a stop. The next attraction past Wawa is Lake Superior Provincial Park, and what an attraction it is! You could spend weeks here and not experience everything it has to offer. To start with, there are 11 hiking trails to choose from as well as two campgrounds. The Nokomis Trail overlooks allow you to see the boundary between the boreal and northern deciduous forest types, especially in the fall, since the boreal forest begins in earnest to the north of the river valley. There are miles of Lake Superior shoreline, several waterfalls and four picnic areas, not to mention some incredible ancient pictographs that can only be seen by taking a rather precarious route along a ledge at the edge of the lake.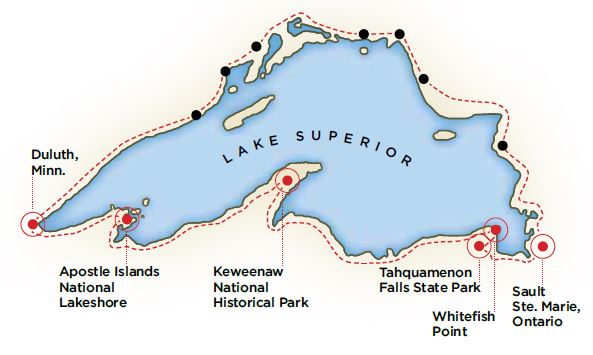 Swinging into the Upper Peninsula (UP) of Michigan, there are many routes and many sights to choose from as you will be traveling through a patchwork of state and national forest land. Beyond Tahquamenon Falls State Park, with its hiking trails and falls, is Whitefish Point, which features not only the Shipwreck Museum, but also the Whitefish Point Bird Observatory, which advertises itself as the "premier migration hot-spot in Michigan." West of that is Pictured Rocks National Lakeshore with its fabulous rock formations and exciting hiking opportunities.
Traveling past Marquette, Mich., the UP's largest city (population 22,000), you will head towards the Keweenaw Peninsula, with its long history of mining, acres of wild land and miles of Lake Superior shoreline to explore. The Visitor's Center at the Keweenaw National Historical Park in Calumet, Mich., offers an extensive multimedia interpretive display about the area's history. Brockway Mountain Drive is another must-see, leading to the village of Copper Harbor with its restaurants and shops, as well as Fort Wilkins Historic State Park, where reenactors bring a 19th century army fort to life.
Rolling into Wisconsin, the Northern Great Lakes Visitor Center in Ashland, Wis., is a great place to learn more about the lake, after which a drive north to the Apostle Islands National Lakeshore is almost obligatory. Although the Apostle Islands are a premier kayaking destination, there is a cruise service that offers island shuttles and cruises among the islands. There is also a car ferry that goes to Madeline Island (and an ice road in the winter!). Continuing on through the forests and farmland of Wisconsin returns you to Duluth, Minn.
So, there you have it — 1,300 miles of northern hardwoods and boreal forest, waterfalls, Lake Superior shoreline, unbelievable geological formations, beautiful and tranquil parks, hundreds of miles of hiking trails, great views, wild country and wonderful people. This is a trip that should be on everyone's list!
Bob Marr writes from a hand-built log cabin in Michigan's wild and beautiful Keweenaw Peninsula.