By Ian Leahy, Director of Urban Forest Programs
When I took a city government job caring for trees after having run my own business, I thought life in government would be a walk in the park, so to speak. No more payroll to meet, or sleepless nights about finding new clients.
Then the first major storm hit while I was on 24-hour call.
Working on behalf of the citizens of Washington, D.C., I found myself racing through nearly empty city streets at 3:00 a.m., scanning for any trees that might be coming down on us from above in the wet soil and wind. It was a long and stressful night, feeling the weight of the city's safety on my shoulders.
This was not a one-time occurrence. We were in all-hands-on-deck mode after hurricanes, derechos and ice storms, working day and night to get trees out of streets, off of smashed cars, and sometimes even out of bedrooms. Each step, we scanned intensely with an eye out for downed live power lines.
As the city would become functional again, we would inevitably be inundated with calls from residents to remove perfectly healthy street trees that survived the storm. They saw the damage trees could do and, perhaps understandably, wanted no part of it.
So where do trees fit as a public safety measure in the face of extreme weather?
Trees and Community Resilience
The relationship between trees and storms is a complicated one, as evidenced by images from Puerto Rico and other Caribbean islands of entire forests stripped of their leaves overnight.
At first glance, a community could impulsively conclude that trees aren't worth the hassle, at least outside of parks. But, such a community would be stripping itself of a vast array of benefits, from air quality and reduced urban heat island to improved academic performance in children, reduced hospital recovery times and, yes, even — perhaps especially — stormwater management.
When trees filtering water are removed, time and again massive flooding that otherwise would not have happened on such a scale is unleashed, causing crippling damage to people's lives and the economy.
Lessons Learned about Wind and Trees
So how do we balance these very real risks with such prolific benefits? The key is to actually double down on and enhance a city's tree canopy. Scientists at the University of Florida tracked the impacts 10 hurricanes had on the urban forests where they hit, from Andrew that devastated South Florida in 1992 to the infamous Katrina along the Gulf Coast in 2005.
While they found that increased wind speed did increase the likelihood that trees would fail, other factors significantly impacted the degree of damage to a city's tree canopy during a hurricane:
Trees in groups survive wind better than individuals
Some species resist wind better than others
Trees that lose their leaves during a hurricane are not necessarily dead
Better and deeper soils mean fewer tree failures
Native trees survive better
Older and unhealthy trees are more likely to be damaged
Well-pruned trees survive hurricanes better
All of this demonstrates the life, infrastructure, and economy-saving importance of cities investing adequately in an urban forestry program. This includes hiring technical expertise and giving forestry a seat at the planning table when decisions are made about every aspect of the city's built environment.
While risk of tree failure can never be completely eliminated, going all-in with a truly comprehensive urban forestry program would reduce risk significantly by:
Developing and implementing a comprehensive urban forestry plan
Conducting structural pruning for both young and mature trees
Planting more wind- and salt-resistant species
Selecting the right species and designing the right place, with adequate soil volume
Planting high-quality trees with central leaders and good structure
Assembling an urban forestry strike team to deploy in the wake of disasters
Vibrant Cities Lab
To help communities of any size build such a comprehensive urban forestry program, American Forests, the National Association of Regional Councils (NARC) and the U.S. Forest Service recently launched the Vibrant Cities Lab. This free online hub is a unique portal of urban forestry research and expertise to help city managers and other professions integrate trees into their decision-making processes.
The Vibrant Cities Lab includes a step-by-step guide so that any community can assess where they currently are and access the technical resources necessary to enhance their urban forestry capacity. The site synthesizes the latest research showing impacts trees have, provides best practices from communities of all sizes, and curates nearly 500 resources, such as technical guides, ordinances and sample urban forestry plans.
Disaster ReLeaf Funds in Miami and Houston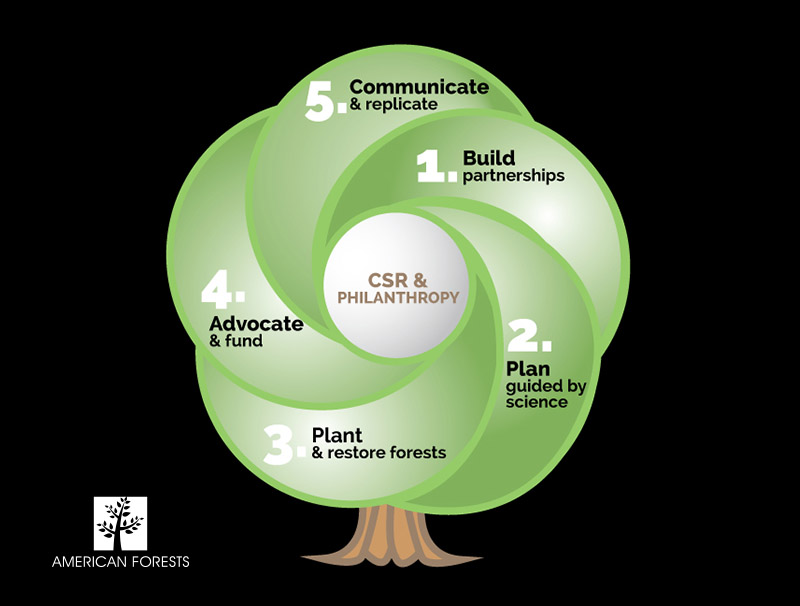 To help fund this new work with our partners, American Forests has launched a Disaster ReLeaf Fund for each city. We are also expanding our planting and maintenance efforts so both Miami and Houston can recover their beneficial tree canopy as quickly as possible.
Whether in a large metro area or a small town, proactive management can help your community's trees not only better withstand hurricanes, but also become an asset for filtering water and reducing impervious surfaces at a time when those functions are most desperately needed.[af_show_url_button url="/ways-to-give/disaster-releaf-fund" text="Support Disaster ReLeaf"]