Urban forestry is ready and able to help tackle unemployment in urban communities across the U.S.
EVERY WORK DAY, Arron Nelson arrives at the office an hour early.
He gets the tools ready and prepares the trucks for his crews. He's been doing this daily routine for years now, yet it still excites him.
"Most people go to work for a check," Nelson says. "I go to work because I love my job. I wake up happy to go to work every morning."
The Detroit native first started working outside when he was six years old, mowing lawns and helping his father, who owned a landscaping company. After a series of life-changing events, Nelson eventually ended up working outside again, this time in a position he got while completing a job training program through a local nonprofit, The Greening of Detroit. It's a job he takes immense pride in.
"I'm blessed to bring home money to my family. It's tremendous. I'm blessed to be employed."
EXPANDING ACCESS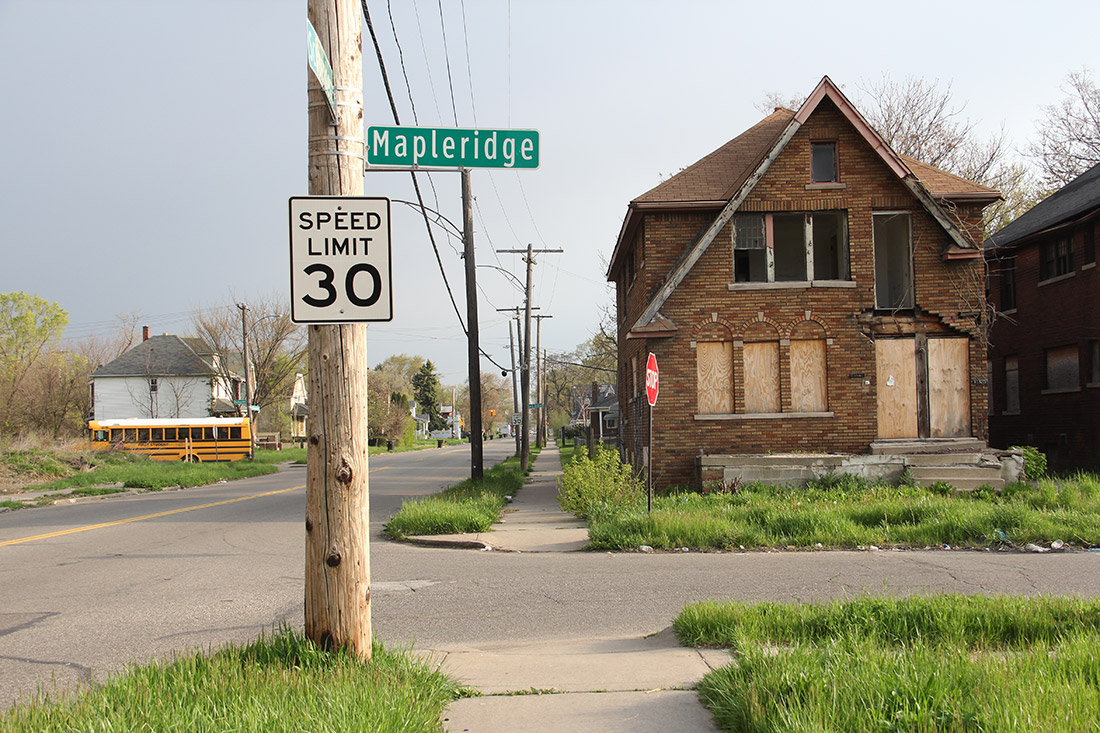 When job creation is referenced, whether on the nightly news or in a president's State of the Union, urban forestry is rarely discussed, if at all. Instead, industries like manufacturing, technology and healthcare come to mind.
Those fields are certainly hotbeds of job opportunity, but according to the U.S. Bureau of Labor Statistics, landscaping and groundskeeping jobs are projected to grow nearly 12 percent by 2026, which ranks 17th among all occupations. That statistic doesn't include the foresters and conservation workers segment, which is experiencing a slow decline, but could see the demand for a more technically skilled urban forestry workforce increase as the American urban population increases; UNICEF projects it to grow by 90 percent, to 365 million people, by 2050. A challenge for the entire field will be to ensure the newly created green jobs are accessible to everyone in the communities that a metro area's urban forest serves.
For Jad Daley, vice president of conservation programs at American Forests, the goal of equitably distributing tree canopy across a city should also include providing job opportunities for its most underserved residents.
One of the great challenges and opportunities in doing urban greening in underserved communities across America is how to generate as many benefits for the people in these communities as possible, in the process of making these positive changes like planting more trees.
"If you look at what's the most pervasive driver of inequity in these communities," Daley says. "it's lack of economic opportunity."
Economic disenfranchisement doesn't just affect personal bank accounts. Unemployment and poverty take their toll on people's health, the treatment for which impacts healthcare costs. Studies show that as unemployment rates increase, so do crime rates, which puts a strain on law enforcement resources. To Daley, the solution seems pretty clear: Help find ways to not just plant trees in our cities, but also employ the people who live there to care for the trees.
"If you look at it in terms of what it means for people, but even what it means for the dollars and cents of a prosperous city," he says, "it's a winner across the board if everyone has access to a good job that they like and that's sustainable."
DOUBLE DUTY
Unlike their wildland counterparts, urban forests aren't generally made up of naturally regenerating trees. Quite the opposite, like the built structures of a city, much of the urban forest is planned.
In many cases, cities operate within an urban forestry plan, which stipulates certain types of trees to plant in certain types of areas (e.g., the tree box between the sidewalk and the curb, or the median of a street). These areas are also sometimes prioritized by need; neighborhoods with lower tree canopy usually receive more trees.
Tree plantings in cities also differ from those in rural areas. Unlike the 8-inch seedlings planted in the Lower Rio Grande Valley or the Northern Rockies and Cascades, trees planted in urban areas need to be older and bigger. Industry standards suggest a caliper, or the trunk diameter of 2 to 3 inches, measured about four feet from the ground. Private tree nurseries provide much of this stock, but some cities are incorporating innovative alternatives into their urban forestry strategies.
In Detroit, a variety of organizations and agencies have realized a two-birds-one-stone effect of operating their own nurseries. Specifically, The Greening of Detroit is tapping into its workforce development program to continue broadening the horizons of participants' career possibilities in the field, including nursery management, while producing nursery-grade stock for the organization's tree plantings.
"Workforce development is key, but you have to be committed to making sure that you're not only training and educating, but there's an end goal," says Devon Buskin, the director of workforce development at The Greening of Detroit and a born-and- raised Detroiter. "And that end goal is having a sustainable career, not just a job, which is life changing. When you're doing workforce development, you're really impacting people's lives."
The program was founded in 2010 and has been more successful year over year in placing graduates in full-time positions. Since 2017, the job placement rate is a staggering 93 percent. That result is quite the accomplishment, and a byproduct of the organization's ability to connect the tangible benefits of trees with the communities they serve. Roughly half of The Greening's workforce program participants are returning citizens, or those coming back from incarceration — a demographic that faces immense hurdles to employment.
Buskin recalls heading downtown for a meeting when he crossed paths with a guy who seemed a bit dejected. After asking how the man, named Mike, was doing, Buskin learned that he had just gotten out of prison after 20 years and was unemployed. Buskin told Mike to wait for him and after the two-and-a-half-hour meeting, returned to tell him he had an opportunity — not only did he want Mike to join the training program, but he wanted to give Mike a job, with a next-day start time of 9:00 a.m. When Buskin arrived at the office a little before then, Mike was already there, ready to get to work. Mike graduated the program and remained employed at The Greening for a couple years. His biggest desire was make his mom proud, and after getting his first promotion at The Greening at age 50, he did just that, and then some.
"Mike is self-sufficient. He has his own car, he has his own house, he's contributing to the economy. He feels good about himself," Buskin says. "We help a lot of Mikes."
Part of preparing the trainees requires careful curriculum planning, and that's where Hector Santiago comes in. Santiago, a graduate of one of the first cohorts in the training program, is working with other staff to develop a nursery-specific curriculum in hopes of bringing trainees into that line of urban forestry work.
"Once we have projects to work on and these great ideas start coming up," Santiago says, "we're able to develop a comprehensive training track."
As The Greening of Detroit and other local groups and agencies build out tree nursery operations, Santiago and his colleagues are mindful of creating a curriculum for a sector that has jobs, so they tap into their partner networks and monitor the area's nursery jobs market.
"As the industry builds up," he says, "we want our trainees to be considered for those jobs."
FROM RUIN TO REWARD
Trees can live for decades, centuries even, under the right conditions. Urban trees, however, face tremendous obstacles to long life.
Because of their proximity to ports, urban trees are some of the first and hardest hit by invasive pests and disease. Add to that an increased risk of drought conditions, limited growing space, exposure to deicing salts and dog urine, and vandalism by humans — any and all of these challenges can spell the demise of a city tree, ultimately leading to its removal.
The U.S. Forest Service found that removed or fallen trees in the country's urban areas annually produce the equivalent of 3.8 billion board feet, which is more than 25 percent greater than our entire national forest system's output.
While the wood from cities often requires niche markets, these wood resources still represent immense economic potential, from being sold to pay for a city's future tree planting efforts to creating employment opportunities for the community. More and more government agencies and nonprofits are getting in on the action, and it's paying off for their urban forests.
Baltimore's Camp Small is one of those endeavors.
In early 2016, the Forestry Division collaborated with the Baltimore Office of Sustainability to create the Camp Small Zero Waste Initiative at Camp Small, a 5-acre site in northern Baltimore that the city has used as a stump dump for decades. With the mission to sort and distribute a variety of wood products that were sourced from trees found on the city's public lands, the Zero Waste Initiative's primary focus is to distribute wood material, but the project also incorporates a job training element for local partners.
Camp Small's workforce development model is unique because instead of seeing the trainees through the whole process — training to job placement — the Forestry Division is providing a pathway or entrance into the field through the specific lens of urban wood reuse.
"In many cases in workforce development, when it comes to urban forestry, you're thinking about individuals participating in field crews or being tree planters," says Bryant Smith, an urban forester with the City of Baltimore. "We sometimes don't present the larger picture of urban forestry, even though there are tons of job opportunities one can take in the field of urban forestry that don't require a shovel in your hand."
Camp Small is providing a doorway to other types of urban forestry work by partnering with the Parks & People Foundation, AmeriCorps and the Baltimore City government. And as the project's production grows, so do the opportunities to further expose people to this subsection of the field.
"When people come to Camp Small, they're always astonished at the volume of material we process," says Shaun Preston, who has been the Camp Small yard master for the past two years. "Baltimore is filled with trees, but many people don't truly realize the volume until they see them being processed in our yard."
With the increase in volume comes the need for capacity. In Preston's opinion, equipment enhancements at Camp Small — a sawmill, kiln and log-splitter funded through American Forests' Community ReLeaf program — will also create wood processing work that further incorporates the workforce development programs of the city's job-training partners.
SETTING UP THE FUTURE
Urban forestry is particularly innovative, and while many people are figuring out how best to set the field up for success in the future, some groups have tapped into a resource that is inherently forward-thinking: our youth.
In San Francisco, Alex Javier is the education manager at Friends of the Urban Forest and manages the Green Teens program, which has provided roughly 800 teenagers employment opportunities since it began in 1996. The program not only helps participants hone their basic job skills, it provides a dynamic experience that prepares them for the green jobs market.
Green Teens participants generally come from some of the city's most underserved neighborhoods, something staff at Friends of the Urban Forest hope will diversify the voices and perspectives within the urban forestry field in the future.
"They will be the future of our organizations and our planet," Javier says. "They're the next generation of leaders who will hopefully pay us back by working with and for our organization and city in the long run."
Beyond providing opportunities for teenagers to physically and directly impact the environment in their community, Green Teens exposes high schoolers to environmental topics they could pursue if they choose to go to college. One past participant is currently getting his bachelor's in marine biology. Another, whose sister is currently in the program, is studying horticulture at a local community college.
"Maybe they didn't go into arboriculture, or the environmental field, or maybe it was just their first job," he says. "But how did your Green Teens experience shape what you're doing now? It's a crucial component of the program. Either way, the program gives kids a long-lasting connection with the landscape in their community."
Back in Detroit, Arron Nelson wraps up another day of training and field work. While he keeps to his routine, change has happened and it's something he's embraced.
Earlier in 2018, Nelson followed in his father's footsteps and started his own business. He credits the job training program and employment opportunities at The Greening of Detroit for part of his career success.
"The Greening has changed a lot of people's lives," he says. "It changed mine tremendously. They really saved my life because I didn't know where I was headed."
The other part, most importantly, comes from within. Returning to the workforce following incarceration, Nelson may have not known where he was going, but there was something he was certain of: He wanted to make a new life for himself. He motivates his trainees with the same philosophy.
"I let the trainees know, 'This could you be you one day; you all could be in my position'," he tells them. "All you have to do is want it. You have to want it."
Christopher Horn writes from Washington, D.C., and is the director of communications at American Forests.