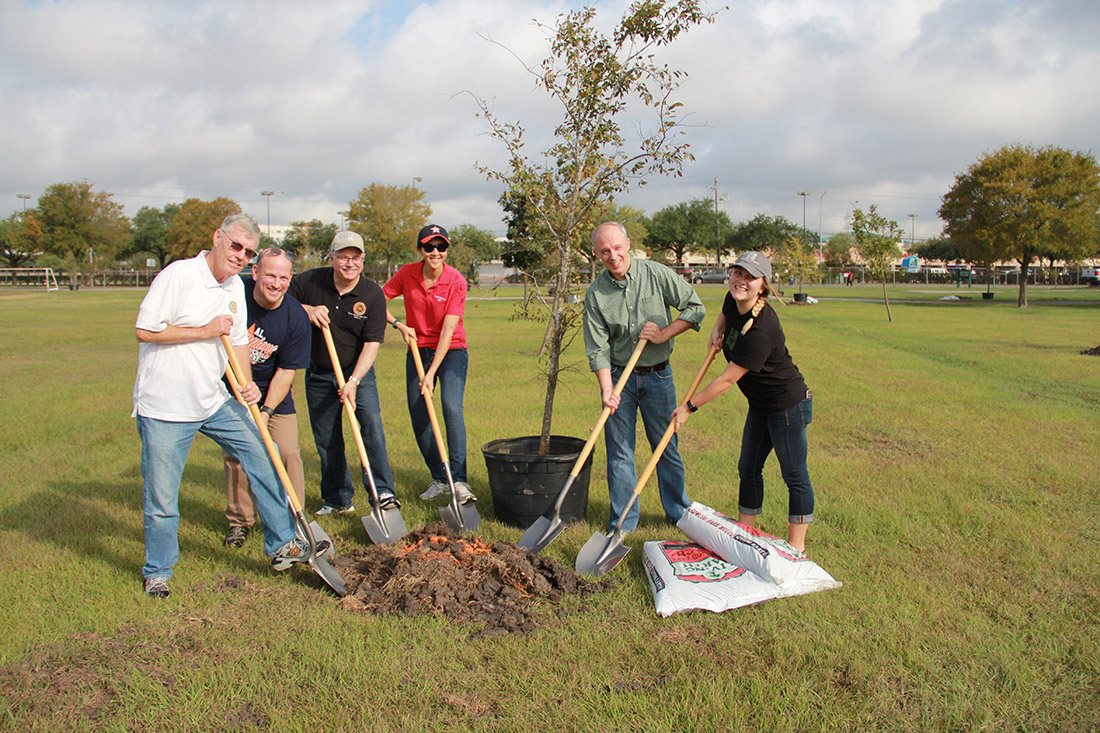 THERE ARE A FEW PREREQUISITES necessary to truly understand the needs of a city, especially one growing as quickly as Houston.
Resources, relationships, technical expertise and a passion for urban forests are all factors that American Forests considers when selecting priority areas for our Community ReLeaf program. Luckily, we found each of these qualities in the Houston-Galveston Area Council (H-GAC), the Houston Parks and Recreation Department (HPARD) and Trees for Houston.
Since 2015, we've worked with these groups to make significant progress in reforesting the Houston metropolitan area. After extensive research and engaging with local stakeholders, we supported H-GAC in founding the Houston Area Urban Forests Project. Focusing on the core counties of Harris, Montgomery and Fort Bend, H-GAC has successfully gathered a list of shovel ready, priority projects essential in meeting the needs of Houston's urban forest.
But last August, Houston was ravaged by Hurricane Harvey. With $125 billion in damages and one-third of the city underwater, 13 million people were affected by the natural disaster. Despite these losses, we've been able to work with our local partners to help the tree canopy recover. Thanks to HPARD, we've funded the planting of more than 500 trees, with more to come.
American Forests has also collaborated with Trees for Houston, a local powerhouse for urban forestry. This small team has accomplished great things: With an array of nurseries in the Houston area, they planted 21,143 trees in the 2016-2017 season. This year, some of these trees will go to Buffalo Bayou Park, a beloved, 160-acre Houston landmark that suffered severe hurricane damage and, as a result, left many areas of the park closed to the public for extended periods of time.
Our staff at American Forests, and those involved with our partners, know that trees bring people together. In November 2017, we held a tree planting at Burnett-Bayland Park with Bank of America and HPARD. Much of the city was still dealing with hurricane damage — silt buildups, flooding and debris were the main issues. Together, we planted 200 trees and turned a wide-open park into a home for bald cypress, cedar elm and bur oak.
Houston City Council Member Mike Laster was one of the many people who showed up that day to plant trees. His opening remarks captivated the crowd as he reminded them that planting just one tree can have lasting effects, both for the environment and the community. Thanks to the trees we planted, there will be a place for birds to roost, children to seek shade from the sun, and families to come together and enjoy the ecological benefits of trees.
With sprawling metropolitan areas surrounded by marshes along the coast and forests to the north, Houston is not a simple landscape. But the vision for a cleaner, greener city starts with one simple step: Planting more trees. Through continued collaboration with each of our partners in Houston, we're able to not only plant more trees, but also bring the community together and educate residents on the many benefits urban forests provide.
Emily Barber writes from Washington, D.C. and is American Forests' marketing manager.