Mirror, mirror on the wall,which northeastern forest is the tallest of them all? Is it Cook or is it Mohawk? The mirror isn't telling, but the Native Tree Society (NTS) is devoting a lot of time and energy to answering that question.
Since 1997, NTS has measured and monitored the outstanding trees of all native species in Mohawk Trail State Forest in Massachusetts and Cook Forest State Park in Pennsylvania. These measurements challenge us to think about great eastern forests of the past and what could be possible in the future. This is what brings me to these forests time after time to measure new giants.
On this particular day, it is beautiful outside, and the white pines of Mohawk Trail State Forest are calling. I park my car at the forest's headquarters and walk up a paved road lined by towering pines. Cutting into the forest, I leave the hard, impersonal asphalt and feel the vitality of the soft duff beneath my feet. I'll first check on the Pocumtuck Pines, one of Mohawk's tall-tree groves. The Cabin Pine — named because it watches over the occupants of rustic cabin number six — lifts its feathery crown 160 feet above roots firmly anchored in the soil. It is the first of the "160s" that I encounter. I pass through a gate and head downhill, passing the Trees of Peace. I could happily spend my whole day in this tallest of Mohawk's groves, but the inner voice I have come to trust is telling me my search continues in the Rachel Carson Grove today. I arrive at my work destination and will be occupied for several hours, oblivious to the ticking of the clock. I begin the search by visually scanning the tops of the trees looking for pines that combine long distance and high crown angle, the mark of truly tall trees.
Mohawk Trail State Forest covers 7,758 acres and boasts a section of the original Mohawk Indian Trail that connected the waters of the Hudson and Connecticut Rivers and served as both a trade and war-making route from the early 1600s until the end of the Revolutionary War. Being a younger woodland, Mohawk has the beauty and appeal of an athlete in his or her prime. One does not think so much of wisdom, but vitality. It has become an adult that has shed the awkwardness of adolescence and entered into the full flower of its arboreal potency.
In comparison, Cook Forest State Park, located on the Allegheny Plateau of western Pennsylvania, is the forest one would expect in a scene from a Tolkien novel: soaring trunks, mossy logs, a timeless appearance, truly a fairytale setting. The old pines, thrusting their lofty crowns skyward, appear wise. One looks upward through a hardwood canopy more than 100 feet high to the gnarled, weather-sculpted crowns of the pines towering above. Borrowing an idea from the Iroquoian and Algonquin peoples, we call these pines the Standing Ones; they connect earth to sky and hold the memories of the cycle of countless seasons.
Among Cook's approximately 11,000 acres are 2,355 acres of old growth — forests that have been shaped by natural processes over several centuries with minimal human intervention. Cook was the first state park in Pennsylvania established specifically to preserve a national natural landmark, the Forest Cathedral. Though Cook's sizable acreage of old growth is sufficient reason to hold it in reverence, there is something more, a little-known fact. Within its forests, the park holds claim to the tallest trees in the Northeast, great white pines between 250 and 350 years old.
Unlike Cook, with its more than 2,000 acres of old growth, Mohawk sports 500 old-growth acres at most, and instead of 250 to 350-year-old pines, Mohawk's pines are typically between 100 and 200 years old. They are also mostly second growth — forests that have been directly manipulated by humans through logging and other forest-clearing actions. As a consequence, I often think of Mohawk as the godchild of Cook. Although it has old growth, most of Mohawk is younger forest, giving us an opportunity to observe the process of succession as it moves toward Cook's status as an old-growth treasure.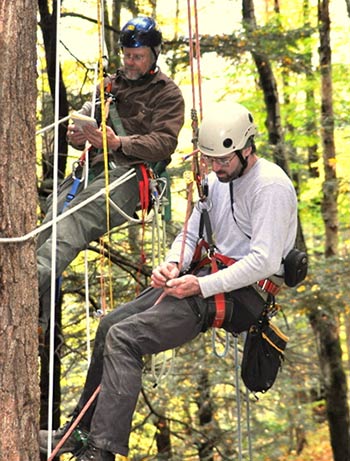 In 1997, Cook Forest State Park's then-new nature interpreter and educational specialist Dale Luthringer, a highly disciplined former marine, joined the newly founded NTS. He quickly took to tree measuring and became an invaluable member. He understood the role of numbers in presenting Cook to the public as the outstanding forest that it is. At the time, as the executive director of NTS, I was focusing on both Mohawk and Cook and the role each plays in showcasing the Northeast's tallest trees. A comparison of the two properties seemed logical and could serve both forests well, and thus, a friendly competition was born to discover which of these forests could claim to be the tallest.
To do the job right, we needed more exacting measuring methods than were commonly employed in commercial forestry or champion tree hunting. We wanted to be able to measure tree height from the ground using state-of-the-art instruments and trigonometry. This became possible with the introduction of the infrared laser rangefinder used in combination with an inclinometer. To be sure that our technique and these instruments were producing accurate results, however, NTS members had to scale some of these massive trees to confirm our ground-based measurements by dropping a tape. We discovered that with this technology, the prevalent source of error that plagues tape and clinometer users — the problem of the top of the tree not being positioned vertically over its base — was eliminated.
As I stand in Rachel Carson Grove, all the measuring challenges are in front of me: trees that lean, trees that have complicated, nested tops and trees with their highest sprigs obscured. I meet the challenge with forest experience, mathematics, state-of-the art equipment and a generous dose of intuition.
Spotting a couple of candidates, I take out my LTI TruPulse 200 and start measuring to determine if the trees top 150 feet — the benchmark we're using for the Cook-Mohawk competition. It is my lucky day, as both pines exceed 150 feet in height, and I have just added two more 150-footers to Mohawk's list. Mohawk now has 130 pines that reach 150 feet, and it's time to celebrate — Cook has some catching up to do.
But while Mohawk has more 150 footers than Cook (130 to 122), overall, Cook Forest is slightly taller than Mohawk. Cook has 34 trees more than 160 feet tall. At their individual best, the average height of Cook Forest's tallest 10 pines is around 171 feet. No other property in the Northeast can match this achievement. Mohawk only has 15 "160s," but it is a younger forest, and its pines have a lot of growing left to do.
As we include more species, superlatives stack up rapidly for both properties. Cook Forest has four species that reach to heights of 140 feet or more: white pine, tuliptree, black cherry and hemlock. At 147.6 feet, the tallest accurately measured eastern hemlock in the Northeast grows in Cook Forest. Mohawk has two species reaching 140 feet: white pine and white ash. The tallest accurately measured white ash in the Northeast grows there at 152.3 feet.
As impressive as these numbers are, when looking at trees in person, many people relate more to girth than height. Girth is perceived at eye level, and one can interact with it — by hugging a tree, for example. Being the older forest, Cook's trees are noticeably larger in girth than Mohawk's. Many of the Cook Forest hemlocks exceed 11 feet around, and a few reach girths of 13 to 14 feet and are visibly larger than their Mohawk counterparts. Still, there are surprises. Cook's largest pine measures 13.8 feet in girth while Mohawk's edges out Cook's at 14.1. And Mohawk hands-down wins the competition with respect to sugar maple. Mohawk's largest maple, the current national champion on American Forests' National Register of Big Trees, is close to 19 feet around.
In 2004, NTS president Will Blozan climbed and tape-drop-measured Cook's tallest tree: Longfellow Pine. Every year since, the tree has been monitored and re-measured by NTS — although with lasers and not a tape measure. It's a hard tree to measure, but it is at least 183 feet tall with a girth of 11.3 feet. Longfellow Pine derives its name from the Longfellow Trail, which it grows below, but we think the poet would have approved. Timber framer and architect Jack Sobon of Windsor, Mass., discovered Longfellow at an old-growth conference in 1997. Sobon measured the tree using a surveying transit to a height of 179.1 feet. We calculate the trunk volume of Longfellow to be between 725 and 750 cubic feet, and as best as we can determine, this champion pine added around four cubic feet of trunk volume this past growing season. That is less than some, but still fairly good considering the advanced age of the tree — close to 300 years.
Mohawk's reigning height champion is Jake Swamp Pine at 171.0 feet. Jake is named after the Native American leader, Mohawk Chief Jake Swamp, who visited Mohawk Trail State Forest on at least three occasions before his passing on Oct. 15, 2010.
I last measured Jake in late August 2012. The big pine's trunk volume is between 625 and 635 cubic feet, and the tree is about 160 years old. We began monitoring the Mohawk champion in 1992, when Jake was 9.7 feet in circumference and 155.0 feet tall. Over 20 growing seasons, Jake has averaged a radial growth of one-twelfth of an inch and a height growth averaging 0.8 feet per year. You wouldn't notice Jake's annual radial growth, but over several years, you can visually discern the tree's thickening limbs and greater height. We calculate that Jake added around eight cubic feet of trunk volume this past season.
With the abundance of data the competition has produced, we can make many comparisons: tree-to-tree and stand-to-stand within and among properties. The fruits of our labors have given us an impressive record of standing large and tall trees, unequaled for any other Pennsylvania and Massachusetts public properties, but it's not just about the size of these trees.
White pines can easily exceed 250 years in age, and we have dated specimens to between 450 and 500 years. These and other maximums can help us recognize when we are reducing forests to shades of their former glory and thereby negatively impacting the species. The bigger, older trees are grand hotels in the forest, nourishing species and ensuring the continuity of forest generations. We should not be eliminating the patriarchs and matriarchs before their missions are complete. To do so is to not only degrade the forest, but also to rob later human generations of the experience of seeing eastern forests in their full glory.
It is not a stretch to say that Pennsylvania's Cook Forest State Park and Massachusetts' Mohawk Trail State Forest are the forest icons of their respective states. These exemplary woodlands present us with glimpses into the past and hope for the future. They have served as the proving grounds for advanced tree-measuring techniques, where each inch matters. But despite the official protections that both enjoy, no forest is safe from invasive pests, storms, drought and other adverse impacts. What we hold dear today in these forests can be lost tomorrow. This awareness reinforces what NTS sees as a critical mission: the thorough measurement and documenting of what we have today for both ourselves and posterity. If we can achieve this, then this will be a competition in which everyone wins.
An engineer by education, Robert T. Leverett is the co-founder and executive director of the Native Tree Society. He writes from Florence, Mass.