Searching for Louisiana's oldest southern live oaks
By William Guion; All photos by William Guion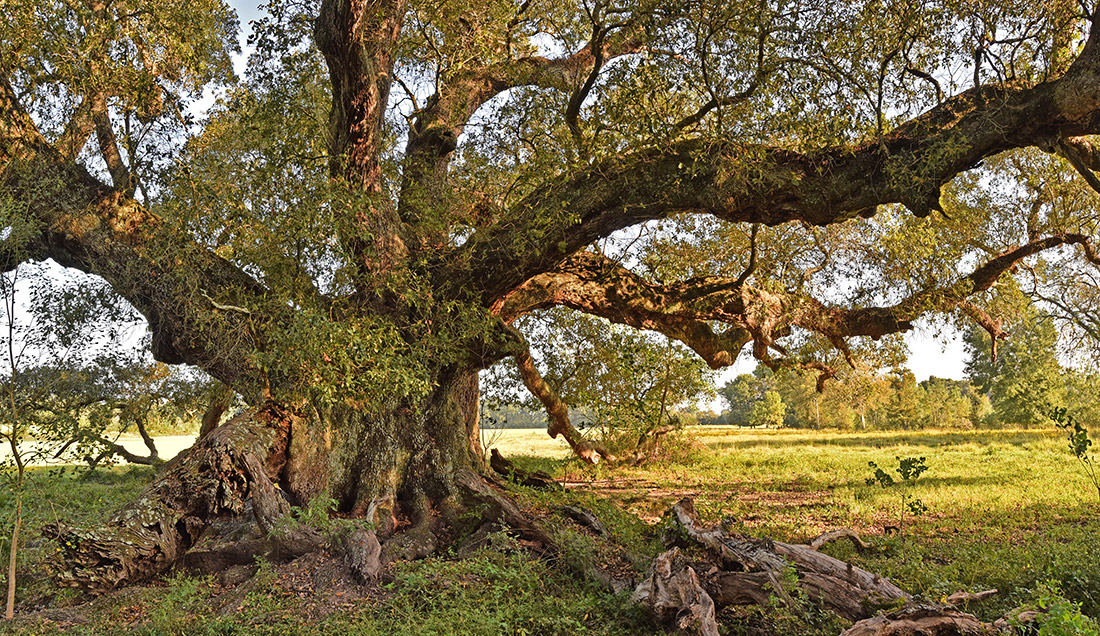 THERE'S AN ODD MYSTIQUE that surrounds southern live oaks. They are iconic for their strength, endurance and longevity, and in many ways, they mirror the best qualities of the pioneering individuals and families who endured natural forces to survive and thrive in the South.
However, a large part of the oaks' mystique is due to their great age. A single member of the species can live a half-dozen human generations or more. Their looming centenarian presence in a community can make them an integral part of the history and spirit of that place. The old oaks are local landmarks. By the sight of a familiar oak, you know where you are and how far you have to go to reach your destination. They are old friends, living shelters, ecosystems and shady spots where neighbors might enjoy a glass of sweet tea and pass the hottest hours of a blazing summer's day.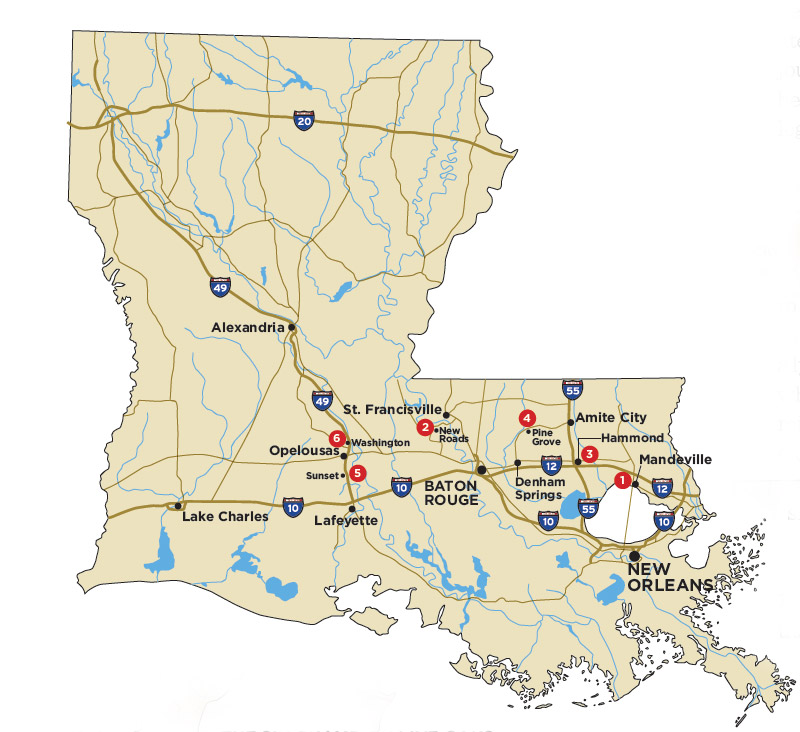 I've photographed and documented oaks in my home state of Louisiana since 1985. What began as a simple photographic exercise to create a series of images has grown into a personal journey and a life's work. Over time, I've slowly been drawn deeper into this mystique and the legends and stories associated with the oaks.
In 2015, after 30 years of pointing a camera lens at oaks, and with a growing sense that the state was fast losing its oldest trees each year to urban development and storms, I focused my efforts on documenting the very oldest live oaks still to be found, trees with a girth of 30 feet or more. Thirty years and 30 feet in circumference had a lyrical quality to it. It felt like a good theme on which to build something larger, something that might raise public awareness of how few of these old trees still remain.
Why is an oak with a 30-foot circumference significant? According to several Louisiana arborists I consulted, oaks of this size are probably between 300 and 500 years of age (add another 100 years or more for oaks with a girth greater than 35 feet). That means these live oaks were probably growing before Europeans arrived on the continent (the earliest Spanish colony was established in 1565 in St. Augustine, Fla.; Jamestown, Va., began in 1607). And a few of the oldest of these oaks were possibly growing before the name "America" was first used in print in 1507, as a designation for this continent — in other words, Before America was America.
It's impressive that these trees have managed to survive 300 years of settlement, urban development and even logging during the era of wooden shipbuilding. Having nearly exhausted the European continent of oak wood for their fleets, the British, French and Spanish rulers coveted the broad expanse of live oak forests in the Louisiana territory. As early as 1709, shipwrights recognized that the near impenetrable wood of the live oak was perfect for the timbers (long beams) and knees (angular joints in the hulls) of ships.
In 1934, Dr. Edwin Lewis Stephens, the first president of the Southwestern Louisiana Institute (now University of Louisiana at Lafayette), published an article in the Louisiana Conservation Review titled, "I Saw in Louisiana a Live Oak Growing." The piece drew its name from a poem by Walt Whitman, and like Whitman's poem, Stephens praised the singular beauty of this distinctly Southern species of oak. From his background as a science teacher, Stephens observed, measured, photographed and collected data on the oaks, taking special interest in the oldest and largest of the species. He saw the live oak as an important cultural, historic, ecological and artistic resource for Louisiana, and even argued that the tree species should have been called "Quercus Louisiana" instead of Quercus virginiana for the sheer number of live oaks in the state.
In his article, Stephens proposed an organization that might preserve and protect the oldest living members of the live oak species, those trees "…whose age is not less than a hundred years…" The association he proposed became the Live Oak Society, a group whose members are all trees, except for one human chairperson who is both record keeper and advocate for the oaks.
Using the Live Oak Society's early registry as a starting point, I searched land records, interviewed local arborists, garden clubs, senior citizens, master-gardener groups and even local sheriff's departments. Slowly I assembled a list that includes almost 20 trees that fall into the 30-foot girth size.
The following is a sampling of six of those oaks.
The Seven Sisters Oak
(ALMOST 40 FEET IN CIRCUMFERENCE)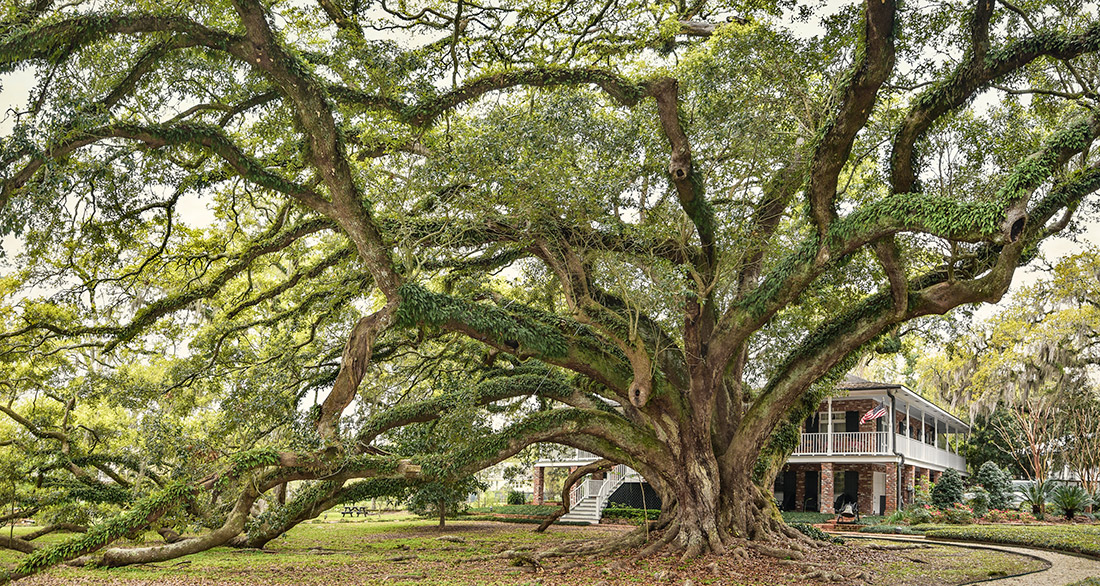 In the quiet historic community of Lewisburg, La., now a neighborhood of Mandeville, on the north shore of Lake Pontchartrain lives the Seven Sisters Oak. This massive tree is the current president of the Live Oak Society and the National Champion Live Oak in American Forests' National Register of Champion Trees. It measures approximately 57 feet high, with a limb spread of more than 153 feet. Its age has been estimated at somewhere between 500 and 1,000 years old.
For years, the eligibility of the Seven Sisters Oak as a Live Oak Society member was disputed because it was believed to be several separate trees growing together. In 1976, after inspection by federal foresters, the tree was said to have a single root system and was inducted into the Live Oak Society, and it became president due to its extraordinary size and age.
The Randall Oak
(35 FEET 8 INCHES IN CIRCUMFERENCE)
Traveling Louisiana state highway 1 north toward New Roads, not far from the west bank of False River, one can view one of the most beautiful live oaks in the state — the Randall Oak. Located in the front yard of David and Madeline Breidenbach's home, this massive specimen of Quercus virginiana has a circumference of 35 feet, 8 inches, a height of 68 feet and a crown spread of more than 156 feet. It is stunning in its size and scale, as well as its graceful flourishing shape. The tree predates written history for the New Roads area and is estimated to be between 400 and 600 years old.
This oak was already a notable presence on the landscape in 1861, when its current namesake, James Ryder Randall, penned one of the Civil War's most famous anti-Union songs, titled "Maryland, My Maryland," while working as a professor of literature at Poydras College, which used to be located near the oak. The oak's role in local history is noted on a stone monument placed next to the tree by the Pointe Coupee Book Club.
Edna Szymoniak Oak
(35 FEET 6 INCHES IN CIRCUMFERENCE)
This beautiful old oak grows at the entrance to the Louisiana State University (LSU) AgCenter's Hammond Research Center. Like the Seven Sisters Oak, this tree is a remnant of the live oak and pine forests that once covered much of the north shore of Lake Pontchartrain. It is a perfect example of a healthy elder oak that prospers under the watchful care of the AgCenter's knowledgeable staff.
The old tree was already several hundred years of age in 1922, when the LSU AgCenter station was established as the Fruit and Truck Experiment Station to provide ongoing research for strawberry and truck-crop farmers in the area. The tree was registered with the Live Oak Society by the AgCenter and named after Edna Szymoniak, the wife of Bill Szymoniak, the site's first superintendent.
Lorenzo Dow Oak
(35 FEET 5 INCHES IN CIRCUMFERENCE)

On the grounds of one of the oldest Masonic Lodges in Louisiana, in the small rural community of Grangeville, one can find the Lorenzo Dow Oak. The squat, sprawling old tree is named after Lorenzo Dow, an eccentric itinerant American preacher who lived between 1777 and 1834. Dow journeyed widely across the U.S. preaching and is known to have traveled through the South between 1803 and 1804. Though he lived like a pauper, traveling mostly on foot with only the clothes on his back and a box of Bibles, he was a successful author. His autobiography was at one time the second-most-read book, next to the Bible. He reportedly spoke to more people than any other preacher of his time, and many children and places were named after him.
Because of his passionate and inflammatory sermons, Dow was often unwelcome in churches and was known to preach in town halls, farmers' barns, open fields and possibly even under the branches of this old oak.
La Belle Colline Oak
(34 FEET 6 INCHES IN CIRCUMFERENCE)
I first saw La Belle Colline Oak (in French, the name means "the lovely hill") at sunrise in late September 2015. This low-spreading oak overlooks a lush, grassy pasture that slopes toward a distant line of trees where cows were grazing. True to its name, it offered a beautiful view from beneath its limbs of what I suppose could be considered a hill in South Louisiana.
Based on its location and the intersection of four fence lines near the oak, it was likely a boundary marker or "corner tree" that designated where one property line ended and another began. Colonial-era surveyors commonly used old oaks as a permanent spot from which to count linear arpents, or feet in various directions, to map a piece of property (the French arpent is about 190 linear feet).
This oak was named and registered with the Live Oak Society by Camille Durand "Mamille" Johnson-Foret. The land where the tree resides has been in the Johnson family for several generations.
The Seven Brothers Oak
(TWO MAIN SECTIONS: 32 FEET 3 INCHES AND 28 FEET 11 INCHES IN CIRCUMFERENCE)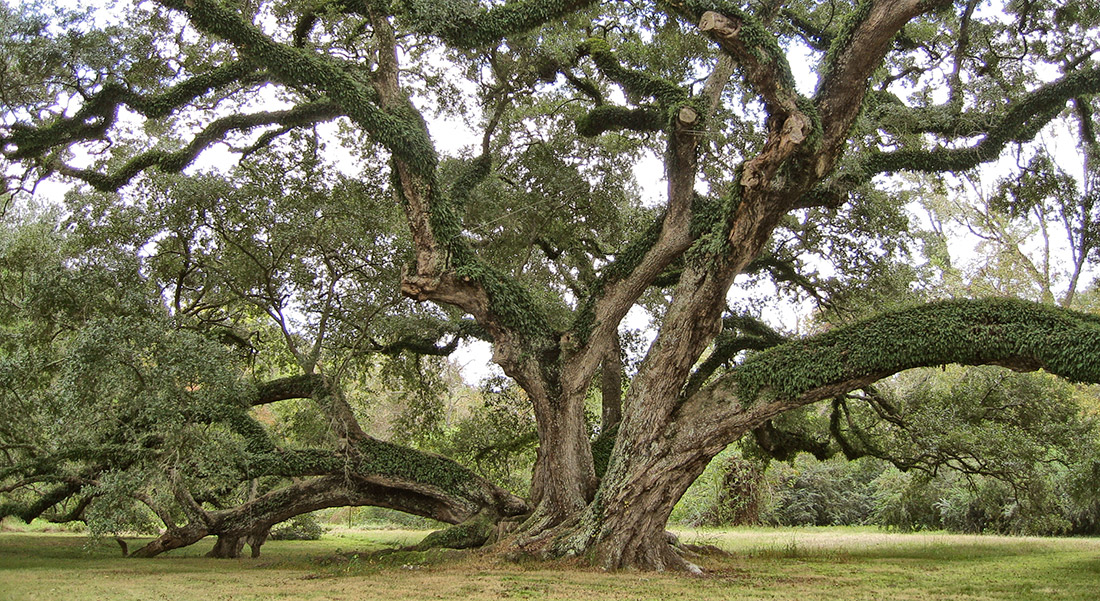 The Seven Brothers Oak, or Lastrapes Oak, located in Washington, La., is one of the original 43-inductee oaks of the Live Oak Society. The Lastrapes family has owned the property on which the tree grows for at least five generations.
There is more than one story about this particular tree (or group of trees). The Lastrapes family version states that the group of trees was named for the seven Lastrapes brothers who left home to fight in the Civil War after the trees were gathered, but before the trees could be planted around the Lastrapes homestead.
In another variation of the story, described in Ethelyn Orso's Louisiana Live Oak Lore, the birth of Jean Henri Lastrapes' seventh son prompted him to request that seven oaks be planted around his home. The workers arrived late in the day with the seedlings and temporarily put them in one container (or hole). The business of the days that followed in the cotton fields distracted the workers from ever completing the planting task — and, thus, the trees grew together, sharing the close proximity of their original planting site.
William Guion is a writer and photographer from Louisiana, currently working on a long-term project documenting the historic oaks of Louisiana and the South. You can read more stories of these, and other elder live oaks of Louisiana, on his "100 Oaks Project" blog at https://100oaks.wordpress.com.