By Dylan Stuntz, American Forests
This is part of an 11-blog series on our work with Alcoa Foundation. Learn more here!
Pennsylvania's Allegheny County has lost over 10,000 acres of tree cover over the last 5 years, much of which has been caused by pests such as the emerald ash borer, as well as residential and commercial development.
"We learned recently that our city has dropped 5 percent in tree canopy over the last 5 years despite all of our best efforts to plant trees," says Danielle Crumine, executive director of Tree Pittsburgh. "Emerald ash borer development — we're up against all of these challenges, so we have to work extra hard, we have to work smarter, and that really takes partnerships, as many as we can find."
American Forests has partnered with Tree Pittsburgh to try and reverse that trend.
The partnership is a result of our ongoing work with Alcoa Foundation, a 3-year effort working to increase diversity and combat climate change by working with local partners in 11 locations around the globe. Tree Pittsburgh is one of those partners, and they will be planting 2,000 trees over the course of those 3 years.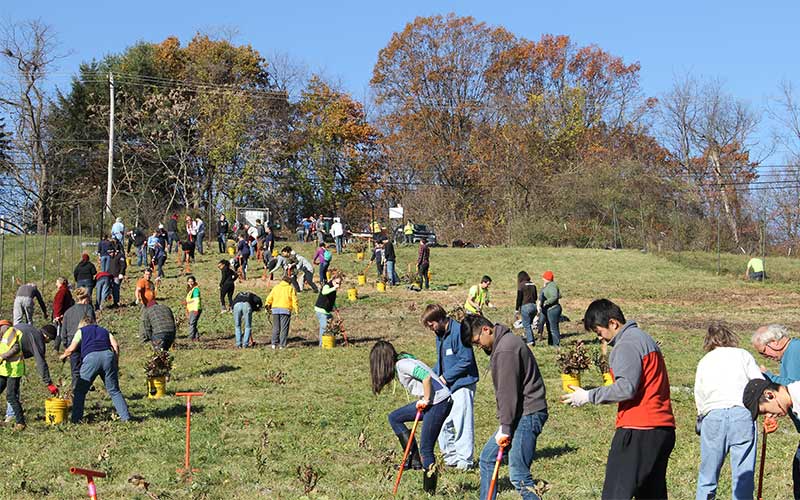 The goal of the project is to revitalize partial areas of Allegheny County, and engage in partial restoration of the forest canopy of the Quaker Valley School District, as well as enhance interest in conservation and create recreation spaces for residents of Allegheny County.
During the 3-year period, plantings are planned every spring, with 1,000 trees planned for the spring of 2018, and then 500 in 2019 and 2020. Not only will the plantings restore areas affected by EAB, they also present a unique opportunity to engage with the public.
The areas planned for the plantings are used by sports teams from the local Quaker Valley School District, so there is not only an engagement opportunity, but also an educational one. Both American Forests and Tree Pittsburgh hope to teach students, parents and educators about the benefits of tree planting, as well as create outreach for volunteer opportunities.
Tree Pittsburgh is an 11-year-old nonprofit dedicated to protecting, restoring, advocating for and educating about the urban forests in and around the city of Pittsburgh. Through this project, Tree Pittsburgh is also working with local partners Quaker Valley School District and the Quaker Valley Recreation Association.
"Partnerships are key to Tree Pittsburgh achieving its mission," says Director Crumine. "Without organizations that bring us volunteers, without organizations that have additional expertise, space to plant trees, we could never plant the thousands and thousands that we need to plant every year."
American Forests has partnered with Tree Pittsburgh before on several endeavors, the most recent being a project resulting in the planting of 2,670 seedlings along the Audubon Greenway, transforming what had previously been agricultural land.