By Liz Harper, American Forests
A cool, sunny day matched with a bright sky greeted volunteers who came to Carrollton Ridge in Baltimore, MD to help transform an empty lot into a community green space.
The corner lot, located on South Pulaski Street, had been used as a dumping ground for trash for years, according to locals. But, even as volunteers collected stray trash that had gathered around the edges of the lot, it was hard to imagine the plot of grass as an eyesore. The lot had been cleared and prepped for more than 30 volunteers to come help convert the lot into a beautiful, organized garden.
The group consisted of Bank of America volunteers, Baltimore City Recreation and Parks employees, the Carrollton Ridge Community Association, local officials such as City Councilman John Bullock and, of course, members of the American Forests team.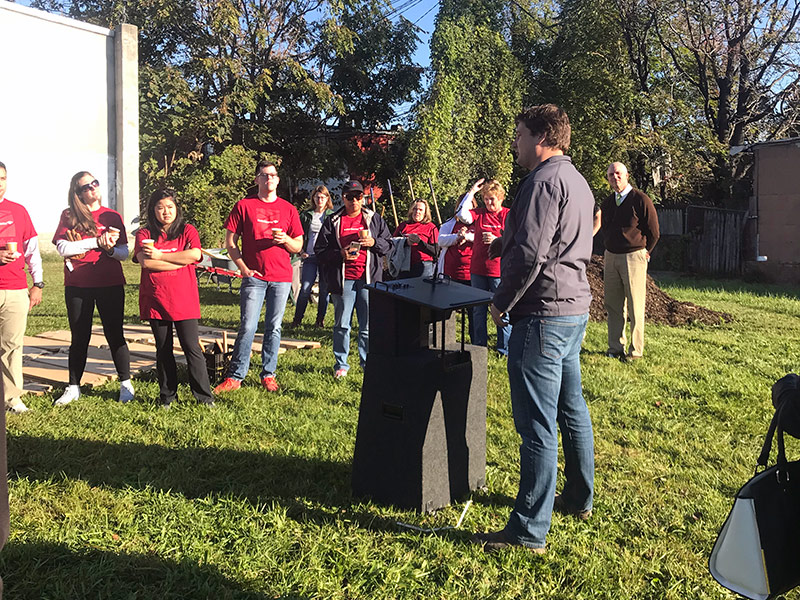 A poster depicting the plans for the new Carrollton Ridge Gardens helped the volunteers visualize the final product as they worked to bring it one step closer to reality. In the final plans, still several stages away from completion, more than 20 planter beds will be used to turn the lot into a community garden complete with a patio, a gravel pathway and a greenhouse. The lot is located across the street from Samuel FB Morse Elementary School, part of the network of Baltimore City Public Schools, and will be used by and cared for by the students and teachers and the Community Association.
The volunteers embraced their task of building and filling the planter beds. Wooden frames for the beds had been cut and packaged by students at a local school, Carver Vocational-Technical School. Volunteers laid the boards in the proper places before fitting them together to create rows of planter beds. Armed with shovels and a handful of wheelbarrows, the workers carted soil and mulch to spread in and around the beds, respectively.
Meanwhile, smaller groups of volunteers branched off to plant trees along several side streets to contribute to the growth of Baltimore's urban tree canopy. They too ferried wheelbarrows of soil back and forth as they ensured the trees they planted would be given a chance to stand the test of time.
By early afternoon, with trees planted and planter beds filled, the plan depicted on the poster was starting to fall into place. The lot began to look more like a community garden.
Shaun Preston of Baltimore's Forestry Division, who helped organize and lead volunteer efforts, invited all present to watch a demonstration of a portable sawmill, funded by Bank of America and American Forests supporters for the city's use. The demonstration showed how the sawmill will be used to cut downed trees into manageable pieces and make them into boards that can then be repurposed by the city.
Baltimore also has companies that sell repurposed wood. Brick + Board specializes in urban wood reuse, salvaging and reusing wood from buildings that are taken down, mostly in the Baltimore area. Employees collect, sort and organize the materials, then sell them to individuals and firms that repurpose the materials for a number of uses.
The wood is categorized by species and dimension, but also details such as location and age to accommodate specific requests from clients. Brick + Board mainly works with commercial businesses, but also with homeowners seeking materials that match what's already in their home.
Brick + Board also echoes American Forests' mission of workforce development, hiring and training workers from underserved populations, some of whom have been previously incarcerated or lack a formal education, as part of an effort to bring skilled jobs to Baltimore.