By Gerry Gray, Ph.D., Senior Vice President
Loose Leaf welcomes American Forests Senior Vice President Gerry Grey to our writing family. Gerry has a doctor of forestry degree and has been with American Forests for more than 20 years. He will be joining us from time to time to share his insights on our work and other issues related to forests around the world. ~MW & SL
We recently received good news from Lisa Gonzales-Kramer, the project manager for an innovative reforestation project that American Forests has sponsored for several years in southern California's Cuyamaca Rancho State Park, which experienced the largest wildfire in California history. In early October, the project achieved "registered" status from the Climate Action Reserve, which means that it cleared an extensive review process by an accredited 3rd party verifier and has been accepted by the Climate Action Reserve as a project that can issue Carbon Reduction Tons (CRTs) in California's emerging carbon market.
The Climate Action Reserve (CAR) is a nonprofit organization that was created in 2001 by climate change legislation in California to help develop appropriate protocol for carbon-offset projects and to establish a voluntary carbon market. [Editor's note: Need a refresher on CAR and how carbon offset programs work? Check out this Loose Leaf post on the subject.] The Cuyamaca Reforestation Project was the first reforestation project and the first forest-carbon project on public lands to be "listed" by CAR in November 2009. Now that the project has received a determination that it is in full compliance with CAR's forest protocol, it can claim to be the first reforestation project and first public-land, forest-carbon project to achieve "registered" status.
American Forests began its sponsorship of the Cuyamaca Reforestation Project in 2008 when we provided a restoration tree planting grant through our Global ReLeaf program. In 2009, we made a much greater commitment to the project when we signed a Memorandum of Understanding with the California Department of Parks and Recreation (CA State Parks) to provide long-term support for the efforts in Cuyamaca with funds that we received through a legal settlement between the state of California and ConocoPhillips Company. The project's new "registered" status is a major step forward in assuring that the CRTs, or the carbon-offset benefits, from the project will be available for transfer to ConocoPhillips.
American Forests' board of directors and senior staff visited Cuyamaca Rancho State Park in late August to get a firsthand look at the reforestation project. Located about 40 miles east of San Diego in a mountainous landscape, Cuyamaca had been a combination of grassland, chaparral, oak woodland and mixed-conifer forest until the 2003 Cedar Fire. The park also had provided habitat for diverse flora and fauna, including rare and sensitive species, and contained important cultural sites, particularly related to the Kumeyaay Indians.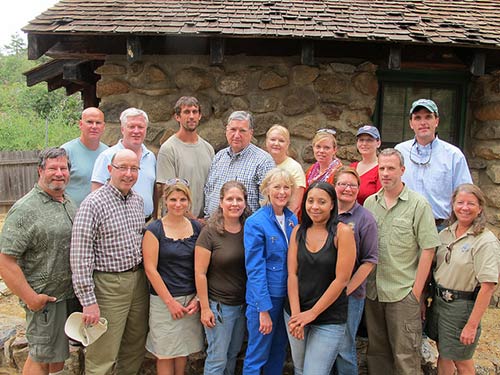 The Cedar Fire in 2003 — California's largest fire in recorded history — destroyed 95 percent of the mixed conifer forest in the nearly 25,000-acre park. Historically, CA State Parks has treated wildfires as natural disturbances and relied upon natural regeneration to restore parks. However, post-fire surveys in Cuyamaca showed very little regeneration of the native mixed-conifer species, especially Jeffrey, Coulter and sugar pines. Ecologists predicted that without reforestation activities, the park would be dominated by herbs, grasses and shrubs, particularly Ceanothis palmeri, for the foreseeable future. CA State Parks decided to take a new course of action: to design an innovative reforestation project to restore the park's diverse native forest. The agency also decided to submit the project for listing with CAR, as a means of raising project revenue through the emerging carbon market.
American Forests' board and staff were thrilled by the opportunity to visit with Lisa and other Cuyamaca staff. We also were impressed by the innovative planting techniques employed to encourage seedling survival in a challenging environment. American Forests is proud to be a major sponsor of the Cuyamaca Rancho State Park reforestation project, pleased with the progress being made both on-the-ground and through the CAR process and delighted to be able to partner with CA State Parks and the wonderful people working on the project.