By working with partners far and wide, American Forests is able to fund restoration projects from Maine to Hawaii, and even in places as far from our Washington, D.C. offices as Kenya. But some projects are a bit closer to home.
Yesterday, Jesse Buff and Megan Higgs, our director and manager of forest restoration programs, took some time off from preparing the 2013 Global ReLeaf projects to visit a 2012 project that's just a hop, skip and a jump from the American Forests offices.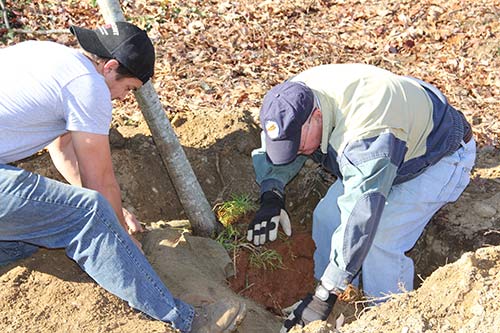 We partnered with Arlington Department of Parks and Recreation to plant trees on Arlington County public lands, and some American Forests volunteers came out to help in the planting. It's not the first time we've worked with Arlington; we also partnered with them on the 9/11 Memorial Tree Planting in 2002, planting 184 trees on public land and another 184 on private land, to honor the 184 individuals who lost their lives in the attack on the Pentagon.
Arlington is close to home for us, but a lot of Global ReLeaf projects are close to someone's home. While American Forests works to put millions of trees in the ground in wilderness areas, we also know the importance of urban forests. There could very well be a tree in your neighborhood that was planted through a Global ReLeaf project!
For example, New Haven is perhaps best known as the home of Yale University, but it's not just the ivy on the buildings that's green. We're partnering with the Urban Resources Initiative, a nonprofit partner of Yale's School of Forestry and Environmental Studies, on a Global ReLeaf project to help New Haven reach its canopy coverage goals. By 2016, the city hopes to have planted 10,000 additional trees. Seeing as the 40 percent canopy cover they currently have saves the city $4 million a year, it's easy to see the motivation.
It's even easier to see in a city like Indianapolis that has lost 25 percent of its trees in the last 10 years. We are partnering with nonprofit Keep Indianapolis Beautiful, Inc. to plant 500 trees in areas of the Fall Creek Watershed, where residents use the Fall Creek Greenway Trail to stay fit and get away from the city's hustle and bustle. As a city that ranks as one of the 10 cities in the U.S. with the worst air quality, it's understandable that Indianapolis would want to invest in its urban forest. In addition to their Global ReLeaf partnership with American Forests, Keep Indianapolis Beautiful also created its NeighborWoods program to — in the words of program director Andrew Hart — "create a more positive tree culture in the city." You can read more about what Keep Indianapolis Beautiful and other organizations and agencies are doing for Indianapolis' urban forests in our case study book.
As our Global ReLeaf team can attest to, it feels good to see trees being planted close to home. Visit your city's Urban Forestry or Parks and Recreation website to learn about projects happening close to your home!