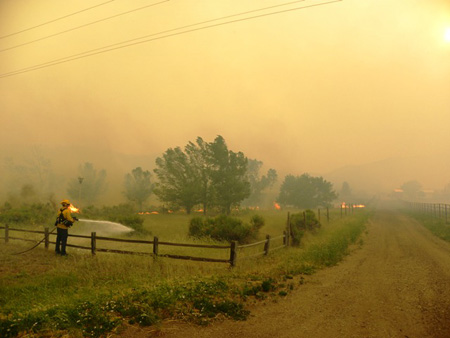 More than 6.3 million acres across the U.S. have burned in wildland fires this year so far — and dozens of fires are actively burning. Often, when we talk about wildfires, we focus on forest land-management practices, which then devolves into debates questions about fire suppression, prescribed burns and thinning and more. This can lead to policy questions and funding debates that happen far away from the burning fires. However, there are things that those most directly affected by the fires can do to help protect their homes and neighborhoods from the destruction that fire can wreak.
Smokey Bear famously proclaims that "you can prevent forest fires," but this statement could be expanded to "and prevent the spread of forest fires." Fires need fuel to burn — leaf debris, lawn trimmings and more all serve as food for a fire — which is why the U.S. Forest Service, National Fire Protection Association (NFPA) and Ad Council have instituted a new Fire Adapted Community campaign, designed to help homeowners, land managers, community leaders and fire and emergency responders institute pre-fire strategies that will help protect everyone if a wildfire strikes nearby.
What is a Fire Adapted Community? That's pretty simple: It's a community that acknowledges its fire risk and takes steps to diminish it.
Why is it important to become a Fire Adapted Community? Because more than 70,000 communities nationwide are near or within fire-prone ecosystems and are at risk of wildfire.
How does a community become Fire Adapted? That's the best part: It's not hard.
For individual homeowners, it's simple things like keeping your roof and gutters clean and making sure you don't leave your lawn clippings piled up.
For developers and business owners, it's doing things like not building in high-fire-risk areas and using non-combustible building materials.
For neighborhoods, it means developing emergency response plans and helping homeowners keep their lawns debris free.
Wildfire knows no political, jurisdictional or other kind of boundary — pretty much just like everything related to the environment. Therefore, we must all work together to protect ourselves, our communities and our natural landscapes. To learn more about becoming Fire Adapted, visit http://fireadapted.org/.